Thanks to our friends at The Maximus Group, I'm thrilled to share the following information about a special novena to St. Joseph beginning today and culminating on June 16th. Find additional information on this amazing prayer opportunity at http://courageouscatholicresources.com/.
We will be sharing each day's prayers here on the website and a daily video feature that will certainly inspire you and your family. Today, His Excellency Archbishop Wilton D. Gregory of Atlanta shares with us an inspiring reflection on the life of St. Joseph, which makes him a model for all men and fathers today to emulate.
Novena to St. Joseph leads to COURAGEOUS Father's Day
Courageous Catholic Resources website offers prayers, video reflections, website banners
NASHVILLE, June 8, 2012 – Beginning today, Catholic men around the country are praying a special Novena to St. Joseph in anticipation of Father's Day. The Novena and supplemental resources – including video reflections and web banners for sharing – are available now on the Catholic resources website for the inspiring film COURAGEOUS, which continues to touch lives across the country. The Novena concludes June 16, the day before Father's Day.
Anyone can access the Novena prayers and special resources at http://www.courageouscatholicresources.com/.
In conjunction with the Novena and Father's Day, Ignatius Press is offering an exclusive combo pack that includes the feature-packed COURAGEOUS DVD; a copy of Fr. Larry Richards' thought-provoking book, Be A Man; and a copy of country music superstar Collin Raye's new CD, His Love Remains.
Information on the Ignatius Press Combo Pack is available at http://www.ignatius.com/Products/FDS-X/quotcourageousquot-quotbe-a-manquot-and-quothis-love-remainsquot-combo-package.aspx.
"I am very concerned about the fatherhood crisis in our country," said Randy Hain, author of The Catholic Briefcase, who contributed one of the video reflections, How to Make Our Daily Work More Meaningful. "I think we have a real need for Dads to step up and be courageous about taking care of their families, being good role models and practicing their faith."
"There is nothing more important than contributing to a generation of strong Christian men," said Fr. Martin Connor, LC. "This is priority #1 for my priesthood." Fr. Connor contributed a video reflection to the Novena series, What Does it Mean to be a Chaste Spouse?
Most Rev. Wilton D. Gregory, Archbishop of Atlanta, also provides a reflection – How to Be a Father in the Image of St. Joseph. Other contributors include Paul Voss, Ph.D., Founder and President of Ethikos (How to Inspire the Sense of Vocation in My Children); Tom Peterson, Founder and President of Catholics Come Home (How to Cultivate a Spirit of Docility to the Will of God); Joseph Krygiel, CEO, Catholic Charities of Atlanta (What Does it Take to be the Head of a Holy Family); and John Berry, Director of the St. Vincent de Paul Society of Atlanta (How Do We Deflate Our Ego and Make Room for Christ.
CourageousCatholicResources.com also has all the prayers for the Novena to St. Joseph. Here are portions of some of the Novena prayers:
"Saint Joseph, I thank God for your privilege of having been chosen by God to be the foster-father of His Divine Son. As a token of your own gratitude to God for this your greatest privilege, obtain for me the grace of a very devoted love for Jesus Christ, my God and my Savior. Help me to serve Him with some of the self-sacrificing love and devotion which you had while on this earth with Him."
"You had the virtue of perfect devotedness, which marks a good servant. Every moment of your life was consecrated to the service of our Lord: sleep, rest, work, pain. Faithful to your duties, you sacrificed everything unselfishly, even cheerfully. You would have sacrificed even the happiness of being with Mary. The rest and quiet of Nazareth was sacrificed at the call of duty. Your entire life was one generous giving, even to the point of being ready to die in proof of your love for Jesus and Mary. With true unselfish devotedness you worked without praise or reward."
"Saint Joseph, I thank God for your privilege of being the virginal husband of Mary. As a token of your own gratitude to God, obtain for me the grace to love Jesus with all my heart, as you did, and love Mary with some of the tenderness and loyalty with which you loved her."
Learn more and access the Novena prayers and special resources at http://www.courageouscatholicresources.com/.
About the Author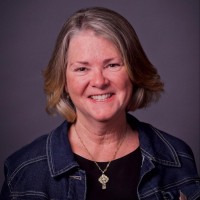 Lisa M. Hendey is the founder of CatholicMom.com, a bestselling author and an international speaker. A frequent radio and television guest, Hendey travels internationally giving workshops on faith, family, and communications. Visit Lisa at LisaHendey.com or on social media @LisaHendey for information on her speaking schedule or to invite her to visit your group, parish, school or organization. Visit Lisa's author page on Amazon.com.