When God spoke to people in the Old Testament, they often heard a clear voice instructing them. In the New Testament God used Angels to appear and speak on His behalf. Today, in our modern world, we don't tend to notice a booming voice or heralding angels, but He is still speaking to us and sending his angels.
There are many ways to hear God, even when we're not purposefully listening for Him. Just recently at Mass, in the first reading from the Book of the prophet Ezekiel, 18:21-28, we heard that God's way is not always our way and may be difficult to comprehend. "You say, 'The Lord's way is not fair!" Ezekiel 18:25
And in a moment, it was as if God spoke to me directly thru our Priest. Fr. John told us that even though we may attempt to lead a virtuous life that does not prevent struggles from occurring in our lives. We will continue to have struggles in our lives and within ourselves. The struggle is inevitable. However, by allowing God to show us that He is God, by Giving God room to show us who God is, by allowing Him to be in control – that is what we must do to Accept God.
Loving God and Accepting God will not keep our lives free from strife and difficulty, but surrendering to God will affect our struggles. God is for us and God is with us. God is God and we must meet on His terms, not ours. We must accept Him and give Him room for God to show us who God is. This is the living proof of how much God loves us.
That morning, when I walked in to daily Mass, I was struggling deeply with a specific health crisis afflicting one of my children. I couldn't understand why this was happening to my daughter – to our family. We felt like we were doing everything "right" as parents, but our daughter was not getting better. Hearing God say those words to me through Father John struck deep in my heart. It was as if Fr. John was merely a vessel that morning that God used to speak straight into my heart. After Mass, with tears still in my eyes, I said thank you to Father for allowing God to use him to send me that message. He surprised me by giving me a huge hug and telling me he also needed that same message on that morning.
God still sends us angels, even though we may not recognize them. They appear in the form of people we see regularly, such as Father John, who delivered the message God intended me to hear. Our angels today may be subtler than the Angels of the Bible, but their intercession is the same if we recognize them.
Copyright 2012 Lisa Jones
About the Author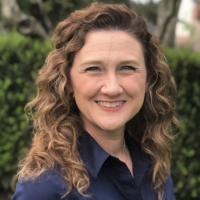 Lisa Henley Jones is a wife, mom, native Texan, and parish communications director. She enjoys reading, walking, going on date nights, and cheering on her kids in their activities. As a social media consultant, Lisa teaches Catholic parishes to engage, inspire, and evangelize on social media. Find her blog at Of Sound Mind & Spirit and her social media course at Parish Social Media.