The summer is almost over. How did that happen? Sheesh.
I know my schedule has kicked into high gear with the beginning of the term and everything, but I've lost track of when the younger kids go back to school. I don't miss the anxiety of those days, although taking that "first day of school" picture was a lot of fun.
It marked more than just another year of school for the kids. In elementary school the kiddos would happily line up by the door with their new bookbags, ready to go. Middle school saw the beginning of that terrible phase when everything I did was wrong. You can see it in their reluctant faces – bitter about having me take a stupid picture with stupid bookbags, and this-is-stupid-why-do-you-hate-me looks. Fun times, those years. Finally, as they grew up a little and saw the impending milestone, I got happy looks again toward the end of high school. I even managed to get a picture when they each went off to college.
These days August is a little slower around the house. The oldest has been on her own for several years, proudly serving our country. Two are still in college, one finishing in the next year, and the youngest following quickly behind her. There's still a revolving door to the house, but it seems to be opening out more often than in. And that's OK – I suppose it's the way it should be.
I'd like to hold onto them a little longer, a little tighter, teach them one more thing before they pat me on the hand indulgently and do their own thing. It's why I pray so much, too! Maybe you'd like to join me in my favorite prayer –
O Heavenly Father, I commend my children to Thy care. Be Thou their God and Father; and mercifully supply whatever is lacking in me through frailty or negligence. Strengthen them to overcome the corruptions of the world, whether from within or without; and deliver them from the secret snares of the enemy. Pour Thy grace into their hearts, and strengthen and multiply in them the gifts of Thy Holy Spirit, that they may daily grow in grace and in knowledge of our Lord Jesus Christ; and so, faithfully serving Thee here, may come to rejoice in Thy presence hereafter. Amen.
El verano termina ... y la oración comienza
Por Maria Johnson
El verano casi ha terminado. ¿Cómo ocurrió eso? Así es.
Yo sé que mis clases en la universidad empiezan pronto, pero he perdido la cuenta de cuando los niños pequeños van a la escuela. No echo de menos la angustia de esos días – el corre-corre de las compras y preparativos. Sin embargo, siempre me gustó la foto de "el primer día de escuela".
La foto marcó mucho más que un año de la escuela para los niños – también captó los cambios físicos y emocionales. En la escuela primaria los niños se alineaban junto a la puerta con sus bolsas de libros nuevos, felices, listos para ir. Después de unos años vi el comienzo de esa fase terrible cuando todo lo que hice cayó mal. Se puede ver en sus rostros reticentes - amargados por tener que tomar una foto tonta con bolsas de libros estúpidos, y miradas que decían esto-es-estúpido, ¿por qué-me-odias? Pero eso pasó y llegó el día cuando se dieron cuento que estaban madurando, y regresaron las sonrisas en las fotos. Gracias a Dios pude obtener una foto cuando cada uno de ellos fue a la universidad.
En estos días el mes de agosto es un poco más lento en la casa. La mayor ya hace varios años que terminó sus estudios y está sirviendo con orgullo en el ejército. Dos se encuentran todavía en la universidad, una acabando en el año que viene, y el más joven rápidamente detrás de ella. Todavía tenemos el entra-y-sale en la casa, pero parece que con cada salida se está acercando el día en que sea más permanente esa salida, y eso está bien - supongo que es la forma en que debe ser.
Me gustaría mantenerlos juntos a mí un poco más, apretarlos un poco más, enseñarlos una cosa más antes de que se vayan. Por eso le pido a Dios que los ampare con esta oración:
Oh, Padre Celestial, te encomiendo a mis hijos a tu cuidado. Sé Tú su Dios y Padre, Sé Tú fuente de todo lo que les falta debido a mí fragilidad o negligencia. Fortalézcalos a superar las corrupciones del mundo, ya sea desde dentro o desde afuera, y líbralos de las trampas secretas del enemigo. Derrama tu gracia en sus corazones, y fortalezca y multiplica en ellos los dones de tu Espíritu Santo, que cada día puedan crecer en gracia y en el conocimiento de nuestro Señor Jesucristo, y así, fielmente te sirvan, y puedan llegar a alegrarse en tu presencia en el cielo. Amén.
Copyright 2012 Maria Morera Johnson
About the Author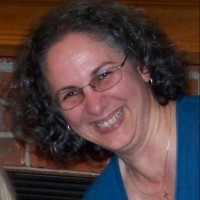 Maria Morera Johnson, author of My Badass Book of Saints, Super Girls and Halo, and Our Lady of Charity: How a Cuban Devotion to Mary Helped Me Grow in Faith and Love writes about all the things that she loves. A cradle Catholic, she struggles with living in the world but not being of it, and blogs about those successes and failures, too.