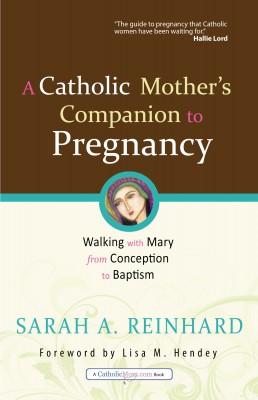 This month, I'm celebrating the launch of my new book, A Catholic Mother's Companion to Pregnancy: Walking with Mary from Conception to Baptism, the first of the CatholicMom.com books.
It's an honor and a joy to hold this book in my hands and to have walked with Mary as I wrote it.
In Catholic tradition, October is the Month of the Rosary. For me, this has always been a time to grow closer to Mary and to the hardest prayer I have to say.
October is also Respect Life Month. As we face an increasingly violent assault on human life in its most vulnerable stages, I can't help but feel that this time of prayer is vital.
As we kick off the book's blog tour during this month that is set aside for the rosary and respect life intentions, it seemed appropriate to center it on one of the central points of the book: the prayer of the rosary. It seemed just as important to focus our prayers on respect for human life from cradle to grave.
The blog tour doesn't officially begin until tomorrow, but being a rosary purist, I couldn't leave out the introductory prayers. So here we go...
(If you're not familiar with how to pray the rosary, you can find great resources at Rosary Army.)
+ In the name of the Father, and of the Son, and of the Holy Spirit. Amen.
The Apostle's Creed
Our Father . . .
For an increase in faith, hope, and charity.
Hail Mary . . .
Hail Mary . . .
Hail Mary . . .
Glory Be . . .
O My Jesus . . .
Tomorrow we'll pray our first decade, the Annunciation.
You can find a complete listing of the tour stops over at Snoring Scholar. Be sure to enter to win a Nook (and any number of other goodies) each day of the tour over at Ave Maria Press starting tomorrow!
The rosary pictured was a gift I purchased through Trendy Traditions, whose work comes highly recommended from me.