Most of you are familiar with Twitter, a social media sharing site where users post brief status updates.
Those status updates can be as silly as telling the world that you crave M&Ms, or as serious as an urgent request for prayer. As an information tool, Twitter helps me stay on top of breaking news and what my children are up to. I've even had some fun conversations with people I don't know in real life, and had virtual parties with people I do know in real life.
For all its practical uses and community building, Twitter can also easily turn into a source of self-absorption, where we go to whine and bemoan the petty ills that befall us.
It's not just that no one wants to listen to a sourpuss all day. There's a real danger in engaging in this persistent negativity. It brings us down, and brings others down with us. It turns us into ungrateful social media brats. And it's contagious.
What if, instead of getting on social media first thing in the morning and complaining about not having enough sleep, we Tweeted in thanksgiving for having a bed to sleep in? What would happen to us if our first thought of the day was to express gratitude for our blessings?
Matt Swaim (@mattswaim) posed that question last year and the conversation that followed fired up a bunch of people on his feed to take up this challenge: the first Tweet of the day expresses gratitude and gets tagged with #gratefultweet. Then sit back and watch what happens.
This week I hit #gratefultweet 365. It was tough getting there, but the results were immediate. The act of intentionally posting my gratitude not only made me aware of it, but on those days when something didn't come to mind, I had to ponder my day or week and dig to find the good in it.I'm not sure I would have expended that kind of energy otherwise.
There was no magical turnaround in the quality of my life. I still have good days, and bad days, and runs of mediocrity in between. What changed is my attitude toward those mediocre days…the days when I struggle to find something to be grateful for, even if it is just for the act of getting up and making coffee.
The gratefultweet, in a small but meaningful act, invites us to participate in the celebration of the Eucharist, by uniting our little moments of thanksgiving to Christ (CCC 2637).
The most startling aspect of this project happened when I began to be thankful for those things that weren't making me happy, or were causing me suffering, in big or small ways.
As in the prayer of petition, every event and need can become an offering of thanksgiving… "Give thanks in all circumstances; for this is the will of God in Christ Jesus for you." (CCC 2638)
It's that moment when I realize my joys and my woes are worthy of praise because they are both part of God's plan for me.
---
Tuiteando con gratitud
La mayoría de ustedes están familiarizados con Twitter, un sitio donde las personas publican actualizaciones en breve.
Las actualizaciones pueden ser tan basicas como diciendo al mundo que anhelan chocolate, o tan graves como una urgente petición de oración. Twitter me ayuda a mantenerme al tanto de noticias y lo que mis hijos estan haciendo. He tenido conversaciones con personas que no conozco en la vida real, y con mis intimos amigos.
Para todos sus usos prácticos, Twitter también puede convertirse en una fuente negativa, donde vamos a quejarnos y lamentar los males menores que nos atrormentan. Nadie quiere escuchar quejas todo el día. Existe un peligro real en la participación en esta negatividad persistente. Nos lleva hacia abajo y trae otros con nosotros. Nos convertimos en malcriados. Y es contagiosa.
¿Qué sucede si, en lugar de quejarse de no dormer bien, tuiteamos en acción de gracias por tener una cama para dormir? ¿Qué pasaría con nosotros si nuestro primer pensamiento del día fuera expresar gratitud por nuestras bendiciones?
Matt Swaim (@mattswaim) que nos hizo esa pregunta el año pasado, recomendó lo siguiente: el primer Tweet del día expresa gratitude. Marquelo con la etiqueta #gratefultweet. Luego siéntese y observe lo que sucede.
Esta semana celebré #gratefultweet 365. Fue difícil, pero los resultados fueron inmediatos. No sólo me hizo consciente de la gratitud, pero en esos días cuando algo no vinia a la mente, tuve que reflexionar sobre mi día o semana para encontrar el bien en él.No estoy segura de que hubiera hecho este esfuerzo anteriromente.
No hubo ningún cambio mágico en la calidad de mi vida. Todavía tengo días buenos y días malos y días mediocres. Lo que cambio es mi actitud hacia aquellos días mediocres... los días cuando lucho para encontrar algo de agradecer, aunque sea sólo el acto de levantarme y hacer el café.
El gratefultweet, en un pequeño pero significativo acto, nos invita a participar en la celebración de la Eucaristía, uniendo nuestros pequeños momentos de acción de gracias a Cristo (catecismo de la iglesia católica 2637).
El aspecto más sorprendente de este proyecto sucedió cuando comencé a estar agradecida por las cosas que no me hacian feliz, o me estaban causando sufrimiento, en formas grandes o pequeñas.
Al igual que en la oración de petición, todo acontecimiento y toda necesidad pueden convertirse en ofrenda de acción de gracias…. "En todo dad gracias, pues esto es lo que Dios, en Cristo Jesús, quiere de vosotros". (catecismo de la iglesia católica 2638)
Es ese momento me doy cuenta que mis alegrías y mis males son dignos de elogio porque ambos son parte del plan de Dios para mí.
Copyright 2012 Maria Morera Johnson
About the Author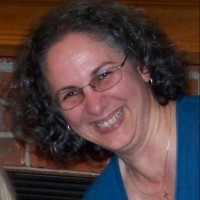 Maria Morera Johnson, author of My Badass Book of Saints, Super Girls and Halo, and Our Lady of Charity: How a Cuban Devotion to Mary Helped Me Grow in Faith and Love writes about all the things that she loves. A cradle Catholic, she struggles with living in the world but not being of it, and blogs about those successes and failures, too.