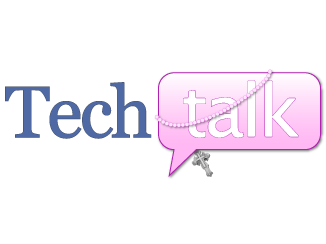 Discerning Hearts is a non-profit Catholic apostolate that is dedicated to evangelization and spiritual formation through new media.

"Discerning Hearts is a trusted resource for Catholic spirituality and teaching. I support it as an apostolate for the new evangelization that brings the Good News to every corner of the world through the internet." - Most Reverend George J. Lucas, Archbishop of Omaha
On Google Play, this app is described as
"A school of prayer and discernment for the New Evangelization! The best authors, teachers, spiritual leaders discussing topics that effect our everyday lives. Shows range from Inside the Pages w/ Kris McGregor to series from Father Timothy Gallagher, Deacon James Keating…From the lives of the Saints to the basics of Catholic social teaching, in the Sacred Liturgy to prayer in the everyday moment of our lives; we walk together as we fulfill our call to be saints in the making."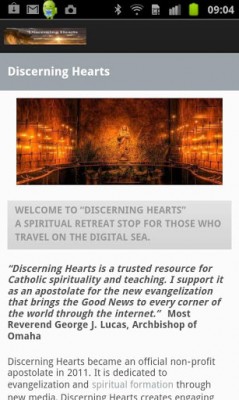 This app is a great companion to the Discerning Hearts website. On my Android, every function available required internet access. That is the extent of my complaint, because the app provides hours of teaching, prayer, and growth for the user's spiritual journey.
You'll find the DH (Discerning Hearts) blog and links to recent podcasts, including novenas and interviews
One of my favorite entries in this section was an interview (podcast) with Father Titus Kieninger of Opus Sanctorum Angelorum. The podcast was about 34 minutes long, the beginning was a bit slow as it was covering local events but once the interview got started I was enthralled with the information. The text introducing the piece says it all, "you'll have to listen to it a couple times because Father Titus gives so much information".
Podcasts
There's an extensive selection, including teaching series, novenas & broadcasts.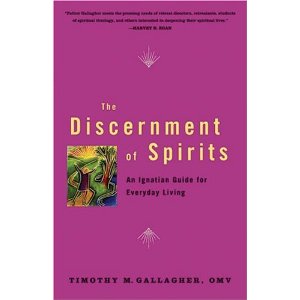 Here I found the Father Timothy Gallagher, OMV series, The Discernment of Spirits: Setting the Captives Free. It was Fr. Timothy's book on this subject which led me to discover this free app in the first place.
Each podcast in the series seemed run for a half an hour (another great resource for Adoration – see my last column). These audio teachings are wonderful to listen to in the car as well, especially if you are lucky enough to have a newer car with the built in adapter for your phone to play through you sound system.
More Highlights:
Prayers
Divine Mercy Chaplet in text and MP3 audio download
The Holy Rosary
Stations of the Cross
The Chaplet of St. Michael the Archangel
Litany of Humility (one of my personal favorites), and many more
Saints/Mary in its own section
Features in Saints/Mary
BVM room - Articles and podcasts about the Blessed Virgin Mary.
Cloud of Witnesses room - With information about the Saints
Holy Women room - Housing Pope Benedict's teaching on many holy women.
Doctors of the Church - The teachings of Pope Benedict on the Doctors of the church.
Teaching - Teachings from a very extensive list of theologians and teachers of the faith such as, Mike Aquilina, Joseph Pearce, Mark Hart, Amy Wellborn and many more. Some include whole Podcast series and others archived Broadcast interviews. **I obviously did not listen to all of them (but I'm working on it – happy they are audios, so I can listen while I prepare dinner, drive in the car, or hide out in tub), however the ones that I did listen were incredibly well done and an excellent opportunity to learn, helping us to all be better witnesses in this Year of Faith.
There's still more!
I'm already 600 words into this review, and I've barely scratched the surface of what this app has to offer! In addition to a section reviewing books, called "InsidePages," there is a "Libraries" unit which has information libraries – Spiritual Formation; Church Then and Now; Scripture Study and Living Faith in World.
Oh, and I'm still not done – flip the screen and you'll find...18 links to Catholic authors, religious, and teachers featured on their podcasts and blog. The next page features 9 Saints and their writings to learn from consisting of:
St. Augustine and a PDF version of The Confessions.
St. Benedict & Holy Rule.
St. Bernard and the PDF of On Loving God.
St. Dominic and The Nine Ways of Prayer
St. Catherine of Siena and The Dialogues
St. Teresa of Avila and a Novena, along with PDFs of the Life of St. Teresa, The Way of Perfection, The Interior Castle, and also in audio of The Interior Castle.
St. John of the Cross and The Ascent of Mt. Carmel
St. Ignatius of Loyola
St. Frances de Sales including a PDF of Introduction to the Devout Life and audio Meditations from Introduction to the Devout Life.
Why check out the Discerning Hearts app?
It's chock full of teaching, devotions, and encouragement in our faith. Pope Benedict XVI says it the best:
"To rediscover the content of the faith that is professed, celebrated, lived and prayed, and to reflect on the act of faith, is a task that every believer must make his own, especially in the course of this Year." (Source: Apostolic letter, Porta Fidei. issued October 11, 2011)
Read more of our Tech Talk columns.
Copyright 2012 Allison Gingras
About the Author