I tend to have an "all or nothing" tendency. So if I blow my diet on Monday night, I'm done for the rest of the week! or if I skip a day or two in my "Read the bible in a year" efforts, I'm likely not to pick it up again until New Year's Day!
But a couple of years ago I realized that even if I don't eat perfectly today, there's always tomorrow, and if I'm using my one year bible, the year can start anytime I want it to!! I found that kind of attitude to be so much more liberating and enjoyable, and it increased my chances of being successful because I was more apt to keep trying!
I think it's the same way with Advent. If stringing lights, buying presents and wrapping them, or baking has kept you from being as spiritually in the season as you want to be, here are some ways I think might help to salvage it!
1. Go to daily mass. Maybe not daily, but even if you get one extra mass in a week it will make you feel like you have taken a step in the right direction!
2. Get to confession. Nothing says "clean slate" better than... well a clean slate! So get to confession and make a fresh start from there!
3. Follow the daily mass readings - they truly get the heart set on the right path toward's Christmas.
4. Pick an online Advent Calendar, breeze through the days you missed and start off with renewed commitment tomorrow! Here's a nice one to follow.
5. Analyze your Christmas preparations. Maybe you've done enough already. Remember the first Christmas was in a barren, cold cave. Maybe you have enough decorations, maybe you've bought enough gifts. Remember, the gifts that matter the most are ones that come from the heart, not the pocketbook!
6. There are two fun Advent feast days this week, Our Lady of Guadalupe and St. Lucy's feast. Enjoy some Mexican cuisine with the family, or sweet rolls in the morning while learning about/and sharing these two important feasts!
7. I find it much easier to really dig into Advent if I don't put up my Christmas tree too early. The week before Christmas is plenty of time. (My in-laws didn't put theirs up until Christmas Eve!!!).
8. Still not feeling it? Maybe doing for some less fortunate folks will help. Ring the bell for the Salvation Army, or participate in the local food bank, or perhaps give gifts for the giving tree at church. Sometimes doing that type of work can take our eyes and hearts off of all the "stuff" and refocuses them on Jesus Christ, who is always present in "the least of these."
Copyright 2012 Elena LaVictoire
About the Author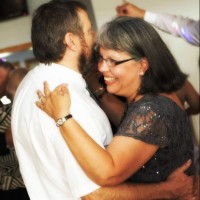 Elena LaVictoire is a graduate of Baker College and a retired medical transcriptionist. She is married and homeschooled six children. Elena is a public speaker on the topics of marriage, homeschooling, and confirmation preparation. She was also a contributing author to The Catholic Mom's Prayer Companion. Elena practices and performs with her flute and records with the Peace Together Choir. She blogs at MyDomesticChurch.com.