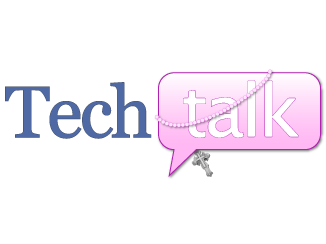 Are you looking for a saint's name for your newborn? Does your adolescent need help choosing a Confirmation name? Do you want to learn more about your patron saint or find out who's the go-to saint for a special situation?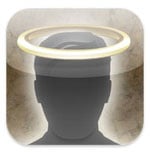 Three new apps from Our Sunday Visitor have you covered. Each of them draws from a database of over 1,000 saints (yes, there really are that many!) The information in the apps comes from OSV's Encyclopedia of Saints by Matthew Bunson.
Don't miss the "About the Saints" essay that can be accessed by a button at the bottom of the home screen. Each app has this, and the essay in each is geared toward the purpose of the app. That essay and the color scheme are the basic differences between the three.
Each of these apps sells for only 99 cents through iTunes.
The index of saints contained in these three apps is astounding. There really is a patron saint of just about anything you could imagine! You can search the database in several ways: gender, country of origin, patronage, or feast day—or any combination of these. Or you can plug in a name and find out about a particular saint. It's an amazingly powerful search engine. You can even store a list of your favorite saints for later reference.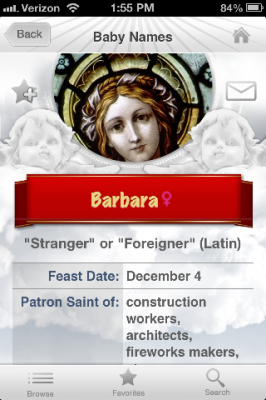 Of course, I looked up MY patron saint, who made the list even though she's considered "legendary" (and not in the amazing sense of the word.) I had no idea that she was the patroness of so many things!
I also checked out, for my 10-year-old, the patron of altar servers. It was easy to use these apps to find the information.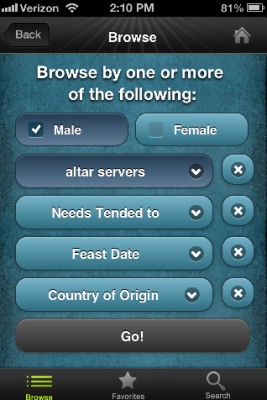 Bonus: the art in these apps is lovely, based on stained-glass windows, statues and paintings. The interface is simple but by no means ugly!
Because these apps cover the same database, you'll probably only need one. All three work the same way and contain identical information. And 99 cents is a bargain for the features and information contained in these apps.
Read more of our Tech Talk columns.
Copyright 2012 Barb Szyszkiewicz
About the Author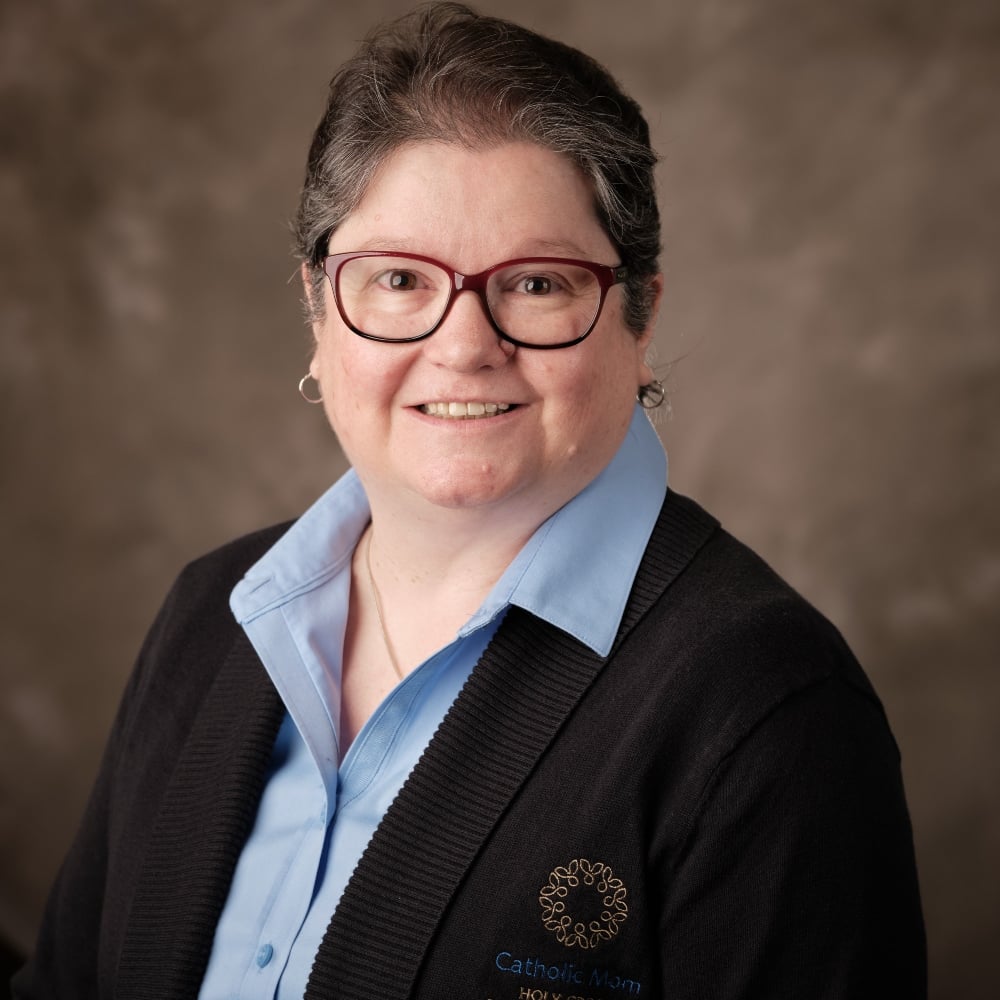 Barb Szyszkiewicz is a wife, mom of 3 young adults, and a Secular Franciscan. She is editor at CatholicMom.com. Barb enjoys writing, cooking, and reading, and is a music minister at her parish and an avid Notre Dame football and basketball fan. Find her blog at FranciscanMom and her family's favorite recipes with nutrition information for diabetics at Cook and Count. Her booklet, The Handy Little Guide to Prayer, is available now from Our Sunday Visitor.