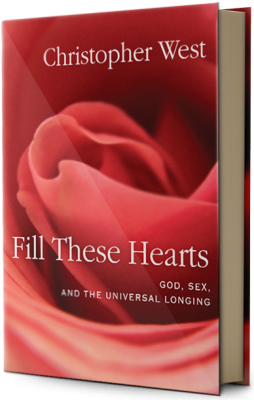 Christopher West had me at hello.
Actually, it was more like on page 31 of his new book Fill These Hearts: God, Sex, and the Universal Longing when he writes:
The Prophet Isaiah declares: "The Lord will prepare a lavish banquet for all, a feast of rich food and pure, choice wines; juicy, rich food, and pure, choice wines" (Isa. 25:6). I love this imagery because, well, I love to eat. Love it! …A gooey Cinnabon at the airport, or a warm, buttery Auntie Anne's soft pretzel…what a treat! And when it's over…what a disappointment. I hate it when a delicious meal is over. Why? Well, because…it's over.
Hold the phone! Christopher West disappointed when a meal is over? That's what I feel—every time! Before starting this book, I was prepared for another nice book on topics regarding Theology of the Body, a good refresher of things I had already known. I was not prepared for a book that got right to heart of my daily spiritual struggle.
In the pages of Fill These Hearts, Christopher West makes the beautiful case that we are creatures of desire, of infinite desire, and that it is only God who can satisfy us. We run into trouble ranging from annoying to eternal when we try to satisfy that ache for Him with other people or objects. Drawing from art, literature, and culture, West illustrates that the best of art, the timeless, widely-loved creations, all speak to that incessant longing we all feel as creatures.
On page 6 he writes:
Yes. Sometimes it happens. Sometimes we hear a certain song or piece of music and it awakens something inexplicable at our core…an ache, a burning, a throbbing, a yearning…Beneath our desire to earn money and live until Friday, there's a much deeper desire, isn't there? We've all felt it. Indeed, that collective cry that arises from the depths of our humanity for something to fill these hearts is what makes u human. Desire is part of our design, and if we follow it through to its furthest reaches we seem to intuit that it will lead us to our destiny.
For me—much to my husband's chagrin—this song is "Piano Man". A while ago, my five-year-old asked me why I liked the song so much. I told her I think it captures humanity, the soul, human yearning, and the search and hope for communion in the midst of loneliness. She replied, "Yeah, that's why I like it, too."
Now, the question: once this ache is identified, what's one to do? Getting back to the Cinnabon, West writes:
Right in that moment of sadness, at the end of a meal, it seems I have three options

(1) I can repress my desire in hopes of alleviating the sadness;

(2) I can gluttonously indulge my desire in more food than my body needs; or

(3) I can let the deliciousness of the meal and the sadness that it's over do its job: to awaken my hope in and whet my appetite for the life to which I'm destined, the life beyond this life where the banquet never ends.

The option I choose in that moment indicates whether I'm learning to direct my desire according to God's design so that it launches me to my destiny. In short, the option I choose in that moment determines whether I'm on the path of a stoic (tries to avoid the pain of desiring more than this life has to offer by choosing not to want so much, by shutting desire down), addict (who tries to avoid the pain of wanting more than this life has to offer by gorging on the things this life does have to offer, trying to such infinity out of finite things, or mystic (who allows himself to feel the deepest depths of human desire and chooses to "stay in the pain" of wanting more than this life as to offer).
It is, then, the great saints who chose not to snuff out this desire, ignore, repress it, nor did they try to satisfy it themselves, seeking momentary pleasure in the things of this world. Instead, they chose to live with the ache that they believed only God could satisfy, contenting themselves with waiting for Him to come to them and satisfy them on His time. And here came another earthquake of understanding: just how many hundreds of times during the day do I reach for something other than God to help temper the sadness and agitation that comes from an imperfect life? To think: that unsettledness is a longing for God and how infinitely more He feels that for me!
This all leads to Christopher West's thesis that "Christianity is the religion of desire—the religion that redeems eros—and its saints are the ones who have had the courage to feel the abyss of longing in their soulsand in their bodies and to open that longing in 'the groanings of prayer' to the One who alone can heal their 'wound of love'. In other words, the saints have learned how to open all their desires for love and union to the Love and Union that alone can satisfy: 'mystical marriage'…with God" (39).
Fill These Hearts is a beautiful examination of what it means to be a creature of desire and how we, who might have disordered desires, can pray that God "untwist" them so that we might discover our own deep longing for God, which is, in fact, an echo of the infinite ache He has for each one of us. We are destined for eternal bliss with God, Christopher West reminds us, and I am so grateful for the powerful reminder of that destiny that is this book. What a joy to come across such an effective tool for the New Evangelization. Thank you, Christopher West!
Copyright 2013 Meg Matenaer
About the Author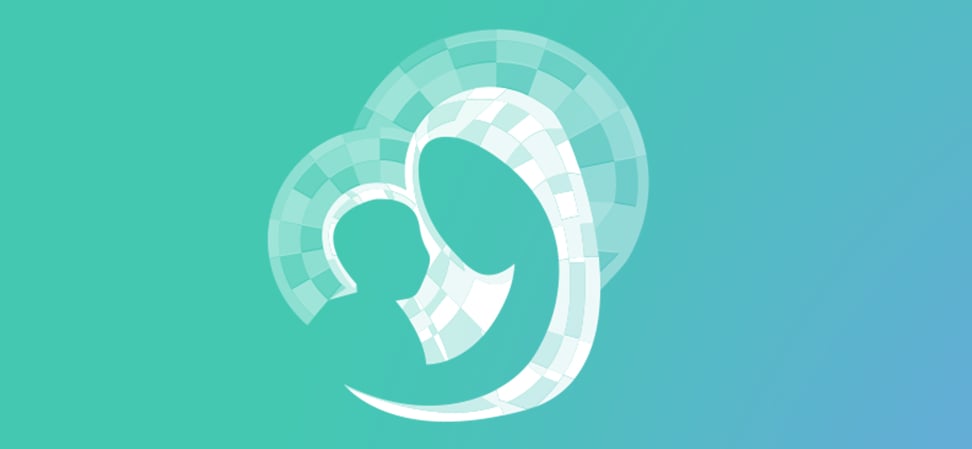 We welcome guest contributors who graciously volunteer their writing for our readers. Please support our guest writers by visiting their sites, purchasing their work, and leaving comments to thank them for sharing their gifts here on CatholicMom.com. To inquire about serving as a guest contributor, contact editor@CatholicMom.com.