While visiting my parent's church this weekend in Massachusetts their parish priest said something that truly made me stop and reconsider why my faith is so important to me. Father Mullen of St. Brendan's, Bellingham MA commented that those with a grasp of their faith are happy people.
And he is right. I am basically a happy person, and to be honest, my family is funny! I can always count on one of my five siblings to make me laugh, to help me look at the up-side of a situation instead of the down-side. And, I am happiest when surrounded by other faith filled people. Those in my family who have a firmer grasp on their faith are the ones I seem to turn to when confused, angry, frustrated, and depressed...because of their sunnier nature.
Since faith-filled people live a life with the God at the center of their existence, with a God who has died for them so they may never die, they are free to be happy. When issues arise, as they always do in life, a faith-filled person knows God is there, holding our hands, walking with us. It is a liberating feeling knowing we are never alone. We have a companion who will never desert us. That alone is cause for happiness.
May this Second Week of Lent, which was begun with the Reading about the Transfiguration of Our Lord, be spent transfiguring our own lives. May we spread happiness to those we encounter, and may our faith lead the way...because we ARE a happy people and fun to be around.
Mt. Tabor is believed to be the site of the transfiguration of Christ, as detailed in Sunday's Gospel. Since the sixth century, chapels have been constructed on top of this mountain. In 1924, the present Church of the Transfiguration was completed and today it is operated by the Franciscans who have lived in a nearby monastery since 1873. Today the Church is accessible by bike and cabs, and walkers can still use the 4300 steps built in the 4th century.
Copyright 2013 Carol S. Bannon
About the Author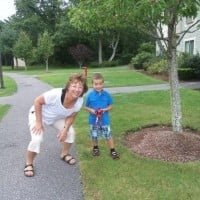 Carol Bannon currently lives in Massachusetts with her husband. She is a wife, mother, grandmother to seven, substitute teacher, and an active supporter of the Down Syndrome Society of Rhode Island (DSSRI). Carol is the author of Handshake from Heaven and Our Family's Christmas Elf. She and her husband love to spend time boating on Cape Cod and traveling to new harbors.