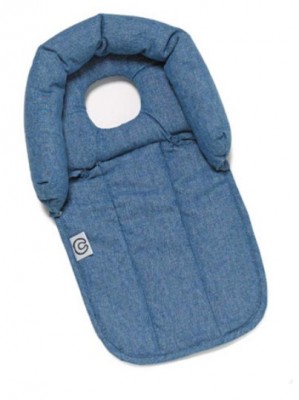 He looks so confident, I think. Like he knows everything's going to be okay. I peer at the baby pictured with the product. He's smiling, maybe even coming down from a laugh. Totally relaxed, casually playing with his feet, he looks like he doesn't have a care in the world. And it's clear why: his mom got him a Noggin Nest.
He's lying on an upholstered mat with a donut-shaped pillow sewn at the end. His head rests in the pillow, designed to take pressure off the back of his soft head. If he were to sit up we'd see that the back of his head was still beautifully round. It looks like it's working for him, I think. But will it for us? My two-month-old's head comes to mind—so sweet and beautiful in the front and so flat in the back. I sigh.
He was my big man, almost nine pounds at birth, and he arrived appropriately with a big, heavy head. Though round at first, as the weeks came and went I had a nagging suspicion that little by little the back of his beautiful head was flattening out with each nap, each trip in his car seat, each morning after a long snooze in the bassinet.
Gradually my anxiety mounted. I'd run my fingers over his head after picking him up from his nap, feeling for any flat planes. I'd hold his fuzzy head to my nose, and slowly turn him, my eyes searching for changes in how the light fell on his scalp. Finally, I didn't have to hold him so close. It was clear as day: one part of his head was round, the other was not. It had become a Problem, and one, I felt with certainty, that would end with him in a helmet. I had to do something.
I tried flipping him over in his basinet so that he'd sleep on his tummy. I found myself checking in on him every few minutes to make sure that he was still breathing, as he was fond of falling asleep face down. I'd try to nudge his little face to the side to free up a nostril and he'd push right back, burying his nose somewhere underneath him. I stood over him and watched him snore into the thin mattress and wondered how anyone my age ever survived tummy sleeping. It wasn't working. I wasn't getting much done during his nap and he wasn't getting much sleep.
My preoccupation with his head has only grown over the past few weeks and now I find myself face to face on screen with the Noggin Nest and the confident baby.
I notice at the top of the website that the Noggin Nest has received five stars according to 18 reviewers. I'm impressed, but then notice that the last star looks funny. Oh, there it is, I think. Its right arm is not shaded in. I figure it must work out to be four and seven-eighths and think that's still pretty good. I scroll down to see what people have said, hoping that someone with my story will have written to say that the Noggin Nest had fixed their problem in a week and half.
The first several reviewers tell how the Noggin Nest successfully prevented their babies' heads from getting flat. My heart sinks. That wasn't really helpful as my son's head was already flat. Had anyone had success with the Noggin Nest actually reversing the flattening? I scroll down further. When I'm thinking of giving up, there it is: a lady with a flattish two-month-old used this and in a week and a half the spot was gone! There!
Before long a Noggin Nest was ordered, destined for our home, and I looked at the back of my son's head smugly. No need to worry anymore, I think. The Noggin Nest is on its way.
I fight back the feeling that this will be another Juicer, the time I rashly purchased a $50 juicer, stopping to get kale, collard greens, parsley, celery, and one apple on our way home, certain that it would fix my little people's aversion to vegetables with one whirl. It did not. I have a sneaking suspicion that I am putting all my eggs in One Basket, but I squash the feeling. The Noggin Nest has to work and I know it will because it worked for confident baby. And it's received 4 7/8 stars. I'm positive that in a week and a half (plus 5-8 business days) both our heads will be feeling better.
Copyright 2013 Meg Matenaer
About the Author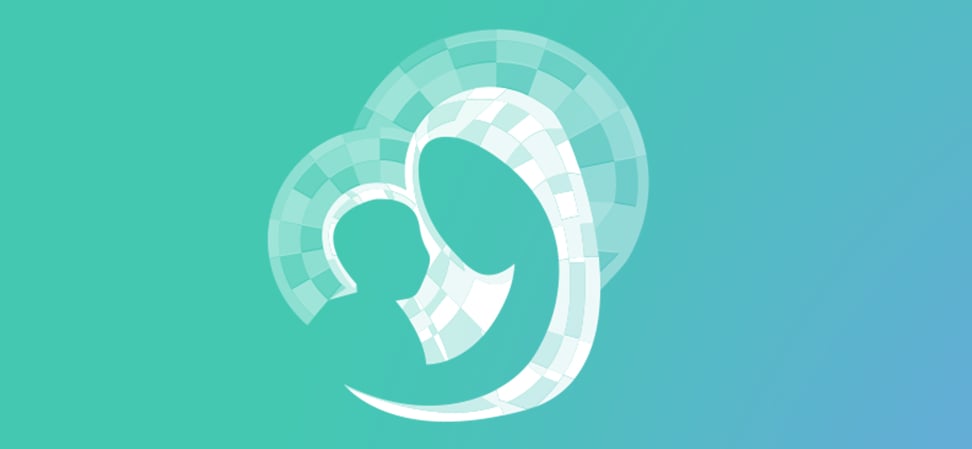 We welcome guest contributors who graciously volunteer their writing for our readers. Please support our guest writers by visiting their sites, purchasing their work, and leaving comments to thank them for sharing their gifts here on CatholicMom.com. To inquire about serving as a guest contributor, contact editor@CatholicMom.com.