Philip and I met on Holy Saturday, March 26, 2005. We were sophomores in college at the University of Nebraska -- Lincoln. When I returned to the sorority house after our first date, I told my friend Kristin, "I'm going to marry that guy!"
Exactly one week later, on Saturday, April 2, 2005, I was studying at the sorority house between doing loads of laundry. That afternoon, I heard the news that Pope John Paul II, the only pope I had never known, had died. While I was changing loads of laundry, Philip called and left a message on my sorority room answering machine. (I didn't have a cell phone at the time.) Philip and I had made plans to go out to dinner that evening, but he had a slight change of plans.
"Hey, Catherine. It's Philip. I just wanted to call to let you know that I'm going to be a little late picking you up for dinner tonight. I haven't had a chance to stop by the Newman Center (our university's Catholic Church) to say a prayer for the Holy Father, and I want to do that before I come to get you. You're welcome to join me if you'd like, so give me a call if you want to go together. Otherwise, I'll come by A-Phi to get you at 6:30."
Wow! Not only did this guy that I had only known for a week care enough about his faith and the future of the Church to stop by the chapel on a Saturday night to say a prayer for the Holy Father, but he was not at all self-conscious or nervous to let me know that: (1) doing so was a higher priority than our date, (2) he was going to be late because of it, and (3) I was welcome to join him if I wanted. I was impressed, and, if I'm being honest, a little embarrassed that I hadn't even thought to stop in at the Newman Center to say a prayer of my own. This Philip guy had a lot to teach me.
I called Philip to let him know that I would love to join him in prayer at the Newman Center, and we walked to the church together before our dinner date.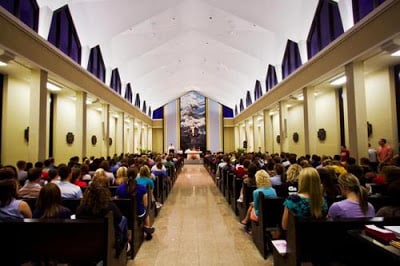 St. Thomas Aquinas Catholic Church on the University of Nebraska -- Lincoln's Campus
The Newman Center was dark. Only the light above the altar, fixed on our crucified Lord, and the last minutes of sunlight through the stained glass illuminated the church. Silently, we entered the church and crossed ourselves with holy water. Philip led us to the front of the church and stepped aside to let me genuflect and enter the pew ahead of him. He put the kneeler down for both of us, and we spent I don't know how much time kneeling and praying alone in the dark. 5, 10, 15 minutes?
That previous year, I thought God might be putting it on my heart to be a religious sister. I went on a retreat to further discern my vocation, and I went to a very holy Notre Dame sister to express my sorrow at the possibility of never marrying or having children. I'll never forget her wise and loving response. "Honey, God doesn't want you to be miserable! If you're sobbing over the thought of never having children or sharing your life with a husband, then God probably isn't calling you to become a religious sister." Nonetheless, I still wondered... I didn't yet understand that I could serve God with my whole heart and soul AND be a wife and mother. I didn't understand that marriage was the best possible thing I could do for my soul and that it was the best way I could glorify Him.
I remember sitting in that dark church, praying next to Philip, and feeling very at peace that God was calling me to marriage--and very possibly to the man kneeling next to me. That deep peace filled me with happiness, and my eyes overflowed with tears. I tried to wipe away the tears as discreetly as possible. Fortunately, Philip was being so prayerful that I don't think he noticed. I prayed for the soul of Pope John Paul II, the man I came to identify with as my sweet, loving grandfather in faith. I prayed for the Church and for the future Holy Father. I asked the Holy Spirit to guide the Church through the time of transition and to help all of the Church faithful to trust in the Holy Spirit's guidance. Before ending my prayers, I couldn't help but include a little selfish prayer for myself. I asked the Holy Spirit to help me to discern my vocation and to let me know if Philip was supposed to be my husband.
Silently, Philip and I ended our prayers, put up the kneeler, genuflected on our way out of the pew, and crossed ourselves with holy water as we exited the church. It wasn't until we were outside that I realized we hadn't said a word to each other since entering church. The prayerful silence was comfortable and came very naturally. Of course, the silence should have come naturally because we were in a church, but there was no tension. Only peace.
The rest of our date was full of great conversation and a lot of laughter. One week later, on April 9, 2005, we decided to start dating exclusively and gained the titles of "boyfriend" and "girlfriend." In the next few years, we grew in our faith and closer to each other. After two years of dating, Philip proposed marriage, I said "yes," and we started planning our life together. (I'll tell the proposal story another time. Philip outdid himself!)
One of the first things we planned together was our honeymoon in Rome. We decided if we could swing it financially, we wanted to start our marriage in the Eternal City with a papal blessing. We thought it was only fitting that we start our marriage with a blessing from Pope Benedict XVI, the man who started leading the Church as we started our relationship. With our airfare taken care of by Philip's parents' air miles, we were able to make it work! Hooray!
We made our way to Rome with our marriage certificate, the crucifix we received and had blessed during our nuptial Mass (for the Holy Father to bless), Philip's suit, and a white dress I bought just for the blessing. (Newlyweds receiving the papal blessing are instructed to wear their wedding attire, but Philip's rental tux and my heirloom wedding gown weren't going to make the trans-Atlantic flight!) Newlyweds from around the world come to the pope's weekly Wednesday audience to receive the papal blessing.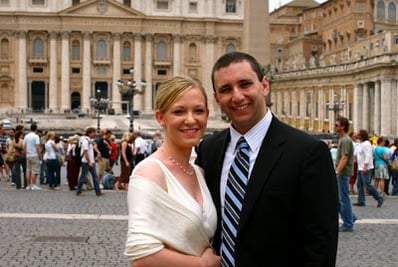 In front of St. Peter's after receiving the papal blessing
The universality of the Catholic Church sank in as we sat in St. Peter's Square, surrounded by other newlyweds that spoke different languages.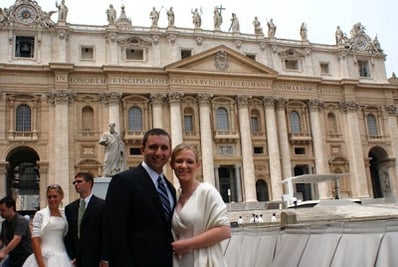 Another newlywed couple posed for a shot in the background. I still don't know what country they were from because I didn't recognize the language they spoke!
As we looked out into the square, we saw various countries' flags from around the world and heard the crowds chanting special songs to Pope Benedict in their native tongues. Simultaneously, we remembered just how small the world can be when our college friends coincidentally sat right next to us for the newlywed papal blessing!
Until I was ten feet away from the Holy Father, I hadn't considered how grueling the Petrine office must be on a daily basis. That, combined with the emotional weight of knowing that he stands at the helm of the barque for nearly a million souls, must be something. I thought it was "heavy" when I learned my ultimate goal as a wife and mother is to get myself, my husband, and any children we have to heaven. Imagine being given the charge of a billion souls!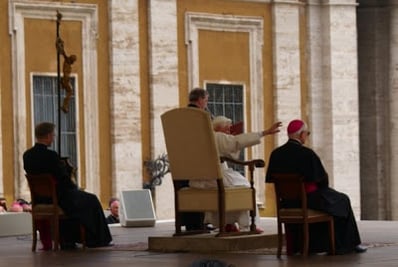 Our view from our seats during the papal audience. We were so close to the Holy Father!
Despite the weight of his office, Pope Benedict exuded a deep peace. It was beyond me how anyone could gaze upon his face, hear his words, and come away calling him "God's Rottweiler." I desperately wanted to hug "Papa Bene," kiss his ring, and thank him for his sacrificial service in love of the Church. We weren't able to get that close, but gazing upon his face and seeing his love for each person he met left an impression on me that I will never forget.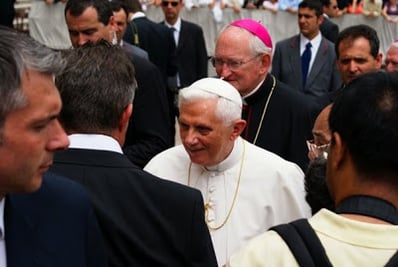 Getting so close we could see his face
Pope John Paul II was the only pope Philip and I knew until our sophomore year of college. He taught us about love, family, and the beauty of the domestic church. He showed us the Genius of Womenand prompted us to read the Catechism of the Catholic Church. We both embraced his Theology of the Body and clung to its truths as we anticipated married life. In countless ways, JPII laid the foundation for us to transition into adulthood as Catholics. When JPII died, I didn't think I could love another pope like I loved him.
Instead of viewing Pope Benedict XVI as a benevolent grandfather figure as I had JPII, I came to know him as a stern but equally loving father. The secular media had big plans for his pontificate, but Pope Benedict XVI allowed the Holy Spirit rather than the world's wants to set the agenda. He taught us about "Caritas in veritate" (Love or charity in truth). Surrounded by militant secularism and the"dictatorship of relativism" on a secular university campus put me in a variety of situations where I was told "truth is whatever is true for you" and that religion has no business in the public sphere. He taught me that truth may hurt (especially our pride!), but when we love, we take the risk of emptying ourselves to make room for Christ. He taught me how Christianity glorifies the rational mind and does not ignore it. I've often said that I would go to school for the rest of my life if I could. Pope Benedict taught me through his example as a professor and scholar that intellectual pursuits are fruitful only when they take a backseat to an intimate relationship with Christ.
Pope Benedict announced his resignation the morning of our daughter Jane's 3rd birthday, and his last day in office will be Philip's 28th birthday, February 28, 2013. I was sad but not surprised when I learned about Pope Benedict's decision to resign. My sadness quickly changed to peaceful hope and trust when I remembered that the same man who came to this decision must be doing so with a heavy heart. If we're going to be without a pope, it seems appropriate that it happen during the season of Lent. It's a season of almsgiving, fasting, and prayer. After pondering his abilities with the needs of the Church, Pope Benedict discerned that the Holy Spirit was calling him to give up the Chair of St. Peter, and we must "give up" our "Papa Bene," trusting that he would not renounce the Chair of St. Peter unless it was necessary.
In his book The Problem of Pain, C.S. Lewis addresses how a Christian can explain suffering if a loving God exists. When discussing our mortality, Lewis writes, "...finality must come some time, and it does not require a very robust faith to believe that Omniscience knows when." Amen! God is the Giver of Life, and only He can allow that life to end through His permissive will. I never felt that truth more acutely than when we lost our baby, Thérèse. Similarly, the Holy Spirit guides the life of the Church, and it does not require the robust faith of Catholics to trust that Omniscience knows when to guide a pope toward resignation.
We will miss you dearly as "Papa Bene," Joseph Ratzinger, but we know that you will continue to dedicate your earthly life to being God's faithful servant. What more could we ask of you? We must trust that the Holy Spirit will continue to guide the Church. We must pray every day of Lent for you, for the upcoming papal conclave, and that God's will be done in the selection of the next pope.
Thank you for being our stern but loving "Papa" and for guiding Philip and I as we built our lives together and approach our fifth wedding anniversary. I never thought I could love a pope as much as I loved JPII, but, as always, God outdid Himself in generosity when He gave us you. Now, I wonder if I could love a pope as much as I love you. Surely, God has something good in store if He is asking us to "give you up" this Lent. God bless you, "Papa!"
Copyright 2013 Catherine Boucher
About the Author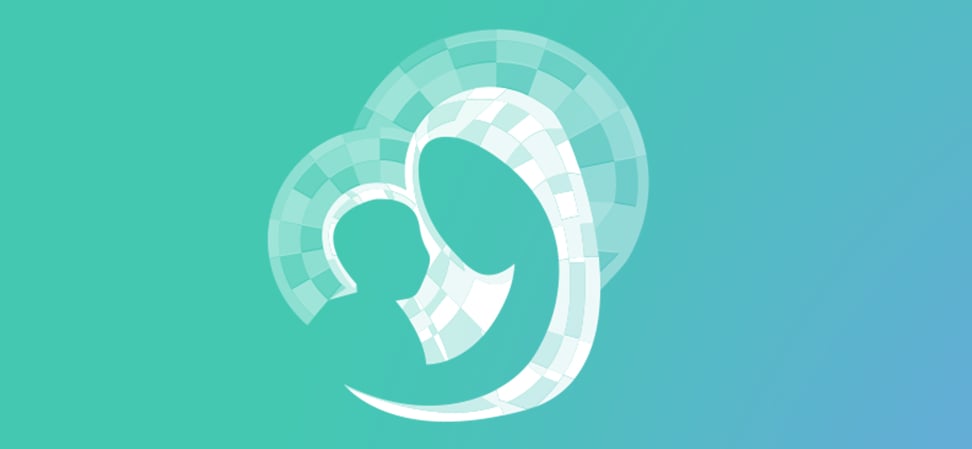 We welcome guest contributors who graciously volunteer their writing for our readers. Please support our guest writers by visiting their sites, purchasing their work, and leaving comments to thank them for sharing their gifts here on CatholicMom.com. To inquire about serving as a guest contributor, contact editor@CatholicMom.com.