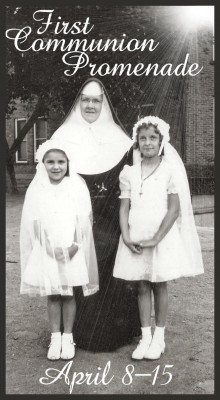 This week, I'm happy to be participating in a special series on First Communion being hosted by my friend Lacy, the super talented genius behind CatholicIcing.com. Here are the stops on this week's tour:
First Communion Promenade Rundown:
April 8 - Catholic Icing with First Communion Traditions
April 9 - Catholic Mom with First Communion Memories
April 10 - Catholic Deals with First Communion Deals
April 11 - Many Little Blessings with First Communion Cake Ideas
April 12 - Snoring Scholar with Celebrating Without Stress
April 15 - First Communion Link Up, and you're all invited!
Don't miss these posts coming up later this week! See you all at the link-up hosted on each of these sites one week from today, April 15. Can't wait to see all your First Communion posts, plus, we're going to have some fun First Communion giveaways!
Together at the Table: Remembering the Sweetness of First Communion
This Spring, our family marks a special celebration, the tenth year since my husband Greg joined the Catholic Church through the RCIA and the tenth anniversary of our Adam's First Holy Communion.
Let me give you a bit of backdrop to clarify why this is such a "big deal" in this mom's heart. Greg and I were married in 1986 at our alma mater, the University of Notre Dame. I knowingly and without any regret married a non-Catholic. He was -- and still is -- a wonderful man, fully supportive of my faith life and yet raised without much emphasis at all on formal religion in his own childhood home. Somehow he ended up at Notre Dame and fell in love with a daily communicant. Our love story continues to this day, but I'll share that when we said, "I do" and I vowed to raise my children in the faith, I couldn't have anticipated what a challenge it would be to do that solo, even with a spouse who was also fully committed to their being raised Catholic.
True story: CatholicMom.com was "born" the year that our first son, Eric, was preparing for his First Communion. I sat in a parent meeting where his wonderful teacher stressed to us the importance of being "Domestic Church" and realized how ill-equipped I was for the demands of the role of spiritual leader in our home. Again, Greg was supportive, understanding my sudden passion to dive deeper into my lifelong Catholicism.
And for years, I had been silently praying for God to touch Greg's heart. As we sat together in Mass (and yes, he often came with us), I told God that Greg's body sitting in church wasn't enough for me -- that I wanted my husband and both of my sons fully and actively present and committed to their faith lives, and to the Eucharist.
I'll skip the gory details, but want to share that in 2003 after seventeen years of marriage, Greg joined us through the Rite of Christian Initiation of Adults. On April 19, 2003 I watched with tears streaming down my face as my husband received his first Holy Eucharist. A few weeks later, Greg and I stood together as our Adam received his First Communion, and then the two of us -- side by side -- received Eucharist together. Eric, then a fifth grader, followed us. Finally -- all four of us at God's table together!
I'd like to say that I'm less "sappy" these days about those First Communion memories, but that would be a lie. Since my husband and sons play liturgical music at our parish each Sunday, I'm back to sitting in the pew alone. But now, I have the perfect vantage point each week to watch them go forward and receive Communion. 9.9 times out of ten, I have to wipe away happy tears at the sight of this precious gift. Honestly, I hope I never lose the sense of awe I feel in those moments.
I'm not going to declare that our family will always be as united as we are today in our faith lives. As the parent of young adults, I know how often our children -- even those who lived in the "perfect" Domestic Church (and mine was far from perfect!) -- seek a different path. I don't pretend to know what the future will hold for any of us. And I definitely don't judge my sisters in Christ who currently lack this unity and who pray as I did for so many years that their husbands and children will know and love God. I know the pain of that walk and pray daily for those who suffer in silence as I did.
But this month, and in this post, it's good to pause and give thanks for the sweetness of those very first memories, and of the new ones that are made each time we have the joy of receiving the Eucharist together.
"In each of our lives Jesus comes as the Bread of Life - to be eaten, to be consumed by us. This is how He loves us. Then Jesus comes in our human life as the hungry one, the other, hoping to be fed with the Bread of our life, our hearts by loving, and our hands by serving. In loving and serving, we prove that we have been created in the likeness of God, for God is Love and when we love we are like God. This is what Jesus meant when He said, "Be perfect as your Father in heaven is perfect." - Mother Teresa of Calcutta
Copyright 2013 Lisa M. Hendey
About the Author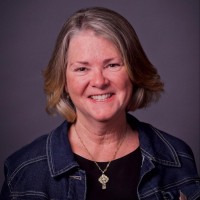 Lisa M. Hendey is the founder of CatholicMom.com, a bestselling author and an international speaker. A frequent radio and television guest, Hendey travels internationally giving workshops on faith, family, and communications. Visit Lisa at LisaHendey.com or on social media @LisaHendey for information on her speaking schedule or to invite her to visit your group, parish, school or organization. Visit Lisa's author page on Amazon.com.