Two copies of Pat Gohn's wonderful new book, Blessed, Beautiful, and Bodacious: Celebrating the Gift of Catholic Womanhood arrived in the post, and I carefully wrapped them up as gifts for the two most precious women in my life.
Some months ago I had the pleasure of going out with my adult daughters, both beautiful women in their early twenties. I never thought I'd have to wrestle over picking up the bar tab with those two, but I have to admit, it's rather nice to sit back and watch that little social ritual play out as we reached for the bill. In the end, I gave up, letting the oldest assert her well-deserved independence and treat good ol' mom.
The girls saw my smile, and the love behind my wisecrack, "it's about time."
But there was a great deal of satisfaction in watching that playful scene. I was struck with the passing of time, and wondered how it came to this, that I was in a pub having drinks with my now grown daughters when just yesterday, it seems, I was desperately looking for the tops to the sippy cups.
I was struck, as I periodically am, with self-doubt and the feeling that I have failed to give them every piece of wisdom they'll need to maneuver themselves through this lifetime, but more importantly, to maneuver themselves through this lifetime in order to get to heaven.
I feared that perhaps I didn't nurture enough, or teach enough, or listen enough. Had I prepared them to be women in every sense of that word? I wasn't even entirely sure I knew what I had covered well, and what needed a new kind of conversation -- adult conversation as we learn to maneuver this new stage in our relationship.
Enter Pat's book.
I was fully engaged in the gentle way Pat entered into a conversation with me. Rather than bowl me over with a bunch of "thou shalts," she beckoned me to join her as she shared about her life and her faith journey. Along the way, I learned about my own blessedness as a beloved child of God -- the beautiful gifts of my femininity -- and the awesome charge to be bodacious and go into the world to use those gifts in a meaningful way.
This is something I can share with my daughters. A book we can discuss and use to grow as Christian women, together. The lovely part is that Pat engages us where we are, as women in the modern world, and introduces us to the important documents, scripture, and catechetical concepts that define our dignity as women, and the importance of our role as part of the Body of Christ. And she does this by celebrating the gift of our womanhood.
I can't wait to see what conversations come of this with my daughters. I know it's already had a profound effect on how I see myself, but more than that, in how I carry myself in the world -- you might say I hold my chin up a little steadier, a little prouder, a little more bodaciously.
Order Blessed, Beautiful, and Bodacious: Celebrating the Gift of Catholic Womanhood and support CatholicMom.com with your purchase
Copyright 2013 Maria Morera Johnson
About the Author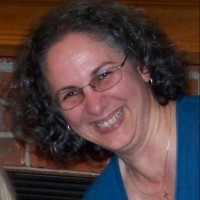 Maria Morera Johnson, author of My Badass Book of Saints, Super Girls and Halo, and Our Lady of Charity: How a Cuban Devotion to Mary Helped Me Grow in Faith and Love writes about all the things that she loves. A cradle Catholic, she struggles with living in the world but not being of it, and blogs about those successes and failures, too.