I'm sipping a cup of Earl Grey tea (heavy on the sweetener and lemon) and reminiscing about the past eleven days. It's been a crazy mesh of ups and downs – mostly ups, thanks be to God.
First, I've moved through one of my favorite times of year as Wisconsin begins to timidly shift from Winter to Spring. I emphasize the timid, since Spring is especially late here this year; the grass is struggling to become plush and green and there still are no leaves on the trees.
The calendar dates are shifting, too, as April rolls into May, the month of our Blessed Mother. I love that the Church dedicates an entire month to her, and I'm reminded of that as the date pops up on my computer each morning when I begin my work. It prompts me to stop for a minute to make an act of love and utter a prayer to our Lady.
Then, of course, there was my trip to EWTN in Irondale, Alabama for the taping of Donna Marie Cooper O'Boyle's new show, "Catholic Mom's Café." I and four other women – Lisa Hendey, Woodeene Koenig-Bricker, Lisa Mladnich, and Karen Edmisten – each appeared as a guest on one of the five pilot segments. Now we wait in delight and anticipation for the air dates to be announced. Oh, yes. And while I was at EWTN for Donna Marie's show, I was able appear live on EWTN Radio's "At Home with Jim & Joy Pinto." It was an amazing trip, chocked full of gifts and graces!
During this time, the entire Fenelon Clan moved from our middle son's wedding being some obscure date in the future to being less than a month, and now, as I write, a mere three weeks away. That also means, of course, that in just three weeks, I will officially and for the first time become a mother-in-law. Somewhere in these coming weeks, I'll have to find something to wear to the wedding, train myself to answer to "Mother of the Groom," so I don't ignore folks seeking me at the celebration and gear up for my new role.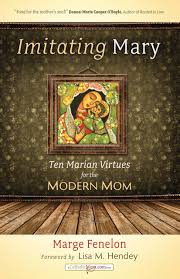 Interwoven between all of these happenings was my Imitating Mary Blog Tour. For those who aren't familiar, a blog tour is like a virtual train trip, with a stop at a different blog each day that includes a review, interview, or commentary and often a book giveaway. Blog tours can last anywhere from 5 to 10 or more days; mine lasted for eleven. From April 22 through May 2, Imitating Mary: Ten Marian Virtues for the Modern Mom was featured on the blogs of colleagues whose work I have admired for years. Talk about a humbling experience! Their kindness in participating in the tour and their acclaim for my book simply wowed me, and I am so very grateful. Every time I write a book, I go through a gauntlet of thoughts and emotions, dodging between enthusiasm, conviction, doubt, frustration, hopefulness, fret, pride, anxiety, and anticipation. Launching a book can be nerve-wracking and delightful all at the same time. The generous souls who hosted my blog tour helped to make this launch far more delightful than nerve-wracking.
That being said, I'd like to thank them publicly by posting their names and the links to their blog tour stops. Please visit their blogs, for their Imitating Mary content, but then frequently thereafter in support of their fine work.
I usually sign my letters, emails, and book inscriptions with "In joy & gratitude, Marge". Why? I want always to be joyful for God's mercy, love, and care for my family and me. No matter how bad things may seem to be, there is always something for which we can be joyful!! In the same light, there is always something for which we can and should be thankful, even if it's the smallest, seemingly insignificant detail. That, in fact, is how I try to spend my entire life – in joy and gratitude. So, I think that's the perfect way to end this post because these truly have been days over which to be joyful and give thanks.
In joy & gratitude,
Marge
Order Imitating Mary: Ten Marian Virtues for the Modern Mom and support CatholicMom.com with your purchase
Copyright 2013 Marge Fenelon
About the Author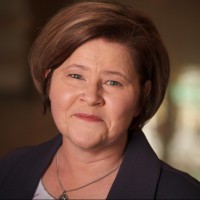 Marge Steinhage Fenelon is a wife, mother, award-winning author and journalist, retreat leader, internationally-know speaker, podcaster, and Catholic media personality. She's author of the best-selling Our Lady, Undoer of Knots: A Living Novena, award-winning My Queen, My Mother: A Marian Pilgrimage Across America, Forgiving Mother: A Marian Novena of Healing and Peace and other books on Marian devotion and Catholic spirituality. Learn more at MargeFenelon.com.