Love bears all things, believes all things, hopes all things, endures all things. 1 Corinthians 13:7
Every now and again someone crosses our path that renews our spirit, refreshes our faith and inspires us to be better Disciples of Christ. Just in time for Mother's Day, I'd like to share a story about a mother who has done just that. Her name is Amy and she is the mother of Bridget, one of my little first grade lovelies. Bridget was diagnosed with a rare kidney disorder in February and the journey she and her family have traveled has been a beautiful story of faith, prayer, hope and amazing love. In a few weeks Bridget's mom Amy will give her daughter a perfect gift of love, one of her own kidneys.
So many times in the past several weeks I've thought about Amy and the struggles she was undoubtedly experiencing. Bridget has two little brothers and I can't imagine the weight of motherhood and worry resting on her shoulders, yet every time we've chatted, her spirit is light and her smile is easy. Every conversation contains an affirmation of God's presence and sense of wholehearted trust. Amy will be the first to tell you that she and her husband Jon have recognized God's blessings and presence right from the very beginning. Bridget was a seemingly healthy, normal, energetic first grader until all at once things just didn't seem quite right and they quickly found out how wrong things really were! Amy said, "The complete shock of it was the hardest thing to process. We still looked at our daughter and saw a normal little girl, it was so hard to believe what they were telling us could be true." As they were trying to wrap their minds and hearts around the whole situation, the first sign of God's love emerged, and it was powerful to everyone who knew and loved Bridget.
On All Saints Day, St. Mary's School has an all day celebration of the Holy men and women of our faith. All 237 students had gone to the gym for a game of musical chairs. Each chair had the name of a saint on it. The kids made their way around the circles of chairs as the music played and when it stopped they all sat in the nearest chair. If the saint name read was displayed on your chair, you had to sit. The last child standing was Bridget and the saint on her chair was the newly Canonized St. Kateri. One of the teachers remembered that story the day we found out Bridget was sick. St. Kateri's final miracle for canonization was the healing of a child. Bridget had a holy hero to hold on to and to ask for help! Oddly enough, one day late in the summer, Bridget and her dad decided to build a huge teepee in their back yard for no apparent reason at all. By March, that teepee was a blessing and promise of God's wisdom and love. Bridget told me that in the beginning when she was a little bit scared about getting "poked with needles" she would take her St. Kateri statue with her and hold on to her so she didn't feel so worried. When I asked her if being sick changed her relationship with Jesus she smiled and said, "Being sick has made me holier I think because I pray a lot more."
I asked Amy the same question and she laughed and said, "Oh my gosh, there are hardly words to describe how much it has changed." There were three things she mentioned and I think they are a lesson to us all. She said, "I now pray the Rosary every single day. I've had days so hectic that I've climbed into bed and realized I'd forgotten to pray it and my eyes are wide awake until I can get it prayed." Amy often prays in way the Venerable Solanus Casey taught. He encouraged others to begin prayer by offering thanksgiving to God for the answers He will provide to the petitions we offer Him. "It's great to begin your prayers by saying thank you because you know God will hear and answer before you even ask." Amy shared. She was honest and said she did have days when the worries were heavy and on those days her faithful prayer is, "God take away my worries today! Maybe I can handle them tomorrow or the next day but not right now, so God, please just take my worries away right now."
I look at the picture of these two lovely daughters of God and I am amazed and inspired by their faith, strength, courage and trust. I wanted to share their story so that you too can be inspired and encouraged to love, and pray and trust. All too often when something bad happened, we ask "why me?" As Bridget and Amy's story is shared, maybe it will bring peace or inspiration to others and that gives purpose to their struggle, it gives them a chance to see the blessings that may come from their strife. The second purpose for sharing their story is to ask for an avalanche of prayer. The kidney transplant is scheduled for June 14th. Please ask God's blessing on this mother as she offers a gift of herself and on Bridget that she be healed and that her little body will become healthy again. I'd like to ask you to pray the prayer our school and community have been praying every day.
St. Kateri, who like Jesus loved little children, please intercede for our friend Bridget. Heavenly Father we ask You to wrap her in your healing arms and make her well. Please bless her family and her doctors. This favor we ask through the power of Your Holy Name. Amen
Happy Mother's Day!
Copyright 2013 Sheri Wohlfert
About the Author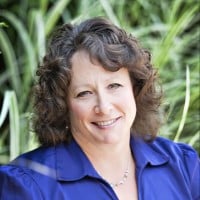 Sheri is a Catholic wife, mom, speaker and teacher. She uses her great sense of humor and her deep faith to help others discover the joy of being a child of God. Her roots are in Kansas but her home is in Michigan. The mission of her ministry is to encourage others to look at the simple ways we can all find God doing amazing things smack dab in the middle of the laundry, ball games, farm chores and the hundred other things we manage to cram into a day. Sheri also writes at JoyfulWords.org.