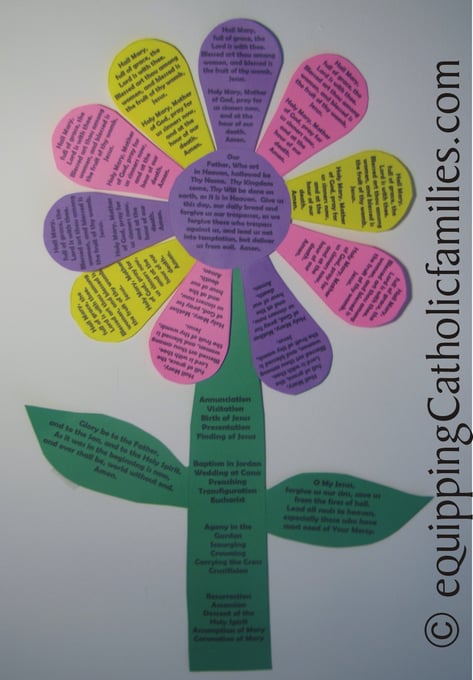 May is a great month, dedicated to our Mother Mary and honoring all moms with Mother's Day. Spring has sprung….and what better time to fill the house with flowers while saying the prayers of the Rosary!?
I really liked Alicia's post on A Spiritual Bouquet Card Craft last week…and I also have a Spiritual Bouquet craft encouraging families to pray the Rosary as a special gift for loved ones.
My kids love crafts. When my first daughter (Emily) was a toddler, we made Rosary Spiritual Bouquet flowers…with each petal, leaf or stem representing a different prayer of one decade of the Rosary. She loved crafts and the flower pieces helped her keep track of the Hail Mary prayers! Making Spiritual Bouquets with my eldest…was B.B. (before blogging!) but I do have pictures of Spiritual Bouquet-making with my youngest daughter (Bridget) last year!
Emily (@ 2 and a half!) would endlessly say decades of the rosary as we constructed the colorful flowers. At that point, I cut the pieces, but she had free reign over the gluing. We made some special looking flowers…and Grandma loved them, especially when she discovered that we were saying those Our Fathers, Hail Marys, Glory Be's and Fatima prayers…just for her!
Here's a quick reminder how to say the Rosary.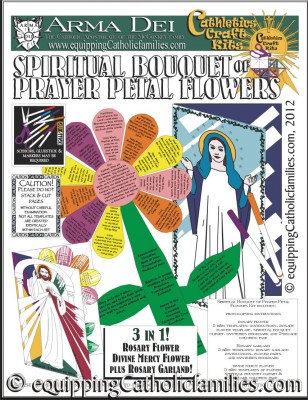 We ended up turning that little craft into a popular Cathletics Craft Kit with B&W templates of the flowers, with all the prayers printed on the petals and leaves.
It's called the Spiritual Bouquet of Prayer Petal Flowers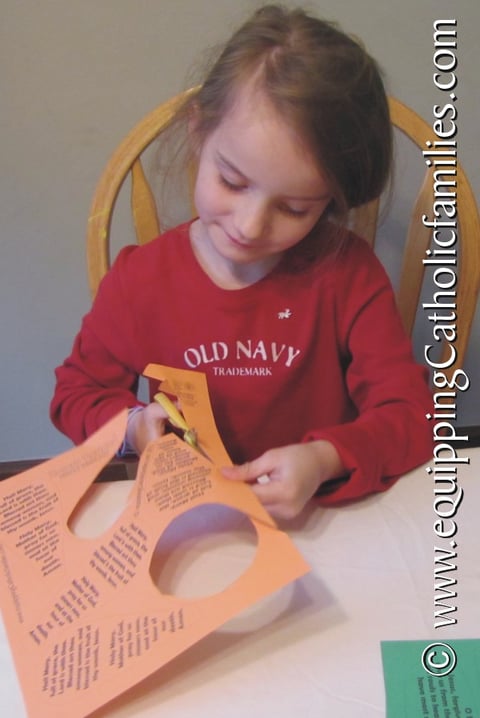 My youngest daughter is pretty good with scissors too …and loves to do crafts!
We share the praying part, alternating the first and second parts of the Our Father and the Hail Mary… especially while the scissors are involved.
Over time, we added more features to our Spiritual Bouquet Cathletics Craft Kit…like extra clipart for that special card for Grandma. (It explains the concept of the Catholic tradition of Spiritual Bouquets.) We also created the flower and clipart based on the Divine Mercy Chaplet…and we were so happy to include it within the kit. Here's a quick reference for saying the Divine Mercy Chaplet.
Now, we have added even more to the Spiritual Bouquet of Prayer Petal Flowers Cathletics Craft Kit including one-page Rosary and Divine Mercy coloring pages and a template to make a giant wall garland with all 20 Mysteries of the Rosary!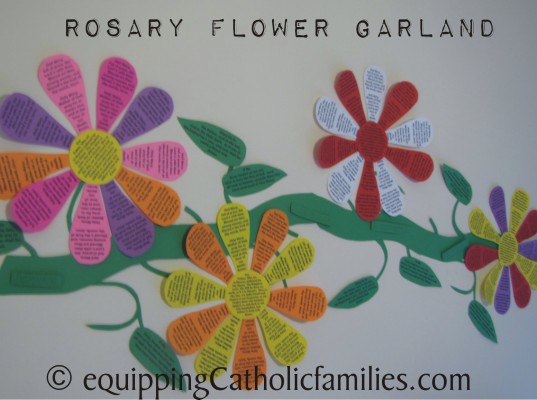 Happy Month of May!
Copyright 2013 Monica McConkey
About the Author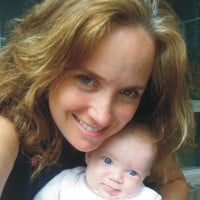 Monica, mom of 5, blogs about Catholic crafts and family traditions at EquippingCatholicfamilies.com. She is an author and creator of Super Saints quizzing cards and over 45 Saint, Sacrament, Catechism and Prayer-packed Craft Kits to help teach the Catholic Faith. The Catholic teaching tools and gifts are available through Arma Dei, the Catholic family publishing company founded with her husband Bill.