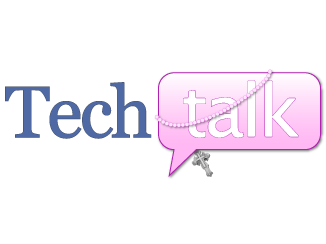 I've loved the Communion of Saints since I first learned just what that means to Catholics, somewhere around 12 years ago. Now, thanks to modern technology and awesome app development, my eight-year-old is getting a chance to join me in devotion to all sorts of saints.
Here are two apps we've enjoyed using together recently.
Note: my reviews are based on the iPad version of these apps. I do NOT have iOS 6.0 because I'm still on the original iPad. Both of these apps work just fine on it, which makes me love them even more. I used the screenshots that are available from iTunes, in part because I couldn't pry my iPad away from the short people on the day I was writing this review.
Patron Saints
By Our Sunday Visitor; Available for iOS (99-cents); Official Website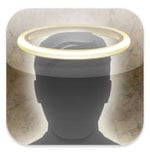 This came out as one of three saints-related apps Our Sunday Visitor released a few months ago. (The other two are set up similarly to this one and have been reviewed here at Tech Talk.)
I love that this draws from a database of over 1000 saints and is based on The Encyclopedia of Catholic History, Revised. With all the information that's available, this is information I can trust.
That, and you can do some really cool Catholic geekiness with it.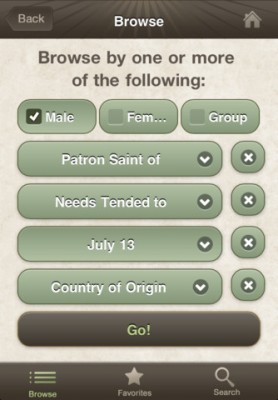 We went through and found out who the patron saint of horses was (there were at least four!) and then ran through birthdays of people we knew (ourselves included).
When I hear that someone's having a baby (or their due date), I make sure to check out potential patrons. (I also use the calendar function at Saints.SQPN.com for this purpose.)
And hey, opening the app to a beautiful image of the saint of the day isn't bad either.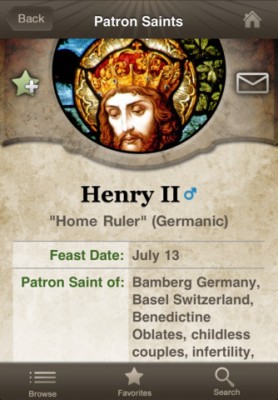 This is one of those Catholic must-have apps, and it's also an easy way to familiarize yourself with the huge family we have in heaven.
Saint of the Day for Kids
By Cary Molyneux; Available for iOS (99-cents); Official Website

This is an app that has "genius" written all over it. For my love-to-color gang, printing pictures of the saints is a win on a lot of levels. The summary bios are appropriately written, too.
However, this app comes with a warning (and this should be proof that I'm unbiased): there's some weird in-app purchasing options. I keep meaning to write a rant about that, and I was largely disappointed by that.

That said, I paid the in-app option to have it unlocked, because my eight-year-old was LOVING IT so much! When you unlock it, you can move around to whatever day you want on the calendar, and that allowed us to print copies of saints for, you know, every day of the year.
Note: the early version I tested had an in-app purchase option, but it turns out I'm not the only one who was disappointed by that. The latest version, which should be available yet this week in iTunes, will cost $2 up-front, instead of 99-cents and then another 99-cents in-app.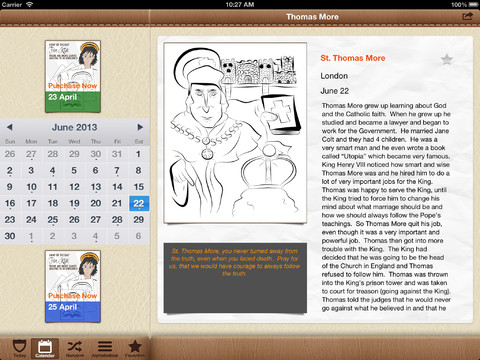 You can look for saints alphabetically too: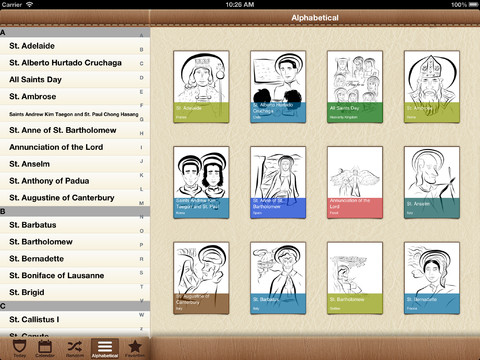 And if you're like us, you have favorites you want to be able to find again.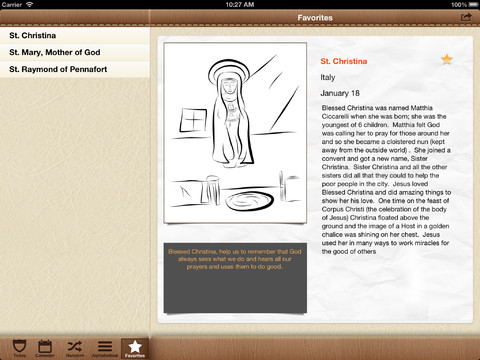 Overall, we're happy with this app. I highly recommend it and even more now that the "hidden cost" has been updated..
Read more of our Tech Talk columns.
Copyright 2013 Sarah Reinhard
About the Author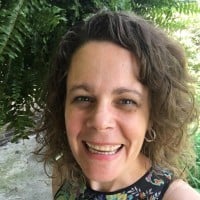 When she's not chasing kids, chugging coffee, or juggling work, Sarah Reinhard's usually trying to stay up read just one…more…chapter. She writes and works in the midst of rural farm life with little ones underfoot. She is part of the team for the award-winning Catholic Mom's Prayer Companion, as well as the author of a number of books. You can join her for a weekday take on Catholic life by subscribing to Three Shots and follow her writing at Snoring Scholar.