…Make straight the way of the Lord… John 1:23
A couple summers ago I was asked to speak at a convention in Canada. I was excited and I made sure I had the proper paperwork required to cross the border. As the trip drew closer, I began to get a wee bit anxious because I had never crossed the bridge into Canada alone and driving to the heart of Detroit to get to the bridge was not an adventure I was looking forward to. I left home that June morning with my coffee, my GPS and a bunch of prayers! As I was following the GPS through downtown Detroit I realized there was a lot of construction going on both in the city and on the entry to the bridge. The GPS had me turning left and right and circling through neighborhoods I would have never chosen to visit! I was getting frustrated because I could see the giant bridge but just couldn't find my way there. Finally I saw a huge orange sign attached to a tall chain link fence that said, "ALL BRIDGE TRAFFIC: Ignore GPS directions and follow orange sign instructions." Hallelujah, my path was made straight! I heaved a huge sigh of relief…so big a sigh in fact; I didn't notice I pulled into the Customs lane for French speakers only! God has such a sense of humor! Luckily it was 6 in the morning so there was no traffic back up and the lovely little French speaking Customs agent also spoke English. PHEW!
I realize often that my walk with Christ is very much like that trip to Canada. I know heaven is where I want to go, but sometimes my journey towards that destination can get a little twisted and off course. The world likes to give us directions. Society and media are full of formulas, products and gadgets designed to make us healthy, wealthy and wise. Just like my GPS, directions and diagrams just spew out for every ear to hear but that doesn't always mean it's going to point us in the right direction. Quite honestly, if we're looking to the world to point us to the straight path…we're in BIG trouble! Growing up I can recall my parents talking with other adults about how the world was "going to hell in a hand-basket" and they would shake their heads in frustration at one of the phrases of the day, "If it feels good do it!" Well, folks, if we look to the secular world to set our course, they are still sellin' the same line…except now the phrase comes with illustrations and they're on nearly every channel.
I loved the giant orange sign I saw that June morning. It made things crystal clear! Sometimes we ask for a sign…an assurance…some direction for our path and we stumble around looking for something like that big orange sign and we throw a hissy fit when we can't see it. Well, maybe we're not looking in the right place. I would be willing to bet each of you reading this has the perfect instruction sign…it's called the Bible! If you're looking for the straight path, pull out the ultimate "direction manual" and spend some time studying His word, I guarantee you'll find information even more helpful than that orange sign in Detroit! I don't think He cares if our path is straight…He just cares that we're moving in His direction.
A Seed To Plant: Take a quiet minute to just sit with Scripture. Ask God to open your mind and open your heart as you read over familiar passages or simply crack it open and read where your eyes rest. See what he draws you to and then let those words wash over you like a warm rain and ask Him to use them to set you on the path that leads to Him.
Blessings on your day!
Copyright 2013 Sheri Wohlfert
About the Author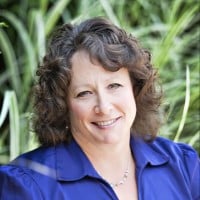 Sheri is a Catholic wife, mom, speaker and teacher. She uses her great sense of humor and her deep faith to help others discover the joy of being a child of God. Her roots are in Kansas but her home is in Michigan. The mission of her ministry is to encourage others to look at the simple ways we can all find God doing amazing things smack dab in the middle of the laundry, ball games, farm chores and the hundred other things we manage to cram into a day. Sheri also writes at JoyfulWords.org.