Wait for the Lord, take courage; be stouthearted, wait for the Lord! Psalm 27:14
Waiting is something we aren't so good at. We live in a society of "drive through", "instant" and "express" everything. We still have to wait 9 months for babies but it seems like practically everything else can be rush ordered. How did we get so wound up? I think all of the "speedy deliveries" we've become accustomed to have made us short on patience. Patience is such an important virtue it is mentioned more than 30 times in Scripture. I guess the big question is what are we supposed to do while we wait on things to happen? We don't want to waste time or miss out on anything so what is the solution?
I'm famous for giving God a time frame. I say things like, ok God, I will be patient and wait for you to show me the way; but I need to know by the end of June because I have to plan for this or that. I'm not sure that truly qualifies as patience. I have to share a struggle with you because it lead to a great message. I love teaching, I love writing, I love speaking…it's all so different and exciting and sometimes it gets a little crazy doing all three as well as being a wife and mom but I told God I would do whatever He asks me as long as He gives me the energy and the words. Let's face it, I'm way too old to get by on 5 hours of sleep a night so He's got to intercede…and He always does. But lately I've been getting a little sassy in my prayer. I went so far a couple weeks ago as to tell God I needed Him to choose. Do you want me to be a writer and speaker because I'd love to write a book and I'd love to travel all over the country spreading Your message but I just don't have enough minutes in a week to do everything? Oddly enough in that two week time frame, three people I am acquainted with got book deals or cool writing assignments AND I saw facebook posts from several speakers who were doing TV and radio shows and speaking to great audiences in exciting places…I was overwhelmed by the number of these events that just flooded my newsfeed! I was pretty frustrated and more than once felt like throwing my own little pity party. I was so frustrated with myself…I prayed over and over those couple weeks for God to take away those sassy thoughts and feelings because I knew they were not His thoughts or His ways.
After wrestling with this, I was standing in the kitchen doing dishes yesterday and I turned on the radio and the song that came on dropped me to my knees! I heard a song that I had heard dozens of times before but I guess I had never really listened. It was as though the whole world went silent and I heard the artist sing the words, "While I'm waiting I will serve You, while I'm waiting, I will worship." His message to me that moment was as clear and profound as the burning bush He put before Moses. That was it…I need to serve and worship while I wait. I was lovingly reminded that I don't get to pick the when, and the where, and the what. I get to pick the HIM and that is enough. I can't wish for someone else's journey, it isn't mine. It's my great pleasure to write here twice every week, it's a joy to speak to crowds of 10 or 1,000 in church basements or school gyms or wherever He sends me. Maybe someday I'll get to write a book or speak in Hawaii or appear on a Christian TV or radio program, but that isn't for me to decide. It is my humble privilege to serve and worship when, where and with whom He chooses to put in my path. I realized as I listened to that song how blessed I am to be able to do all the things He allows me to do. I don't want to miss out of one minute of service because I'm waiting for something "big". Waking up every morning in a country where I am free to love and serve and spread the Gospel is huge…better than a book deal, better than a five star hotel and conference center and certainly better than money! It's better because He chose it exactly for me…that's a perfect gift. So while I'm waiting for whatever it is He might need or want me to do with my time and talents, I will serve and I will worship and I can happily do those two things forever because they are pleasing to my Father.
A Seed To Plant: Make a list of the things you find yourself waiting for, then next to it make a list of the ways you can serve and worship while you're waiting.
Blessings on your day!
Copyright 2013 Sheri Wohlfert
About the Author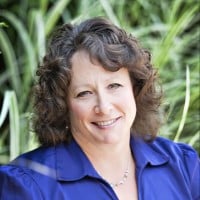 Sheri is a Catholic wife, mom, speaker and teacher. She uses her great sense of humor and her deep faith to help others discover the joy of being a child of God. Her roots are in Kansas but her home is in Michigan. The mission of her ministry is to encourage others to look at the simple ways we can all find God doing amazing things smack dab in the middle of the laundry, ball games, farm chores and the hundred other things we manage to cram into a day. Sheri also writes at JoyfulWords.org.