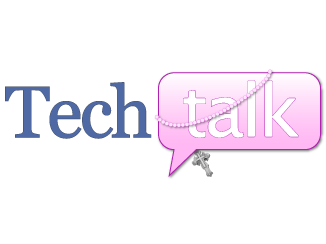 Catholic Blogger Stuart Dunn started his blog, Stuart's Study, because he likes to read and he's passionate about his Catholic faith. Personally, I can't think of a better reason to blog... :)

He's been blogging since September 2012 and averages three book reviews a week. He's also a new dad and will soon be a columnist here at CatholicMom.com (which I didn't know when I asked him to be on my Catholic Blogger interview roster).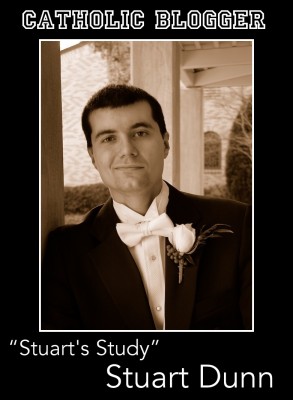 Tell us about your blog in five words or less.
Catholic, Orthodox, Books, Reviews.
Why did you start blogging?
Well, people like yourself and Brandon Vogt inspired me to finally start a blog, but it was also my love of reading and the realization that there were only so many holidays in the year in which I could request books for gifts. Now, I get almost all the books I want in exchange for reviews, and I can ask for more important gifts...like icons!
Why do you keep blogging? What's your inspiration to continue?
When I was converting over a decade ago, I wanted to read and learn about the Faith as much as I could. However, I was timid with my selection and mainly read Scott Hahn because I knew he wouldn't lead me astray.

As I've grown in my faith, I've been able to branch out and discover that we have a wealth of other great Catholic authors out there. So I want to expose people to those authors.

It sounds cheesy, but if I can help one person deepen their faith or rediscover their faith with a review I write, then it's all worth it.
When you think of the New Evangelization as a Catholic blogger, what excites you? What makes you want to continue?
I guess I haven't thought about my blog in terms of the New Evangelization. I personally believe the New Evangelization starts at home. With the birth rate declining among secular people and Catholics having the family sizes we're stereotyped for having, if we do our jobs as parents raising our children strong in the faith, we could have a Catholic culture shift in the coming decades. I guess since I review kids books, though, maybe I can give you some ideas to get your kids reading about the Faith from an early age.
What's the most rewarding aspect of your blogging?
I'd be lying if I said it's all been rewarding. Sometimes, I feel like I'm writing to myself and my lovely wife who takes the time to edit my posts for grammar. I think the most rewarding aspect is the people I have virtually met, such as Lisa Hendey or yourself.
In your spare time, what are we likely to find you doing?
Reading and walking my two-month-old son around the house when he's fighting sleep.
Read more of our Tech Talk columns.
Copyright 2013 Sarah Reinhard
About the Author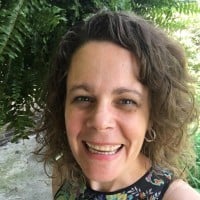 When she's not chasing kids, chugging coffee, or juggling work, Sarah Reinhard's usually trying to stay up read just one…more…chapter. She writes and works in the midst of rural farm life with little ones underfoot. She is part of the team for the award-winning Catholic Mom's Prayer Companion, as well as the author of a number of books. You can join her for a weekday take on Catholic life by subscribing to Three Shots and follow her writing at Snoring Scholar.