My review shelf is a little out-of-control. Observe: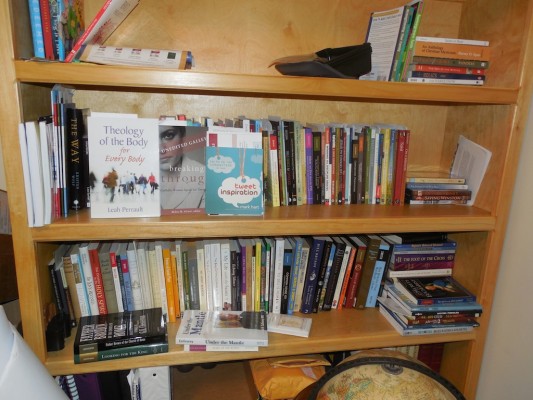 The second shelf, the one with the faced-out books, is filled with titles I DO want to read. The third shelf has titles I also want to read, but that I've purchased.
Does anyone else see a problem here?
I've been forcing myself to go through that review shelf and give titles away (usually through my weekly giveaways at my blog), and I'm finding out just how fun "detachment from books" is in practice. (Hint: it's NOT fun.)
So I decided to pick three books--just three--that I will read next from my review shelf. I don't know WHEN I will get these finished, but I'm hoping for the end of August. We'll see.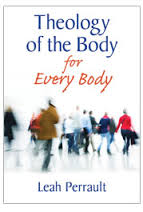 Theology of the Body for Every Body, by Leah Perrault (Novalis, 2012)
I just got this book, and yes, it's jumped ahead of a lot of others. Blame Jennifer Fitz and her argument that this is the best book on evangelization that she's read.
Here's what the publisher says about it:
A broad reflection on John Paul II's Theology of the Body and how it applies to every day life for people of all ages. Highly explored and examined, Pope John Paul II's scripture-based reflections on human relationships and sexuality have captivated thousands of women and men around the globe. Yet few have discussed the implications of his theology for everyday life. Theology of the Body for Every Body offers us just that: a holistic reflection meaningful for everyday life. This outstanding book explains Pope John Paul II's foundational ideas and then looks to his encyclicals and writings on family, justice, labour and the Church to broaden the application of his Theology of the Body beyond simple and simplistic - sexual ethics. Bringing a female voice to the writings surrounding the Theology of the Body, Leah Perrault explores its deeper applications for sexual ethics within a vision for human growth, service and justice.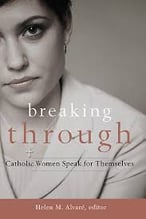 Breaking Through: Catholic Women Speak for Themselves, Edited by Helen Alvare (Our Sunday Visitor, 2012)
Though I've wanted to read this book for quite some time, here it is, dust piled on top of it and me not having read it.
From the publisher's description:
Catholic women are some of the most maligned, most caricatured, and most intriguing people in American society.
America is flirting with the idea that being a Catholic female means saying "yes" to the faith as a private source of comfort, but "no" to living out its more countercultural moral and social teachings.
Catholic women are facing unprecedented questions about sex, money, marriage, work, children and the church itself -- questions with innumerable personal and societal repercussions. Is it even possible that the teachings of a 2,000 year old religion are still relevant for today's toughest issues?
A quick tour of leading cultural indicators seems to say "no." But this is far from the whole story. Many women, courageously facing questions their mothers and grandmothers would never have encountered, are finding intellectually and spiritually satisfying answers within the framework of their Catholic faith.
Nine such Catholic women -- varying widely in age, occupation and experience -- share personal stories of how they struggled toward the realization that the demands of their faith actually set them free. Their stories -- full of honesty, but ultimately hope -- shed new light and new clarity on women's continued attraction to the Catholic faith.
Topics include:
Navigating dating and sexpectations
Feminism, freedom and contraception
Children versus a "better me"
Being Catholic in light of the sexual abuse scandal
Faith, psychology and same-sex attraction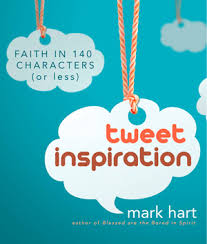 Tweet Inspiration: Faith in 140 Characters (or Less), by Mark Hart (Servant Books, 2013)
I'm a Mark Hart fangirl, but you know what? I've never read one of his books. So I thought that, given my love of Twitter, this would be a good one to start with.
From the publisher:
There are lots of ways to spread joy to others, and social media is a creative way to do it. Tweet Inspiration is a compact treasury of inspiration, with a good dose of humor, gathered from Mark Hart's extensive collection of tweets on faith and life in general. Scattered throughout the book are call-out boxes with Mark's expanded thoughts and insights on various topics.
How can you be inspired and encouraged in this short format? Here are some examples:
The command to "love your enemies" (Lk 6:27) sure would be easier if we weren't just starting football season. ;)
You can usually tell by the look on someone's face if they woke up counting their problems or their blessings. (James 1:17)
Sssshhh. God is speaking. #Listen
Whether you have an active faith that needs to be strengthened, or are seeking to establish contact with God for the first time, you will find something here to help you find the God who is already seeking you.
Get ready to be surprised, inspired, and challenged—in 140 characters or less! #Youwillbeblessed.
And the little reminder: when you purchase through our links, you support the work we do here at CatholicMom.com. Thanks for that.
Be sure to check out our Book Notes archive.
Copyright 2013, Sarah Reinhard
About the Author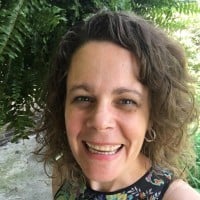 When she's not chasing kids, chugging coffee, or juggling work, Sarah Reinhard's usually trying to stay up read just one…more…chapter. She writes and works in the midst of rural farm life with little ones underfoot. She is part of the team for the award-winning Catholic Mom's Prayer Companion, as well as the author of a number of books. You can join her for a weekday take on Catholic life by subscribing to Three Shots and follow her writing at Snoring Scholar.