I have taken on a huge commitment. Like most people, this isn't the first time I've made a commitment that feels at times very overwhelming. I am married, I have children, I have a few degrees, a job; all big commitments that at times have felt overwhelming in both good and bad ways. This one is different. It feels like an all about me and possibly selfish commitment. I committed to a fitness Boot Camp for five weeks.
Five weeks seems like a short time but the plan is to go five days a week for five weeks, Saturday is optional. I am doing it, sometimes awkwardly, almost always with difficulty, but I go and work. I walk in feeling sore and achy but then after a few minutes my muscles loosen up and I can do what is planned for the day.
I keep telling myself I like it and in some ways I do because I'm pretty amazed at what my body is capable of after years of not doing anything more than walking. But at least some part of my body is sore all the time. All of this is positive because I am learning a few things about myself in this process of becoming healthy and strong.
I have become very aware of what I put into my body as food. When I eat it is only healthy, unprocessed food, lots of water and NO wine. I pass up the candy jar in the office because even one little piece of chocolate is not helpful.
I have also learned to give up control. I go and do what the coaches tell me to do, as many reps as they tell me to do and for as long as they tell me to do it. Trust me though; many adaptations are made since everyone in the group is at different levels of ability. I work hard at trusting the process.
I keep reminding myself it won't kill me, but it will make me stronger. It is making me stronger mentally and the physical will follow. As far it being selfish, that's something I need to continue to work through with God. This boot camp is a lesson in trust, humility and perseverance. All things I need in my life; how about you?
Copyright 2013 Deanna Bartalini
About the Author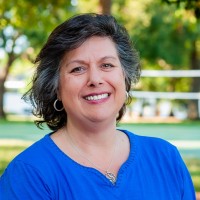 Deanna G. Bartalini, MEd, MPS, is a Catholic writer, speaker, and educator. Her Bible study, invite the Holy Spirit into Your Life, is published by Our Sunday Visitor. Her website, DeannaBartalini.com, is for the Every Day Catholic. There you can find Deanna's writing, free webinars on Catholicism, her podcast and social media services, and invite her to speak to your group, in person or virtually.