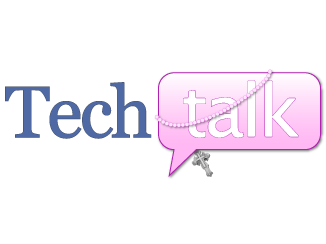 I've been feeling a little frazzled lately. All of the things that were once opportunities have turned into responsibilities. Oddly enough, this is the time that I should be spending more time on devotions, but instead, quiet time gets pushed aside so I can get a jumpstart on the day.
When I'm at the beach, I rarely start my mornings without devotional time. But at home, without fail, life takes over. I know that when I take the time to start the day with prayer and reflection, the day goes more smoothly. Even just a few minutes spent with my devotional is an investment that pays returns all day long in the form of a better frame of mind and a calmer approach to everything I encounter -- something I tend to forget when I'm in a hurry to check things off my list, or, worse yet, simply push aside in the busyness of the day.
About the same time that I was feeling all these feelings a friend introduced me to the Word Among Us app. Familiar with the magazine, I was interested to see what the app looked like.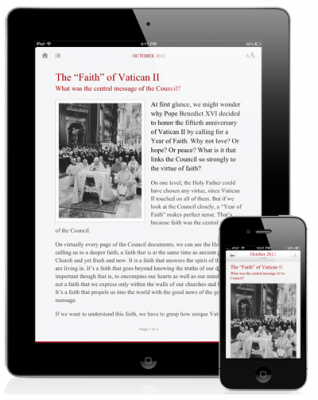 It downloaded onto my newsstand, which surprised me at first because I'd been expecting another "button" like the ones generated when I download an app onto my iPad or iPhone.
This app came with a free 14-day trial, but in my hurry to get to the meat of the app, I failed to find out how it would notify me when my time was up. Fortunately, since no credit card number was required in order to download the app, I'm not anticipating an unpleasant reminder in the form of a charge on my credit card.
Once I downloaded the app, a simple tap on the cover took me to the table of contents: just like a magazine.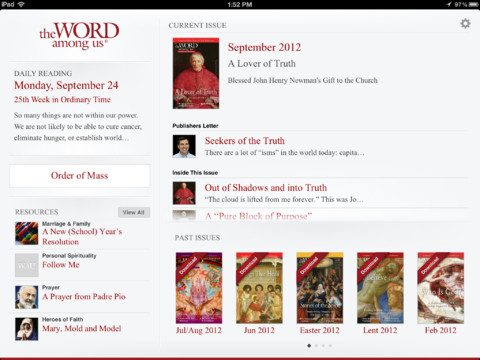 Similar to the table of contents in the print edition, (with the additional bonus of downloadable back issues across the bottom), it is clear and easy to navigate.
Clicking on "Daily Reading" in the upper left hand corner brings up the readings and prayers for the day, along with a meditation.
If you're feeling distractible or in need of inspiration on a particular topic, scrolling through the rest of the contents is a breeze. That first day, I skipped around throughout the issue, much as I would flip through a magazine to explore its contents. I read the daily readings and meditation, checked out a couple of articles and scrolled through the Order of the Mass, impressed by the presentation on each page, which was crisp, clear and colorful.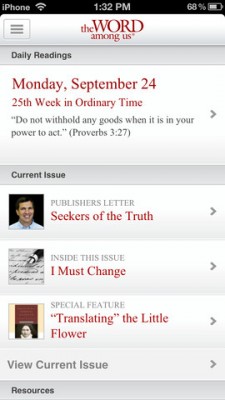 A few days later, feeling a bit calmer, I decided to go back a step and find out what I might have missed in my rush to hit "install." This time, I decided to check out the app on my iPhone to see how it fared on a smaller screen (and a newer device).
A search for "Word Among Us" in the App Store brought up a thorough preview of a past issue which lived up to its own description: even the preview was "beautifully designed for iPad and iPhone."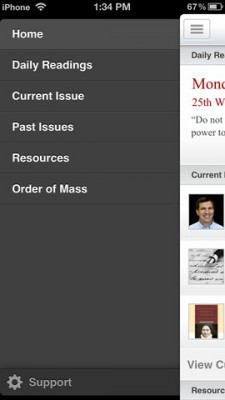 Though I was disappointed that clicking on the thumbnails didn't bring up a larger version, I was impressed by the five-page preview that showed samples of both the layout and a variety of pages.
And I really can't complain, since the sample pages are a good size for the phone screen and can be read as-is.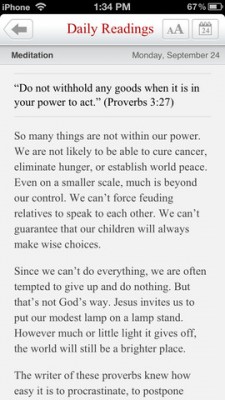 Although I will still be required to get my own tush in my own seat to enjoy the features of this app, it's obvious that once I do so, I'll not only enjoy the experience, but I'll be able to tailor it to my needs on that day as well.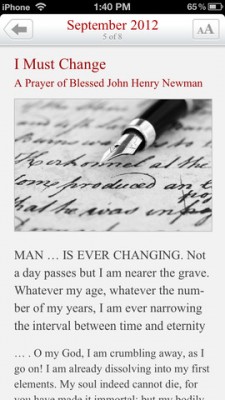 Maybe that will help me to remember that devotional time = prayer + peace + productivity.
The Word Among Us app is available for iPad and iPhone on the iTunes App Store. It is free to download and includes a 14-day free trial, with a special $1.99/month introductory offer after the trial ends. Active print subscribers receive free access with print subscription. A Kindle edition is also available.
Read more of our Tech Talk columns.
Copyright 2013 Lisa Hess
About the Author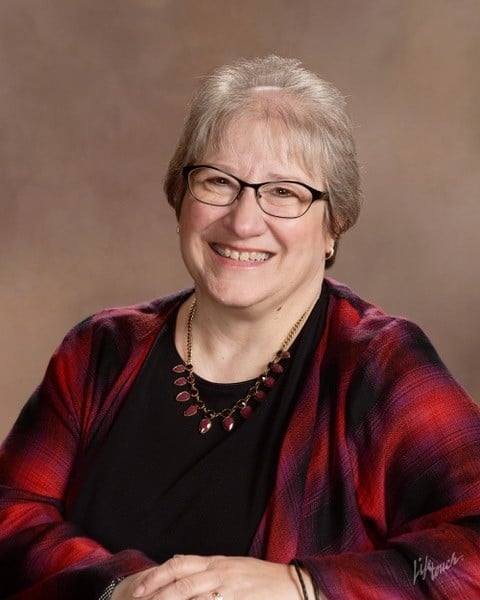 Lisa Lawmaster Hess is a transplanted Jersey girl who writes both fiction and non-fiction. Lisa's latest book is the award-winning Know Thyself: The Imperfectionist's Guide to Sorting Your Stuff. A retired elementary school counselor, Lisa is an adjunct professor of psychology at York College. She blogs at The Porch Swing Chronicles, Organizing by STYLE, and here at Catholicmom.com. Read all articles by Lisa Hess.