This topic came to me by way of my inbox, where I found a request that sent me to social media in a hurry. A homeschooling mom of boys wrote me, asking for book recommendations for her teen boys. She wrote,
I want to present books that are engaging, have depth, and have characters (whether true or fictional) that are excellent role models - display virtue. But I would like a "gentle" Catholic touch, if possible, to compensate for some of the heavy-handed Protestantism that is being pitched by one of the families in an effort to evangelize.

We read all genres, including "how to" books. We have read both the Hobbit and the whole Lord of the Rings series as well as the Narnia series and Fr. Brown. Is there anything else out there that is Catholic and meets the above criteria?
I read young adult fiction, yes I do, but I'm a girl. And I don't (yet) have a reading teen boy in my life. That's where the input from others via social media was so helpful.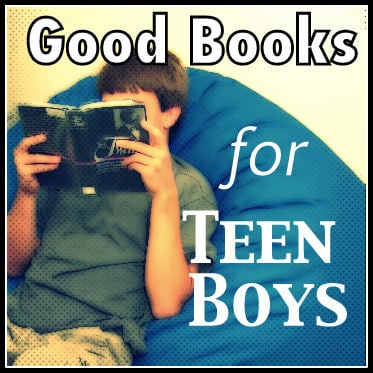 Please share YOUR recommendations in the comments. I'll be sure to share them with the mom who wrote me and the others who asked for this list after seeing my request.
A note: these are affiliate links, and when you click them, you don't pay any extra, but it is a way that you can support the work we do here at CatholicMom.com. And these books are in the order I thought of them. If I had organized them alphabetically, or by things I love most, or anything else, my brain might have exploded before I got this actually written and shared...
Anything by P.G. Wodhouse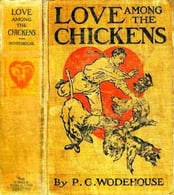 I was introduced to him thanks to Will Duquette's reading a couple of Jeeves stories on the Forgotten Classics podcast (you can listen to them for yourself here and here). When I found out that many of them were in the public domain AND that Wodehouse inspired Daniel McInerny, I decided to try a full book. And that book was Love Among the Chickens.
I was so delighted! Though when I recommended Wodehouse, the mom in question said they were already onto him, I still include him here. Because...well, if you have not yet had the pleasure of reading Wodehouse...go. Now. You won't be sorry you did. And your teen boy? I think he will also enjoy them.
The Screwtape Letters, by C.S. Lewis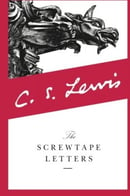 This is a book I come back to again and again. It's almost an examination of conscience for me. So much of it is relevant to us right now, even though it was written in the 1940s. It's easy to digest and provokes a LOT of thought.
I've read it twice so far (and I've been hankering to read it again soon), once on my own and once with a group. It's great both ways. It's truly one of my favorite books and one that I think teens should read, period. (And so should you.)
Mission Libertad, by Lizette M. Lantigua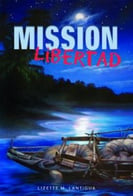 This is a pretty new release, and one that I enjoyed. It skews a toward the younger end of the teen boy spectrum. It's an adventure story and a history lesson, packaged with some cultural tidbits on top. I wasn't sure how that cocktail would "taste," but I found myself enjoying it, guessing what would come next, and even dreaming Mission Libertad-inspired dreams.
I especially liked how this book makes something that is a hot topic—immigration—and puts it into perspective. This book lays the foundation for what poverty could really look like in a Communist third-world country and contrasts it with the things Americans take for granted. It's not done in a "open up and take THIS" kind of way, but as part of the setting and plot.
The Young Chesterton Chronicle books (The Tripods Attack! and The Emporer of North America), by John McNichols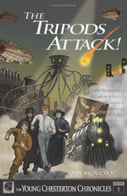 I have only read the first of these two books, but it was jarring in the most delightful way. Think science fiction meets historical novel meets a bit of romance. There's action and trains and a young G.K. Chesterton.
Really, it's almost too much to summarize. It was well-written and fast-moving. I'm pretty sure I caught myself running on the couch as the action picked up.
And I did NOT see where it was going. Completely unexpected. All in all, delightful.
C.S. Lewis's Space Trilogy (Out of the Silent Planet, Perelandra, and That Hideous Strength)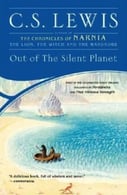 If you loved Narnia, get ready. I read this because a writer friend of mine recommended them so casually, I couldn't help but be curious. The first two books are almost crazy-short, and the final book is a whopper.
They're classic Lewis fiction: they reshape your thoughts and make you think about things by placing the story into a whole different realm. These are more grown-up in their approach than the Narnia books, and (no surprise), they're expertly done. Your teens will love them...and I'll bet you will, too!
Mr Blue, by Myles Connolly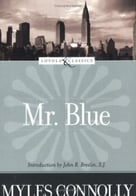 This book is short, but watch out. It packs a punch – there's a lot there worth rereading. I was delighted when I first read it that our small town library had a copy in their stacks, but it did make my must-own list. I may or may not pass it out indiscriminately to those unsuspecting visitors and friends who mention, however much in passing, that they "need something good to read."
Mr. Blue takes on so many topics, with a succinctness that might make you think it's a quick read. Oh, it is! But it will sit in your mind, like one of those expandable sponges, and soak up what's already there, and make you turn those thoughts and reflections in a different way, in a different light, until you have something completely new.
Mr. Blue is worth reading and discussing with others. It is an excellent book study (my fiction book club kicked off with it), because it provides so much of the stuff that's good to chew on with others. I think it would be especially interesting to read this with a group of teens, because although it was written back in 1928, it seems to speak to me NOW (but I'm not a teen). I wonder what they would have to say about it, what thoughts it would inspire, what conversation would ensue.
The Redwall book series, by Brian Jacques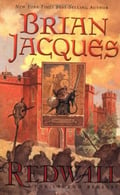 I've only read the first book in this series, Redwall, but I can wholeheartedly recommend it all. One word: wow!
Even though the main characters are rodents (and I have a Very Big Hatred of rats!), I was engaged, delighted, and on edge during the entire book, which is hard to believe, given that they're long (Redwall boasts 352 pages).
Even so, this is classic boy stuff. Adventure, chivalry, and fights! Good writing, tantalizing themes, stellar characters! Yes, I'll be sitting down soon with my kids to continue through the series, and what fun that will be!
The Madeline L'Engle Time Quintet series - A Wrinkle in Time, A Wind in the Door, A Swiftly Tilting Planet, Many Waters, An Acceptable Time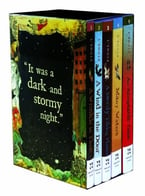 My first reaction to this was, "There are FIVE BOOKS in this series?! How did I not know this in my teen years?!?"
I haven't read them lately, though I think it's just about time to revisit them. I have some vivid images from my reading of A Wrinkle in Time many years ago.
They come highly recommended from "my people," so I'm including them on my list.
Someone recommended this and I'm checking them out myself. Looks like they're plumb full of great stuff. According to their website, they are:
a small, home grown publishing company dedicated to restoring to children and families a treasury of wholesome, character-building literature. We are more than just a business. Our work springs from the heart of the Bethlehem Community of Benedictine Oblates, a lay group of families and single people which began in 1971.
The Man Who Never Died: The Life and Adventures of St. Peter, the First Pope, by Gerald T. Brennan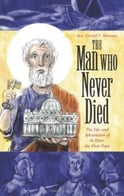 Doesn't this book look great? I haven't read it, but here's the blurb from Amazon:
Most kids think of popes as old men who live quiet lives in the Vatican. In fact, danger stalks every pope. From John Paul II (who was shot) all the way back to the first pope, the men God places in charge of His Church have been hated and attacked for their goodness and for the good the Church does.

These pages recount the adventures of Peter, the first pope, whose troubles began just days after Jesus returned to Heaven. When Peter preached, baptized three thousand people, and cured a lame man, soldiers threw him into prison. Set free by a judge, Peter preached again, won more converts, and got jailed again . . . and again.

Finally freed by angels, Peter traveled throughout Asia, setting up many new churches. Then he went to Rome, the capital of the Empire, where he converted many and, doing so, angered the pagan emperor Nero. Nero's soldiers threw many Christians to the lions. They arrested Peter, led him before a jeering crowd, and crucified him.

Today, on the very spot where Peter was crucified, stands the most important Catholic Church in the world, St. Peter's Basilica. Nearby is the Vatican, the Church's worldwide headquarters, and for centuries home to the popes — men who are now known not merely by their chosen names but are also called "Peter" (to remind us that Christ Himself has placed them, too, in charge of His Church).

Yes, as you'll read in these exciting pages, Peter, the first pope, died (as will all who ever take his place). But each will be replaced by yet another pope, who will also be known as "Peter." In this way, Peter became the man who never died, fulfilling the promise that Jesus made to him: "Thou art Peter, and upon this rock I will build my Church," the Church whose origins are told here, and which will also never die.
a.k.a. Genius, by Marilee Haynes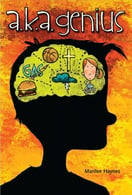 This book is on my review list and I'll be reading it soon. Here's the blurb about it:
Thirteen-year-old Gabe Carpenter is just like any other middle-school boy at St. Jude Academy…well, except for the fact that he is a genius who can't even open his own locker or talk to his crush. Themes include: self-acceptance, giftedness, and humor.
I'm intrigued, I'll admit it.
Ablaze: Stories of Daring Teen Saints, by Colleen Swaim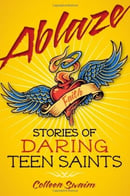 I've heard a lot about this book, but somehow, I've never read it. I am going to have to make time for it, though, because the stories of the saints came up as something that would be perfect for teen boys: who better to emulate? Who better
Here's the blurb about Ablaze:
Following Christ is not always easy, but takes courage, patience, and love. In Ablaze: Stories of Daring Teen Saints, Colleen Swaim examines the lives of eight young men and women who were set fire with the Spirit and set free to live lives of extraordinary virtue. All became saints for the outgoing, against-the-current heroism of their teen years. Read how Chiara Luce, an Italian high school student, faced cancer joyfully, inspiring thousands to throng her funeral in song. Follow Kizito, a brand-new Christian, as his faith is challenged by a king and he is marched to his death for standing firm. From martyrdom to missionary life and from sickness to the silence of religious life, these teens show that we are all called to follow Christ in our own unique ways. These stories come alive with vivid storytelling and saintly challenges designed to inspire reflection and enflame your heart. Through prayers, images, and maps, catch a glimpse of a saint's world that carries lessons for our own--and discover how you can set our world ablaze with love for the Lord!
The Christus Experiment, by Rod Bennett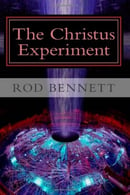 I heard about this intriguing-looking book from the mom who originally posed the question. She asked what I thought of it.
I have to admit: I have some reservations, but it has my attention. Have any of you read it? What did/do you think about it?
Here's what's on Amazon about it:
He's been divinized, demonized, demythologized, and decoded. He's been spoken for and spoken against, the best loved, least understood, most controversial figure in human history. All of which makes Jesus of Nazareth the single most tempting target for haunted Georgia billionaire Anson MacDonald and his pricy team of time-traveling scientists and historians. What if you could capture Christ?—bring him to our own time, make him sit for modern questions and get his answers on tape? Would he do miracles? Start a revolution? Would he disappoint his followers—or disappoint the skeptics? These questions become a good deal more than academic for three unsuspecting outsiders brought to MacDonald's secret compound for close encounters with his mysterious guest. Sylvie Fortune, the beautiful but wheelchair-bound police psychic, has longstanding issues with the failed Messiah of her childhood and insists on hanging these around the neck of MacDonald's visitor. Security analyst Carter Nichols, brought in to investigate the leaks that threaten Jesus' safe return to his own time, grapples with the threat of attack by fanatics and the social unrest that could erupt when the truth about the Christus Experiment is revealed. And most frightening of all, Rabbi Jakob Silverberg, assigned as the Nazarene's Jewish chaplain during his 21st century stay, begins to uncover a sinister plot to change history, slowly realizing that someone (or something) could very well be using MacDonald's time machine to enslave the future forever…
Now, what do YOU recommend for teen boys?
Be sure to check out our Book Notes archive.
Copyright 2013, Sarah Reinhard
About the Author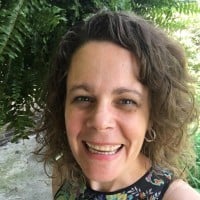 When she's not chasing kids, chugging coffee, or juggling work, Sarah Reinhard's usually trying to stay up read just one…more…chapter. She writes and works in the midst of rural farm life with little ones underfoot. She is part of the team for the award-winning Catholic Mom's Prayer Companion, as well as the author of a number of books. You can join her for a weekday take on Catholic life by subscribing to Three Shots and follow her writing at Snoring Scholar.