There's something in the air of late, and it has to do with the numbers.
Where ARE all the people? Cuz they sure aren't in our pews...
If you're in ministry, if you're a parish employee, if you're a concerned Catholic, if you're interested in your faith, if you're breathing, if you're even slightly wondering what I'm talking about...
I have three books you should read. Period.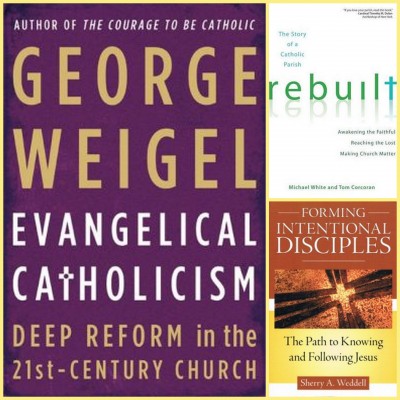 These are books that I highly recommend for many reasons, not least of which is because they look at the paradigm of "problems in the Catholic Church" in ways that are crack-open-and-deal-with-it, practical, and conversation-stimulating.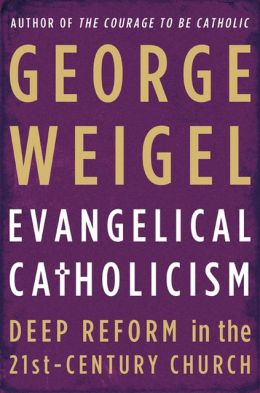 Evangelical Catholicism: Deep Reform in the 21st-Century Church, by George Weigel (Basic Books, 2013)
I picked this book up when my pastor, who's a great reading influence on me, mentioned that he was reading it for the second time.
This book is an amazing read. I immediately lent it to a friend in the parish and she told me that not only did she love the book, she appreciated my notes and highlights.
Weigel outlines things clearly and he proposes solutions that are both obvious and challenging. I don't agree with everything he states, but I appreciate having this book as part of my toolbox.
From the publisher:
The Catholic Church is on the threshold of a bold new era in its two-thousand year history. As the curtain comes down on the Church defined by the 16th-century Counter-Reformation, the curtain is rising on the Evangelical Catholicism of the third millennium: a way of being Catholic that comes from over a century of Catholic reform; a mission-centered renewal honed by the Second Vatican Council and given compelling expression by Blessed John Paul II and Pope Benedict XVI.

The Gospel-centered Evangelical Catholicism of the future will send all the people of the Church into mission territory every day—a territory increasingly defined in the West by spiritual boredom and aggressive secularism. Confronting both these cultural challenges and the shadows cast by recent Catholic history, Evangelical Catholicism unapologetically proclaims the Gospel of Jesus Christ as the truth of the world. It also molds disciples who witness to faith, hope, and love by the quality of their lives and the nobility of their aspirations. Thus the Catholicism of the 21st–century and beyond will be a culture-forming counterculture, offering all men and women of good will a deeply humane alternative to the soul-stifling self-absorption of postmodernity.

Drawing on thirty years of experience throughout the Catholic world, from its humblest parishes to its highest levels of authority, George Weigel proposes a deepening of faith-based and mission-driven Catholic reform that touches every facet of Catholic life—from the episcopate and the papacy to the priesthood and the consecrated life; from the renewal of the lay vocation in the world to the redefinition of the Church's engagement with public life; from the liturgy to the Church's intellectual life. Lay Catholics and clergy alike should welcome the challenge of this unique moment in the Church's history, Weigel urges. Mediocrity is not an option, and all Catholics, no matter what their station in life, are called to live the evangelical vocation into which they were baptized: without compromise, but with the joy, courage, and confidence that comes from living this side of the Resurrection.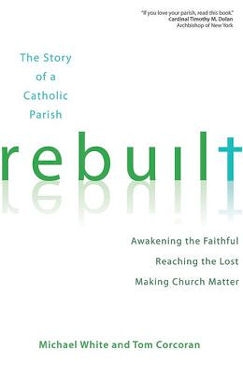 Rebuilt: Awakening the Faithful, Reaching the Lost, and Making Church Matter, by Michael White and Tom Corcoran (Ave Maria Press, 2013)
I didn't intend to read this book now, if at all, but I did. Part of it's because of my pastor (do you see a trend?), and part of it's because of a friend who gave me "homework."
There's a lot of good in this book, and though I wouldn't take every item they say as Gospel truth, I would say the theory behind what they're doing is sound. So sound, in fact, that I consider it a must-read.
From the publisher:
Drawing on the wisdom gleaned from thriving mega-churches and innovative business leaders while anchoring their vision in the Eucharistic center of Catholic faith, Fr. Michael White and lay associate Tom Corcoran present the compelling and inspiring story to how they brought their parish back to life.

Rebuilt is a story of stopping everything and changing focus. When their parish reached a breaking point, Fr. Michael White and lay associate Tom Corcoran asked themselves how they could make the Church matter to Catholics, and they realized the answer was at the heart of the Gospel. Their faithful response not only tripled their weekend mass attendance, but also yielded increased giving, flourishing ministries, and a vibrant, solidly Catholic spiritual revival. White and Corcoran invite all Catholic leaders to share the vision, borrow their strategies, and rebuild their own parishes. They offer a wealth of guidance for anyone with the courage to hear them.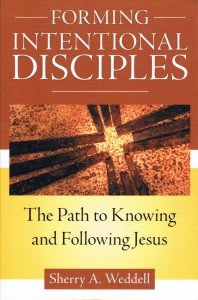 Forming Intentional Disciples: The Path to Knowing and Following Jesus, by Sherry A. Weddell (Our Sunday Visitor, 2012)
Why yes, we DID just spend an entire summer studying this book together, and I'm SO GLAD we did!
This book is a handbook that I'll be returning to and referencing a lot, I think. It forced me to rethink some of my assumptions and to consider why we do what we do.
(Hint: as our pastor says, the answer should always "Jesus.")
We're all looking around us in our pews, under the kneelers, around the parish, and wondering, "what the heck do we do now?"
This has been one of the best handbooks I've read, and it's going on the special shelf I have for books that not only have I marked up so much I can't ever share them, but that I have to reread in large sections. No, it's not more important than the Bible or the Catechism (different shelf), but this is a book for our times.
This is a book for those of us in the pews. It's a book for those of us who've wondered why we bother, who hang onto whatever thread of "why" we've found (for me, it's the Eucharist) and try to squelch the hunger for more.
This book has been something that has seeped into me and made me think and consider and examine. I feel like I've internalized it but also that I could reread it next week and learn even more.
Even more importantly, I feel like this book has given me a mission of sorts, a direction and a way to look.
From the publisher:
How can we transmit a living, personal Catholic faith to future generations? By coming to know Jesus Christ, and following him as his disciples.

These are times of immense challenge and immense opportunity for the Catholic Church.

Consider these statistics for the United States.

Only 30 percent of Americans who were raised Catholic are still practicing.
Fully 10 percent of all adults in America are ex-Catholics.
The number of marriages celebrated in the Church decreased dramatically, by nearly 60 percent, between 1972 and 2010.
Only 60 percent of Catholics believe in a personal God.

If the Church is to reverse these trends, the evangelizers must first be evangelized-in other words, Catholics-in-the-pew must make a conscious choice to know and follow Jesus before they can draw others to him. This work of discipleship lies at the heart of Forming Intentional Disciples, a book designed to help Church leaders, parish staff and all Catholics transform parish life from within.
Drawing upon her fifteen years of experience with the Catherine of Siena Institute, Sherry Weddell leads readers through steps that will help Catholics enter more deeply into a relationship with God and the river of apostolic creativity, charisms, and vocation that flow from that relationship for the sake of the Church and the world.

Learn about the five thresholds of postmodern conversion, how to open a conversation about faith and belief, how to ask thought-provoking questions and establish an atmosphere of trust, when to tell the Great Story of Jesus, how to help someone respond to God's call to intentional discipleship, and much more.

And be prepared for conversion because when life at the parish level changes, the life of the whole Church will change.
Be sure to check out our Book Notes archive.
Copyright 2013, Sarah Reinhard
About the Author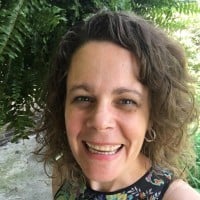 When she's not chasing kids, chugging coffee, or juggling work, Sarah Reinhard's usually trying to stay up read just one…more…chapter. She writes and works in the midst of rural farm life with little ones underfoot. She is part of the team for the award-winning Catholic Mom's Prayer Companion, as well as the author of a number of books. You can join her for a weekday take on Catholic life by subscribing to Three Shots and follow her writing at Snoring Scholar.