This is not the usual type of post I write, but it's important for two reasons. One is personal; it honors the wishes of my friend who died two years ago. The other is practical; lots of women read this website and can learn something about ovarian cancer. September is the month for ovarian cancer awareness and in many places you can find people pulling out teal colored everything to promote awareness. In fact, I have teal polish on my hands and toes! But it is more than nail polish and teal ribbons. It is about learning something that can help save your life or the life of someone you love.
Ovarian Cancer Symptoms
Abdominal, pelvic, or lower back pain
Nausea, lack of appetite, or feeling full quickly
Bloating or intestinal gas
Urinary symptoms (urgency or increased frequency)
Unexplained changes in bowel habits
Unexplained weight loss or gain
Ongoing decreased energy level
Ovarian Cancer Risk Factors
Inherited gene mutation: BRCA1 and BRCA2
Personal or family history of ovarian, breast or colon cancer
Infertility or no pregnancies
Increasing age
(from http://www.ovariancancerpbc.org/symptoms-and-risks)
Many of these symptoms sound like little problems that many of us have from time to time. But having many of them, over an extended period of time is not something you should ignore. And while increasing age is listed as a risk factor, it does not mean young women cannot have ovarian cancer.
Before my friend died it was her desire to form an organization to educate women and health care professionals about ovarian cancer. The website developed is Diane's Voice where you will find resources and information to educate yourself about this disease and how to find support if you have cancer. Like most cancers, survival rates are higher if it is detected and treated early. Another website with extensive information is the Ovarian Cancer National Alliance.
I ask you to pray this month for those who have ovarian cancer, their families, friends, medical personnel treating patients and those searching for a cure.
God, our creator and guide, we ask you to send wisdom to those who seek a cure for ovarian cancer and compassion to the doctors and nurses who care for those who are sick. Be with the families and friends of all those who suffer. To those who are sick, give them strength and courage. And for those who have died, we ask that they may be forever in your company. Amen.
Copyright 2013 Deanna Bartalini
About the Author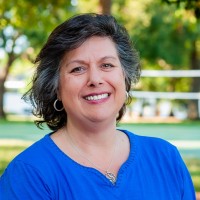 Deanna G. Bartalini, MEd, MPS, is a Catholic writer, speaker, and educator. Her Bible study, invite the Holy Spirit into Your Life, is published by Our Sunday Visitor. Her website, DeannaBartalini.com, is for the Every Day Catholic. There you can find Deanna's writing, free webinars on Catholicism, her podcast and social media services, and invite her to speak to your group, in person or virtually.