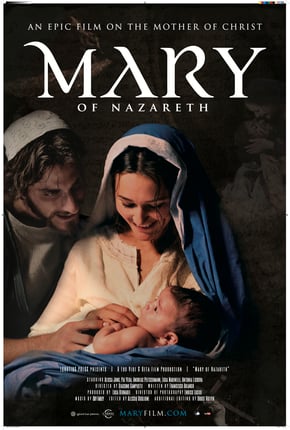 For the past few weeks, you've heard us sharing the good news about the beautiful movie Mary of Nazareth which will be opening on October 1st around the country. The unusual thing about this movie -- along with its beauty and ability to be a true tool of the New Evangelization -- is the fact that all screenings are being organized and sponsored by volunteers. Ignatius Press, the film's distributor, is actively seeking parishes and individuals who will step forward in faith to bring this lovely film to their communities. They provide all the tools you need to make your screening a great success, but it's up to you and I to prayerfully consider how we might be a part of sharing this stunning film with our friends and loved ones.
To encourage you to consider volunteering, today I'm sharing a recent conversation I had with someone just like us -- a busy, working wife and mom -- who organized a similar screening of the film Restless Heart a few years ago in her home town. What Marsha discovered was not only the joy of sharing a movie with friends. Indeed through her efforts, she was able to raise over $6,000 for a crisis pregnancy center in her community! Imagine making this happen in your home town, and supporting your parish, school or organization at the same time...
I hope you enjoy this interview. For additional information, visit the Mary of Nazareth website.
Q: Marsha, thank you for your time. Please briefly introduce yourself and your family.
A. My name is Marsha Kampfl. I am married with grown children, two of which are adopted (one still at home who is 17 and special needs). I work full time at a major Catholic hospital in the Midwest . My husband teaches at a private university.
Q: I've learned from Ignatius Press that you were instrumental in bringing the film Restless Heart to your community. Congratulations! What motivated you to get involved in this organizing effort?
A. I must honestly say I am not an event coordinator and it was not my plan or private endeavor to someday bring a Christian movie to our city. I had EWTN on in the car as I was running errands and I heard a short synopsis of the movie Restless Heart. As I named my only daughter after St. Monica, it obviously captured my interest. I thought all I had to do was perhaps get five hundred or so signatures and the company would agree to bring it here! This shows my naïveté in movies and marketing! I talked to Ignatius Press (through the public relations firm Maximus) and found out the steps via email and phone conversations. Everyone was quite informative and patient with me. I prayed about it and took a big leap of faith and mailed in the deposit.
Q: What were some of the steps involved in bringing the film to your community?
A. My steps included finding a theater at a reasonable price that would work with me. Next I became quite familiar with Office Max printing department! I also asked for help from the woman that does our church bulletin. She was extremely helpful with a great deal of computer knowledge for making additional posters etc. to suit my needs. I then called EVERY parish; spoke with the offices, RE directors, priests, teachers, etc. Basically, whoever would listen to me. I also called our EWTN affiliate here and the Catholic Post. Between one to two weeks, myself and my husband went to every parish and followed up on the phone calls. I gave all of them the template to print off their own posters and I also made a few to personally give them. Then I basically pestered them until I knew they were putting it in their bulletins or announcing at church or school. I also met with the Catholic High schools in the area and spoke with the Diocese.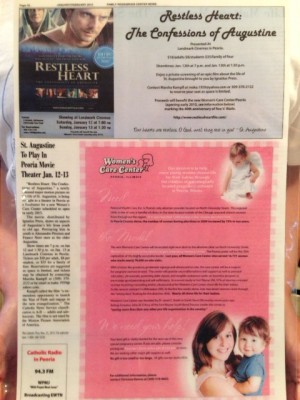 After six weeks or so I was getting a bit nervous because I was not selling enough tickets even for the two show times I had arranged. Where was I going to get this money? I was even starting to sell after masses and had recruited a few people to do the same. Finally, I sold out one of the shows. When I realized that I may actually have some profit I contacted my friend who is the Director of the Women's Care Center in Peoria who was also trying desperately to get this place opened here in our city. It is a pro-life center right next to the abortion clinic. I told her that I was going to give her any monies left after paying for the film. I only expected $500-$700.
Then the unexpected happened. One day at work I had a patient that worked for the Diocese. She said she had heard of me and was placing something in the paper that should help the cause. I was very happy and thanked her, but I must say, I had my doubts. On New Years Eve, a full page article came out about the movie and the Women's Care Center. It was wonderful! Now, here's the amazing part. My phone and email were soon over-loaded with messages. I called the theater to add another show time on because I did not want to turn these people away from see this amazing film and I had no tickets left. As one show time sold out, I would add another one on.
Q: How was the film received by the folks who viewed it?
A. Everyone who came was thoroughly impressed with the quality of the film, how well I had organized things and a lot of them came back to see it again and brought people with them. Organization is a must and I had reminder letters set up on my computer, lists of each movie time with ALL the contact information from everyone who purchased a seat. I showed up early, had everyone's tickets in separate envelopes filed alphabetically with a letter I had made thanking them and including a prayer. Before each movie, I thanked everyone again in front of the theater and was fortunate to have a priest at every show time who led us in prayer before the movie started. This is where the timing and cooperation with the theater really helped.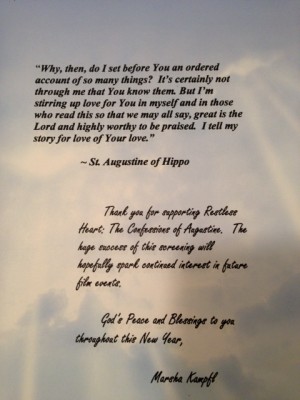 Q: What was the end result of your efforts? How has this event benefited your parish and your community in the long term?
A. The end result of all of this is that I had 6 show times, over 1200 people viewing this film (as you can well imagine, this became my full time job on top of my full time job LOL! ), and I was able to give over $6000 to the Women's Care Center (which runs completely on donation) and is now open and saving babies! There was actually one week in August when NO abortions were performed. I also had so many phone conversations and shared emails with people that were away from the Church or simply were not enthused about their Christianity...until they viewed this film! They spoke of how this film inspired them and caused them to re-examine their faith! Now that's the Holy Spirit working Lisa.
Q: Are there any additional thoughts or comments you would like to share with our readers?
A. I would like to add that sometimes we are not ready or even looking to make a difference in the overall picture of things. We just trudge along in our daily routine and perhaps get off the path at times that God wants us to be on. And then we struggle with our inner self. We are not at peace, so to speak. No matter what my crisis have been in life, I never stopped going to Mass and I never stopped getting down on my knees to pray. And some times when we are looking away from God, He interrupts us with a call, a radio ad, a casual encounter with someone that seems to come from nowhere, etc. HE never gives up. It is up to us to answer, step outside our comfortable circle we are in and take that leap.
For additional information about bringing a Mary of Nazareth screening to your community, visit the Mary of Nazareth website.
Copyright 2013 Lisa M. Hendey
About the Author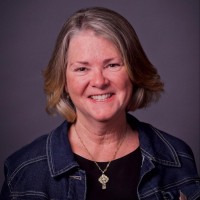 Lisa M. Hendey is the founder of CatholicMom.com, a bestselling author and an international speaker. A frequent radio and television guest, Hendey travels internationally giving workshops on faith, family, and communications. Visit Lisa at LisaHendey.com or on social media @LisaHendey for information on her speaking schedule or to invite her to visit your group, parish, school or organization. Visit Lisa's author page on Amazon.com.