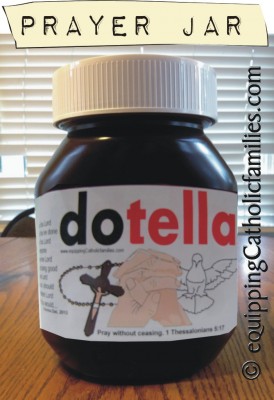 In the Treasure Chest, we included an idea for a God Box: a special decorated and at times elastic-locked box to hold our special prayer petitions, in an attempt to hand them over to the Lord. The God Box can be made for a whole family or a whole classroom or for each child. Prayers are shared as desired, but we can all pray for the unspoken intentions in The God Box.
Sometimes, drastic measures are taken to help a new Faith activity or tradition to be widely adopted...in the home, classroom or church group! Yes, there will be some rolling of the eyes, some crossed arms, a couple of big sighs...but won't the same teenagers appreciate the play-on-words of their favorite nutty-chocolaty spread in our feeble attempt to pray more as a family? Will it encourage them to pray about their worries and concerns and special intentions? I'll let you know!
The do tella Prayer Jar reminds us to share our worries and intentions with one another...or at least offer them all up together as brothers and sisters in Christ.
NO prayer intention is too big or too small to fit on a little piece of paper for the jar.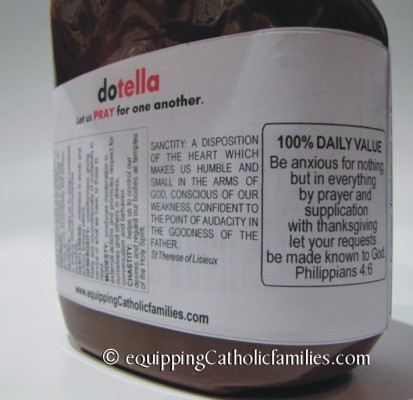 The Catholic Template has a little Catholic Catechism...and Saint quotes squeezed in along with a little Scripture.
It looks like food, so it fits right in on the dinner table.
Who knows…it might just pique their curiosity…enough to talk a little bit, learn a little bit and pray a little more!
Check out the tutorial (and FREE Printable templates!) to make your very own dotella Prayer Jar!
Copyright 2013 Monica McConkey
About the Author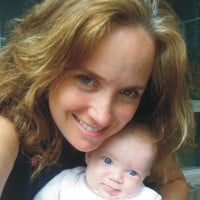 Monica, mom of 5, blogs about Catholic crafts and family traditions at EquippingCatholicfamilies.com. She is an author and creator of Super Saints quizzing cards and over 45 Saint, Sacrament, Catechism and Prayer-packed Craft Kits to help teach the Catholic Faith. The Catholic teaching tools and gifts are available through Arma Dei, the Catholic family publishing company founded with her husband Bill.