Hey! It's the month of the rosary! Which means we should talk rosary books, doesn't it?
As it turns out, I'm a fan of both books and the rosary, though combining the two isn't always well-done. Here are four of my favorite rosary books.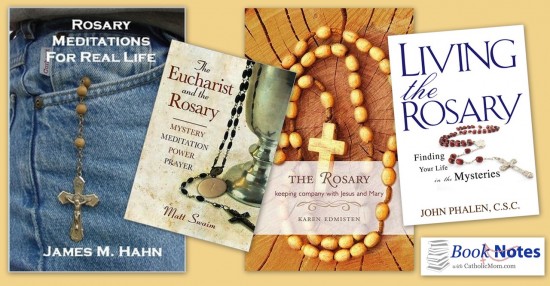 And here's a gentle reminder: these Amazon affiliate links give us a small benefit to keep bookin' along with our work here and cost you nothing extra. So thanks for your support! :)
Rosary Meditations for Real Life, by James Hahn (Real Life Rosary, 2003) *Not an affiliate link.

Through the years, one of the struggles I've faced is making the mysteries of the rosary real: connecting with them, experiencing them as more than just distant events that don't touch me, allowing them to change me. One of the best resources I've found for this is James Hahn's book Rosary Meditations for Real Life, which he sells through his Real Life Rosary website (where you'll also find some lovely twine rosaries for sale). I've also used his online meditations. He really speaks to me with his down-to-earth approach and his devotion to Jesus is so evident in how he writes and examines each mystery.
The Rosary: Keeping Company with Jesus and Mary, by Karen Edmisten (Servant Books, 2009)

Karen Edmisten's book The Rosary: Keeping Company with Jesus and Mary is one of my all-time favorites, and it's the best book on the rosary I've read. Whether you rank it that high or not, you should definitely read it. It won't take you long, but it will add to both your appreciation for this prayer and your understanding of what's happening as you pray it.
Living the Rosary: Finding Your Life in the Mysteries, by John Phalen, C.S.C. (Ave Maria Press, 2011)

When I twittered that I was reading this, Matt Swaim wrote me back and told me that Phalen "nailed it" in this book. I can't think of a better way to say it. Phalen applies each mystery of the rosary to his life in a tangible way, and then invites the reader to do the same. He finds applications for it in unexpected ways and places and I find myself considering things differently thanks to the perspective of this book. It gets my highest recommendation!
The Eucharist and the Rosary: Mystery, Meditation, Power, Prayer, by Matt Swaim (Liguori Publications, 2010)

This book is wonderful. Simply...wonderful. If you ever wanted the rosary and the Eucharist linked in ways that are tangible and lovely, here you go. If you ever struggled with meditations and have ever considered that the Mass must have something to do with the rosary, this is a book for you. Or if you're looking for a book that's a great read and will aid you in journeying with Mary to Jesus, this is it. I give it all my thumbs up (counting my kids').
What are YOUR favorite rosary books?
Be sure to check out our Book Notes archive.
Copyright 2013, Sarah Reinhard
About the Author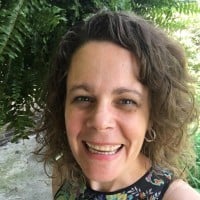 When she's not chasing kids, chugging coffee, or juggling work, Sarah Reinhard's usually trying to stay up read just one…more…chapter. She writes and works in the midst of rural farm life with little ones underfoot. She is part of the team for the award-winning Catholic Mom's Prayer Companion, as well as the author of a number of books. You can join her for a weekday take on Catholic life by subscribing to Three Shots and follow her writing at Snoring Scholar.