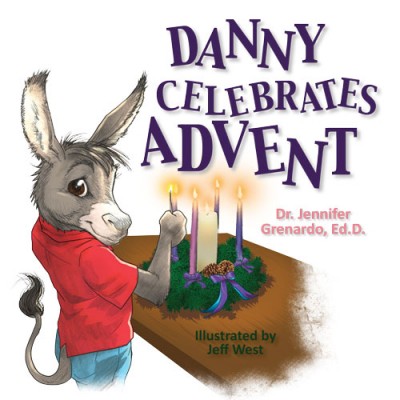 In Danny Celebrates Advent, Dr. Jennifer Grenardo, Ed.D., provides young readers a catechetical teaching of Advent traditions, as only a mommy catechist could: full of truth, adventure, and lots of creative activities!
I tested this book out with an expert critic of children's books, my 7-year-old, Elie. I wanted to know how she viewed the book, and how she would experience Advent through the story. The results were both fun and eye-opening. Elie loved the story, but she especially loved the four craft activities at the end of the book. She asked, "Mom, can we do these activities when you make our Advent calendar this year?" Yes, dear, we can!
Dr. Grenardo presents a compelling story about Danny the Donkey's ancestors and their role in salvation history. As she tells the story of Danny, the full story of Advent unfolds, giving us a little lagniappe (as we say in South Louisiana!).
The activities at the end of the book have the busy Catholic momma in mind. They are simple, yet full of meaning. The activities are easily incorporated into family traditions at Advent. I know they will become part of our Advent tradition.
I also love the illustrations in this book. The pictures draw you in as you read a beautiful story of the nativity. The characters are relatable and realistic. The drawings of Mary and Joseph are compelling. They illustrate the beauty of the Holy Family. It was the icing on the cake both for me and for Elie.
Here is our interview with Dr. Grenardo. We conducted the interview via email…she was very gracious and personable. As a momma of four daughters, and as the momma of the number one interviewer, I was impressed with the way Dr. Grenardo treated Elie's questions – like a teacher, a catechist, a momma. Danny Celebrates Advent, will be on our shelves for years to come.
Mary: Please start by telling us a little about you and your family and how you happened to write a children's book:
Dr. Grenardo: After growing up in Pueblo, a small town in Colorado, I earned a full scholarship to Colorado College, which I received based largely in part on my commitment to helping my community. With a strong desire to help those in need, I always wanted to be a doctor. God allowed me to attend the University Of Colorado School Of Medicine for nearly two years; however, God had different plans for me. I moved to Los Angeles with my husband and entered the teaching profession where I attained my Master's degree in reading at Grand Canyon University. I then entered the doctoral program at Loyola Marymount University and realized my dream of becoming a doctor. I served as a principal at a low-income, inner-city Catholic elementary school in Los Angeles, California. While there, I identified, analyzed and implemented critical literacy changes for Latino students at the school. I also researched educational strategies on leadership, parent involvement, school curriculum, critical pedagogy, action research, literacy, and bilingual education. My knowledge of these researched-based strategies enabled me to collaborate with families in an educational setting.
Despite all of these opportunities, my greatest challenge and reward came with the birth of our sons. Upon getting pregnant, my husband and I moved to Houston, Texas, to be near family as we had decided that I would become a stay-at-home mom. At first, this role was challenging to accept; however, my husband graciously reminded and asked me, "Was Mary just a mother?" I have since valued and cherished every opportunity to teach our children and nourish them in our Catholic faith.
After talking with a number of mothers and grandmothers, some of whom were home-schooling their children and grandchildren, I found that there is a huge need for age-appropriate faith-formation materials for our little ones, especially materials that teach the Catholic tradition. I feel that I have been called to share my talents as an educator, experience as a mom, and experience through working with toddlers and their parents, to write a series of Catholic books that truly touch our newest generation.
Elie: Why do you think Catholics celebrate Advent?
Dr. Grenardo: Advent, just like Lent, is a time of preparation. It is a season in which we prepare for Christ's coming. Whenever you have guests or visitors come to your house, you prepare for their arrival by cleaning house, making special treats, or decorating for the occasion. We do all of those things because we are showing that person that they are important to us and we want them to have a good time at our house. We must also do the same for Jesus.
As we anticipate the birth of Baby Jesus, it is a time to prepare our hearts. Instead of cleaning our house, we clean our hearts and ask God to forgive us through prayer for any wrong things we may have done. Instead of making special treats for our guests, we take time to show our love for God by helping others by donating clothes and food to those in need, similar to alms giving. In addition to decorating our houses, we take time to decorate our hearts by taking extra time to talk to God and serve others.
As Catholics, we celebrate Advent because it reminds us that Jesus' birth is more than just His arrival at Christmas. If we truly love and care for someone, we anticipate and prepare for their arrival. The focus becomes personal because the season is about growing closer to God so we can then better share His love with others.
Elie: Why did you choose a donkey to tell this story?
Danny Celebrates Advent tells the story of Advent through Danny the Donkey and his family in this fun and animated book for early learners. I chose the character of a donkey because it is a Biblical animal, and Mary rode on a donkey on her journey to Bethlehem. From the very beginning, the story is filled with nativity themes. The book is extremely interesting because even though Danny is a traditional character, his family is very modern in appearance. The book seeks to appeal to all ages and truly merges the past and the present.
Elie: How did you pick the donkey's name?
I chose to name the donkey Danny based on a commonly used literary tool called alliteration, which is the repetition of a particular sound. Donkey and Danny both start with the letter D. It is often fun and interesting for readers to hear sound patterns, especially when reading the book aloud.
Be sure to check out our Book Notes archive.
Copyright 2013, Mary Wallace
About the Author

Mary Wallace, PhD, is a devout Catholic wife, mother of 4 daughters, and college administrator. She is co-host of a Catholic radio show: Faith and Good Counsel, on Baton Rouge Catholic Community Radio. Mary is also a contributing writer at the Integrated Catholic Life. Follow Mary on Facebook.