As it happened, I had these three saints books on my review shelf, and they looked like just the thing y'all would love. One of them won't be available until January for retail sale, so this is a little treat ahead of time for you!
This week's giveaway: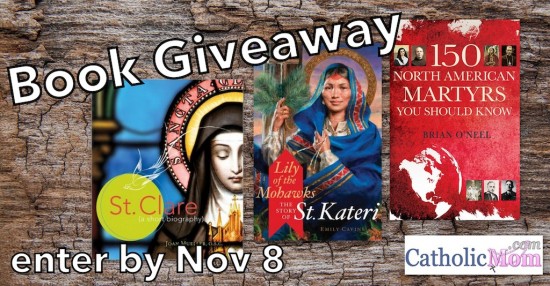 By Brian O'Neel (Servant Books, January 2014)
About the book:
In this compelling new book, Brian O'Neel tells the stories of martyrs associated with North America. Some are from other countries and died in their attempts to spread the faith on this continent. Some were born on this continent but died doing missionary work in other lands. Some were individual martyrs, and some were part of an heroic group. Some were "white martyrs" who, although they did not shed their blood for the faith, suffered much for the spread of their faith. The book includes:

A lively presentation about each martyr (or group of martyrs)
A practical application for the reader
A historical context for how these martyrs helped the Church to grow in North America

These martyrs changed the world by their courage and commitment, and their stories have the power to inspire us today to live our Catholic faith bravely and boldly.

By Emily Cavins (Servant Books, 2013)
About the book:
Even before Kateri Tekakwitha's canonization on October 21, 2012, many had been inspired by the story of the young Native American mystic who lived in the Mohawk Valley during the seventeenth century. With Emily Cavins's skill for weaving together historical facts and a compelling story, readers will discover Kateri's path to sainthood against the backdrop of her life as a Native American in New York. These pages will reveal:

What led to Kateri's desire to become a Christian
Her piety and self-denial in the face of persecution and illness
Her impact on the Catholic Mohawk community
The long road to sainthood, including two miracles attributed to Kateri

More than just a compelling story of Kateri's short life, readers will also learn how to avail themselves of Kateri's intercession, why Kateri has become known as the patron saint of the environment, and of her connection to St. Francis of Assisi.

By Joan Mueller, O.S.C. (Franciscan Media, 2013)
About the book:
St. Clare: A Short Biography looks at the founder of the Order of the Poor Ladies (now the Order of Saint Clare, commonly referred to as the Poor Clares), a monastic religious order for women in the Franciscan tradition. It considers the woman who heard and chose to follow Francis rather than marrying a young and wealthy man as her parents wanted, who moved to the church of San Damiano and then drew other women to a place known for its radically austere lifestyle. Most of all, the book reflects her theology of joyous poverty in imitation of Christ, and her willingness to follow the call of Christ.

This is an introductory portrait of St. Clare beyond the common perceptions, with the spirit of Franciscan practice implicit throughout the work. St. Clare: A Short Biography highlights the relevance of this pivotal saint to our lives here and now.
Be sure to check out our Book Notes archive.
About the Author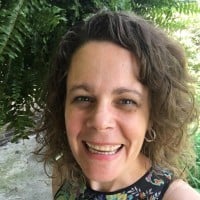 When she's not chasing kids, chugging coffee, or juggling work, Sarah Reinhard's usually trying to stay up read just one … more … chapter. She writes and works in the midst of rural farm life with little ones underfoot. She is part of the team for the award-winning Catholic Mom's Prayer Companion, as well as the author of a number of books. Follow her writing at Snoring Scholar.