Some days God leads us gently to His truth and His plan; other days He presents them in such a way we feel like we've crashed into a brick wall!
Because of Christ and our faith in him, we can now come boldly and confidently into God's presence. Ephesians 3:12
One night a few years ago I got up to go to the bathroom and as I stumbled back to the bedroom in the dark, I turned to go around the corner and ran right into the wall. I hit the wall corner so hard I fell backwards and ended up with a black eye. I sat there stunned at the fact that I'd made that trip from the bathroom to the bedroom a hundred times and never hit the wall! What happened that night? After my pride healed and my black eye went away I did have to look back at that event and laugh.
One morning this week I was trying to get supper prepared ahead of time and it was a recipe disaster! I was trying to work quickly and quietly because it was 4:45 in the morning and I didn't want to wake anyone up. It was one mistake after another as I stumbled around in a dimly lit kitchen. The coffee was still brewing which was probably the biggest part of the problem! I added a tablespoon of salt instead of a teaspoon and then I used baking soda instead of baking powder and to top it all off, I realized the milk I added to the recipe was really sour…after I had added it to the mixing bowl! The whole process left me short on prayer time so I asked God to send me something in quick form since I didn't have as much time as usual. I asked Him to open my mind and my heart to receive exactly the words I needed to strengthen me for the tasks at hand that day. I reached down into the basket of prayer books and snatched one up. I opened it up to the passage for the day and it hit me like that wall in the face from a few years back. This is what I read…God does not change, but I hope you do.
"Really God…that's what You want me to know today!" I got a little snippy at that point! I thought, here I am, up at dawn making a nice dinner for my family to grab and go quickly on a busy night and I still make sure I don't forget to start my day with prayer and "God does not change, but I hope you do" is what you send me! I grumbled silently till noon that day! Early in the afternoon I was looking through my desk for masking tape and I came across a quote I had scrawled across a note card that had Mother Teresa's picture on it with a quote that read, "I realize the one thing that needs to change most in this world is me." I had forgotten that was even in my desk, I felt like I had hit the wall again! What was I supposed to think?
I asked Him for exactly what I needed that day and apparently I needed to change something so I had to be brave and take the next step and ask Him exactly what I needed to change. I got home from school and took a quick minute to grab up that same prayer book again. I had been struggling with a tricky conversation I needed to have with someone. I wondered if that was what He was speaking to me about. I was feeling pretty confident and maybe even a little stubborn about the way I needed this conversation to go. I took a quick second to ask God to change my heart and my mind about this tricky conversation if I needed to. I flipped open the prayer book and this is what I read, "Develop the ability to say everything without saying anything. Action is the loudest voice." Again…I hit the wall! He couldn't have made it any clearer. My words weren't going to be the right ones. I just needed to listen and hug and love this person, I needed to change from being the one with the right words to the woman with God's love spoken through actions not words. I needed to get out of the way so God could do His work, I just needed to participate, not be in charge. Thank you God for being so clear and as subtle as running into a wall…that's just what I need!
A Seed To Plant: Grab your favorite prayer book or Scripture and ask God to direct you to the words you need right now…then ponder and pray over them until figure out where He's leading you.
Blessings on your day!
Copyright 2013 Sheri Wohlfert
About the Author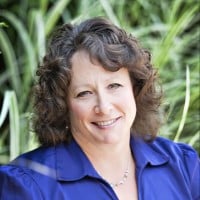 Sheri is a Catholic wife, mom, speaker and teacher. She uses her great sense of humor and her deep faith to help others discover the joy of being a child of God. Her roots are in Kansas but her home is in Michigan. The mission of her ministry is to encourage others to look at the simple ways we can all find God doing amazing things smack dab in the middle of the laundry, ball games, farm chores and the hundred other things we manage to cram into a day. Sheri also writes at JoyfulWords.org.