On cookie day this year I made the dough for five different types of cookies. My sister delegated the cutting out of the cookies to the cousins and kept an eye on the oven.
We each had a job to do and together we were able to complete it much more efficiently and quickly than if we had tried to do it on our own.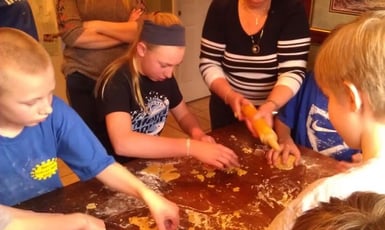 Together we can accomplish so much more than we can alone. In this individualistic society we believe we have to do it on our own. We step on the little people to get up a rung higher in the workforce. We are angry with those who "take" our money that don't work for it. We rarely explore the "together" idea and instead go it alone.
What we have forgotten is that God created us to love one another, to care for one another and to be in relationship with Him, nature, and others.
Today, consider how much better our world would be if we worked together.
Copyright 2014 Lori Hadorn-Disselkamp
About the Author

Lori Hadorn-Disselkamp - mom of 4 teens/wife for 20+ years. Lori has been writing at her own website Faith Filled Mom. She writes about the journey of faith we live daily and the ability to recognize God. She is a retreat director at Sacred Heart Academy HS. She just earned her MA in Pastoral Ministry as well as a certification in spiritual direction.