Just in case you're like the rest of the world and you're waiting to enter...here's a reminder that we have three great new novels in our weekly giveaway this week!
This week's giveaway: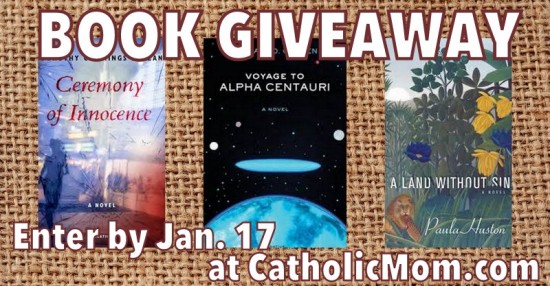 By Dorothy Cummings McLean (Ignatius Press, 2013)
About the book:
Riots. Terrorist attacks. Neo-Nazi violence.

In modern-day Germany, journalist Catriona McClelland has seen it all while covering the contemporary European scene for a Catholic news organization. Keeping herself above the political fray in her professional life, she has also managed to keep herself from personal entanglements-still hurt from the wounds of a broken relationship. Things come to a head when her boyfriend Dennis, frustrated with a lack of commitment, leaves her for Suzy Davis, an idealistic young Canadian who is involved with a left-wing protest movement. But when Suzy is murdered... who is complicit and who is innocent?

Ripped from the headlines, Ceremony of Innocence is a very contemporary novel of Europe on the edge of social breakdown. Train stations are bombed and migrants targeted for violence as journalists and other tastemakers watch from their positions of privilege.

Dorothy Cummings McLean's realistic narrative does not describe the feats of heroes. Rather, it unnervingly lays bare the way religious faith and moral reasoning can be easily manipulated and compromised.

By Michael O'Brien (Ignatius Press, 2013)
About the book:
Set eighty years in the future, this novel by the best-selling author Michael D. O'Brien is about an expedition sent from the planet Earth to Alpha Centauri, the star closest to our solar system. The Kosmos, a great ship that the central character Neil de Hoyos describes as a "flying city", is immense in size and capable of more than half light-speed. Hoyos is a Nobel Prize winning physicist who has played a major role in designing the ship.

Hoyos has signed on as a passenger because he desires to escape the seemingly benign totalitarian government that controls everything on his home planet. He is a skeptical and quirky misanthropic humanist with old tragedies, loves, and hatreds that are secreted in his memory. The surprises that await him on the voyage-and its destination-will shatter all of his assumptions and point him to a true new horizon.

Science fiction and fantasy literature are genres that have become dominant forces in contemporary worldwide culture. Our fascination with the near-angelic powers of new technology, its benefits and dangers, its potential for obsession and catastrophe, raises vital questions that this work explores about human nature and the cosmos, about man's image of himself and where he is going-and why he seeks to go there.

By Paula Huston (Slant, 2013)
About the book:
As revolutionary forces gather in the Lacandon jungle of southern Mexico in the fall of 1993, an idealistic American priest vanishes from his post in San Cristóbal de Las Casas. The Church, immersed in trying to negotiate a peaceful solution to the escalating conflict between wealthy landowners and poverty-stricken indigenas, remains strangely silent in the face of his disappearance. When his sister, Eva, only thirty-four but already a hardened battlefield photojournalist, finds out what's going on, she flies to Central America to find him, taking a job assisting a taciturn Dutch Mayanist in order to provide herself with a cover. But as it turns out, he, too, is on a secret quest. From the great pyramids of Tikal and the graceful palaces of Palenque to the shadowy guerrilla camps of the vast Lacandon, A Land Without Sin is a modern-day journey into the heart of darkness.
About the Author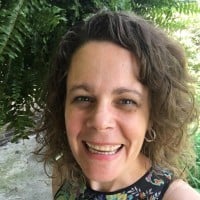 When she's not chasing kids, chugging coffee, or juggling work, Sarah Reinhard's usually trying to stay up read just one…more…chapter. She writes and works in the midst of rural farm life with little ones underfoot. She is part of the team for the award-winning Catholic Mom's Prayer Companion, as well as the author of a number of books. You can join her for a weekday take on Catholic life by subscribing to Three Shots and follow her writing at Snoring Scholar.