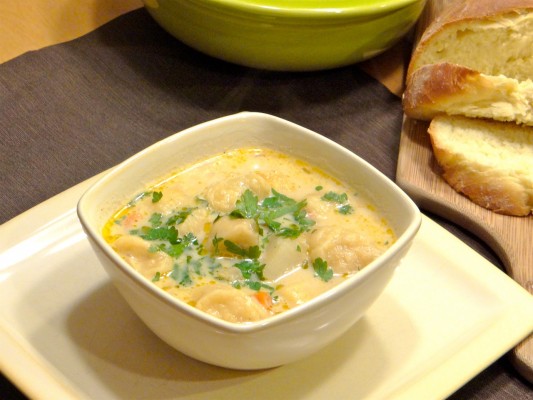 Barbara Stein shares a recipe for German potato soup with dumplings.
Ethnic recipes have always intrigued me. I believe this intrigue comes from not having been exposed to very many ethnic recipes as a child. My ancestors are mostly German, and Eastern European, but we just ate "normal" American food growing up.
I suppose we are too many generations away from the "home country" to have a lot of influence from our ancestors. And even though my grandparents and their parents lived in Cincinnati, a heavily-populated German area, I imagine lack of proper ingredients may have influenced their ability to cook the way their ancestors did.
Which brings me back to cooking ethnic foods...I love coming across ethnic recipes that are not only simple to make, but the ingredients are available, and probably even in my pantry.
I am using a U.S. geography curriculum for my daughter this year, called Little Passports, in which a recipe from each state is included in the lesson booklet (that's right up our alley!). When reading about North Dakota, we came across a recipe for a German soup which is very popular in the northern United States — North Dakota, Minnesota, Wisconsin — where many German immigrants must have gathered. It's a potato soup, but includes dumplings. Oh my...potatoes AND dumplings? Count me in.
On further investigation, it seems this recipe came from Germans who immigrated by way of Russia. The word "knoephla" means "button," as the little dumplings are cut from ropes of dough, and have a shape similar to a large, round button.
This is a wonderful soup, hearty, yet inexpensive, and I modified the recipe I had to make it meatless. For a meaty recipe, some people add poached chicken, but I like this nutrient dense veggie version.
The dumplings are dense, not the fluffy style, but I think that makes the recipe even more rib-sticking. Be sure not to add too much flour to the dumplings recipe, however, because you don't want little lead balls.
Served with a winter fruit or green salad, and a hearty loaf of bread, or even some fluffy biscuits, this soup will make a wonderful meatless winter meal.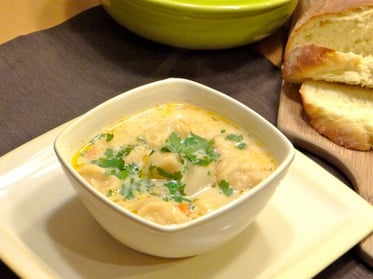 Knoephla
Serves 6-8
Soup
2 tablespoons olive oil
1/2 cup finely diced onion
1 stalk celery, diced finely
1 carrot, peeled and diced finely
2 medium Idaho potatoes, peeled (or scrubbed) and diced in 1/2" cubes
4 cup vegetable broth
2 t. vegetable soup base (like bouillon)
2 cups milk, 1/2 cup reserved
5 tablespoons flour
1/2 cup half & half, or cream
Salt and pepper to taste
Fresh chopped parsley, optional
Dumplings
1 cup flour
1 egg
1/2 teaspoon salt
1/4 cup milk
Heat a Dutch oven or soup pot over medium high heat. Add olive oil, onions, celery, and carrots. Sauté, being careful not to brown, for about 5 minutes, stirring, until vegetables get slightly soft. Add potatoes and vegetable broth. Bring to a boil over medium high and then reduce to medium low and cook for about 30 minutes, until vegetables are soft.
While vegetables cook, mix up dumpling dough. In a medium bowl, place flour. Add egg, salt and milk and stir until ingredients are incorporated. If dough is too wet to work with your hands, add a little bit of flour just until it's not sticky, but you don't want it firm. If the dough is too dry, add a little milk. Using about half the dough, on a floured surface, roll the dough into a rope about 1 inch across. With a sharp knife, cut in 1/4 to 1/2" segments. Repeat with second half of dough. (It's normal for the "buttons" to not be round, because the knife will press down the dough, but you can turn the rope a quarter turn with each cut to try and keep them more round.)
When vegetables have cooked to a tender consistency (you don't want al dente — this is comfort food), add milk, vegetable soup base, and salt and pepper. Bring to a simmer (don't boil) and taste. Adjust seasoning as needed. (I needed quite a bit of salt, so don't be stingy, and heavy on the pepper is good, as long as you don't have young children eating.)
While soup is simmering, add dumplings and stir. Simmer for 10 minutes and serve, with fresh chopped parsley sprinkled, if desired.
The Knoephla recipe can easily be doubled, in a larger pot, as needed.
Swope Bread
This easy brown quick bread would be a nice addition to the Knoephla. It's even good with a little jam for a humble dessert. It also makes wonderful toast, if you have leftovers. You can halve the recipe for one loaf, but the extra loaf can be sliced and frozen for toast.
4 c. whole wheat flour
2 c. unbleached white flour
1/2 c. sugar
2 t. salt
1 quart buttermilk (4 c.)
4 t. baking soda
Grease two bread pans. Preheat oven to 375 degrees F.
In a large mixing bowl mix flours with sugar and salt. In a separate bowl, mix buttermilk and baking soda. Stir milk mixture into flour mixture. Stir until thoroughly combined. Spoon batter into bread pans and smooth tops. Place in center of oven. Turn oven down to 350 degrees F. and bake for 50 minutes. Turn out and cool completely on wire racks.
Copyright 2014 Barbara Stein
About the Author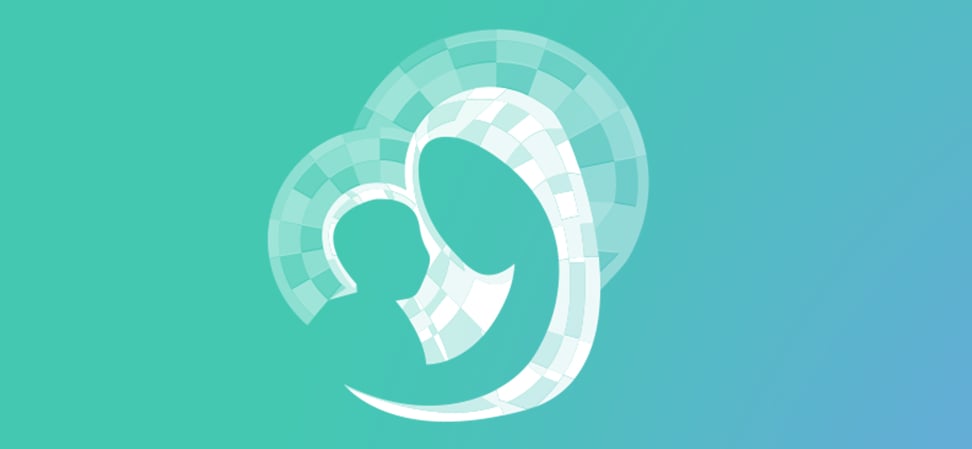 We welcome guest contributors who graciously volunteer their writing for our readers. Please support our guest writers by visiting their sites, purchasing their work, and leaving comments to thank them for sharing their gifts here on CatholicMom.com. To inquire about serving as a guest contributor, contact editor@CatholicMom.com.