This week's giveaway: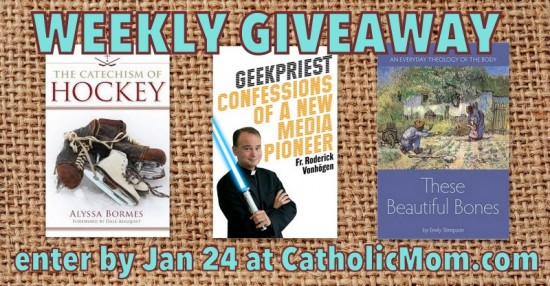 By Alyssa Bormes (ACS Books, 2013)
About the book:
Why does hockey have so many rules? Do we still need to have penalty boxes? Can't we get rid of offside? And why is practice so important? What's the big deal with the Commissioner? And coaches? And referees? Why can't they just let us play? Anyone involved in hockey – players, parents, fans – would never take any of these questions seriously. Without the rules, there would be no hockey. And without the drills there would be no thrills. And yet Catholics ask similar questions about the Church all the time. Why does the Church have so many rules? Why do we have to go to confession? Why do we need priests? And what's the big deal with the Pope? Why does the faith have to be so difficult? Can't we just play? If you have ever needed help explaining the faith to your children, your friends and family, or even your foes, this is your new playbook. The Catechism of Hockey is one of the most unlikely, but effective Catholic resources for the New Evangelization.

By Fr. Roderick Vonhogen (Servant Books, 2013)
About the book:
In this engrossing collection of stories and anecdotes, Fr. Roderick shares how he became a "new media missionary. Focusing on the importance of personal connection (an essential ingredient of new media), he uncovers the exciting possibilities of using all forms of media to successfully accomplish the mission Jesus gave us: to evangelize the world. Each chapter contains illustrations of using new media as a way to reach out to others. Some examples:

How the pope got his iPod
Reaching 50,000 Harry Potter fans without waving a magic wand
Why gaming can be good for the soul
How to deal with online atheists
The Mass and mass media
How you, too, can become a new media missionary

Fr. Roderick's stories introduce a young, secularized generation to an experience of God at work in his Church and in individual lives. Instead of presenting dry theories and principles, this book reveals those principles through experiences of one of today s leading Catholic new media entrepreneurs.

By Emily Stimpson (Emmaus Road Publishing, 2013)
About the book:
It was Blessed John Paul II's greatest gift to the Church: The theology of the body. A window into who we are, the theology of the body is a theology for the rooms where we make love. But it s also a theology for the rooms where we work, where we eat, where we laugh, and where we pray. These Beautiful Bones takes you on a walk through those rooms. With both humor and practical wisdom, it sheds light on what the theology of the body has to say about life beyond the bedroom, about the everyday moments of life, helping you discover how to let grace enter into those moments and make of them something extraordinary.
About the Author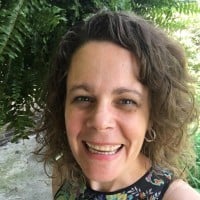 When she's not chasing kids, chugging coffee, or juggling work, Sarah Reinhard's usually trying to stay up read just one…more…chapter. She writes and works in the midst of rural farm life with little ones underfoot. She is part of the team for the award-winning Catholic Mom's Prayer Companion, as well as the author of a number of books. You can join her for a weekday take on Catholic life by subscribing to Three Shots and follow her writing at Snoring Scholar.