They had me at "family friendly" but when I learned the Hallmark Channel's new TV series When Calls the Heart was set in 1910, I wrote it on the calendar. Having read the "Little House" book series twice--once to the older kids and again years later to the youngest ones—I knew how enticing it is to visit bygone days. The series, based on Janette Okes best-selling Canadian West series of novels, is a one-size-fits-all program complete with drama, adventure, history, and romance.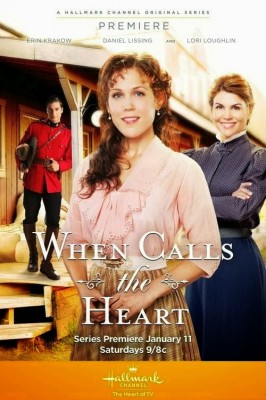 The premise of the story is that Elizabeth leaves her cultured East Coast upbringing for a teaching position on the Canadian frontier. It is baptism by fire—literally—when she accidentally sets her teacher's quarters on fire the very first night. She had not lost much, however, since a stage coach robbery en route lightened her of most of her possessions.
In spite of early hardships and a less than hearty welcome—after all, a dainty lady doesn't fit on the frontier—Elizabeth finds her stride. She feels called to teach which is always a refreshing motive for overcoming obstacles.
The town is small, the land is harsh, and the students' mothers are not always an easy crowd. Even though the town is far from big city crime, a Canadian Mountie has been assigned there. He suspects-- with no small irritation—that Elizabeth's wealthy and influential father pulled strings to put him there. Given that the Mountie and Elizabeth are good looking and immediately rub each other the wrong way, the chemistry is right to expect a future romance.
When the 2-hour pilot shown last October was the most watched cable program that day, Hallmark was confident they had a hit on their hands. It seems that in spite of our immersion in a fast-paced modern world, the lure of yesterday captivates us. People are still people and yet, the technology of our time makes our worlds completely foreign to one another.
The past is always quainter on this side of a television screen, because I know that a time without electricity, cars, and the internet, let alone insect repellent and duck tape, is a much tougher time. I love to imagine living then, but one load of laundry into it and I know life would be anything but simple for me.
I think the draw for many of us is the rhythm of life and it's closeness with the pulse of nature from which today has become distant. On the frontier, the orbit of the Earth decided when to go to sleep at night and farming, not grocery stores were how people were fed. Elizabeth, coming from her easy, pampered life, can somewhat represent us by entering into a world demanding an element of survival skills. And without a single peep from parents, kids can see that they have it pretty easy in so many ways.
Lesson's aside, it's good family television and was awarded the Seal of Approval from the Parents Television Council.
When Calls the Heart airs Saturdays, 9 EST/8CST on the Hallmark Channel
Copyright 2014 Patti Maguire Armstrong
About the Author