In January many people around the web pick a word for the year. I know I did and there were quite a few posts here on Catholic Mom about what people choose and why. Some people also picked a patron saint or used the nifty Saints Name Generator to choose one for them.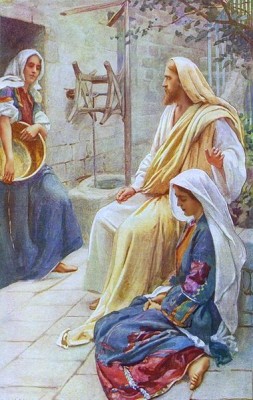 I went to the site and after praying and hitting 'enter' St. Martha appeared. St. Martha is the patron saint of cooks, housewives, servers, and all manner of people who serve and show hospitality to others.
It is quite appropriate that St. Martha is my patron saint this year. In fact, she should probably stay on forever because it seems as if I am always involved in some way with planning dinners, events, or parties of one sort or another. I'm one of those people who spend lots of time being very busy and often forgetting to sit at Jesus' feet.
As I have grown more comfortable being who I am I realize that being busy is part of my nature. Combine that with the fact that I am an extrovert and how I live my life makes sense. But sometimes I use that as an excuse to not spend quiet time in prayer. I know that prayer is the foundation, that sitting at Jesus' feet is what will give me the strength to serve, yet time and again I make excuses.
My prayer this year, then, with Martha by my side, is to learn how to sit and be present, not thinking I must always be doing something. This prayer will be helpful in reminding me what to do:
"Saint Martha, pray for us that we might serve Jesus better. Help us to overcome our distractions and worries to listen to his words and be present to him this day. Amen" (from Catholic.org).
Who is your patron saint? How can he/she help you grow in your spiritual journey?
Copyright 2014, Deanna Bartalini
About the Author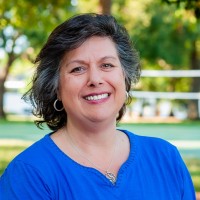 Deanna G. Bartalini, MEd, MPS, is a Catholic writer, speaker, and educator. Her Bible study, invite the Holy Spirit into Your Life, is published by Our Sunday Visitor. Her website, DeannaBartalini.com, is for the Every Day Catholic. There you can find Deanna's writing, free webinars on Catholicism, her podcast and social media services, and invite her to speak to your group, in person or virtually.