None of us wants our children to suffer. We even get a little heartsick when we see them have to endure the ordinary struggles of life, like a less-than-charitable encounter on the playground or a bad grade on a math test or a sibling's careless deletion of data from a video game.
Both the oldest and youngest of my four children are in the bottom ten percent on the growth chart. There were times they weren't on the growth chart at all. This little "problem" is extremely minor compared to all that could be wrong with them. They both came from rough beginnings – one from a crack-addicted birth mom and the other from a birth mom shocked to find herself hemorrhaging at 24-weeks into her pregnancy. She didn't know she was pregnant. Born at twelve inches long and a pound and a half, John had a seventy percent chance of having cerebral palsy, we were told, based on his brain scans. He doesn't, thank God. But he is small, and there are many times he doesn't like that.
As adults, we know that being small is a small thing compared to all the other sufferings we might have to endure in life. But when you're a kid, being small is a big thing. Being able to fit in a five-point harness car seat when you're nine and needing a booster when you're 11 is a disgrace in the mind of a kid. And there's not a single thing that can be done. Nothing but feel their pain. If we had a magic wand, we might be tempted to wave it and make all our children average sized. Not too big and not too small. Not because we don't love them just the way they are, but because they don't love being that way. Magic wands would be dangerous things in the hands of parents. We'd wave them all day long, taking away discomforts, disappointments and of course, most especially, physical and emotional pain. How the Blessed Mother must have yearned to take away her child's sufferings. But what would have happened if she did? What came of her child's agony?
Yes, suffering must come, even for our children. It is often in the struggles and the suffering that we learn the most about ourselves and God. Specifically, how much God loves us. And in that way, compared to God's infinite love and mercy, we are all small.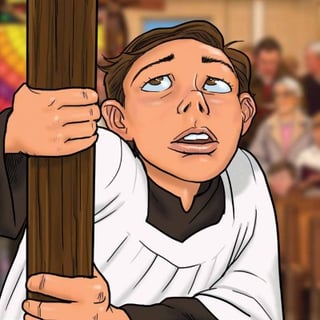 It is in that spirit that I wrote my latest book, my first children's book, called Little Maximus Myers (Tau Publishing, 2013).
Inspired by my own children, the fictional Maximus isn't happy to be small, until one day, while carrying the cross in the procession at Mass, and nearly collapsing under the weight of it, he realizes his smallness actually brings him closer to Jesus.
I hope you'll read Little Maximus Myers to your children. Maybe it will help them through whatever difficulty they are facing. Maybe its message will also help us moms to embrace our own smallness and that of our children and come to understand that bringing us closer to Jesus is really what suffering is designed to do.
Copyright 2014 Sherry Boas
About the Author

Sherry Boas is author of the Lily Series, which has grown into a beloved collection of novels whose characters' lives are unpredictably transformed by a woman with Down syndrome. The former newspaper reporter and special needs adoptive mother of four is also author of A Mother's Bouquet: Rosary Meditations for Moms, Billowtail, Victoria's Sparrows, Little Maximus Myers, Archangela's Horse, and Wing Tip. She runs Caritas Press from her home office in stolen moments between over-cooking the pasta and forgetting to dust the chandelier. Find her work at CaritasPress.org.