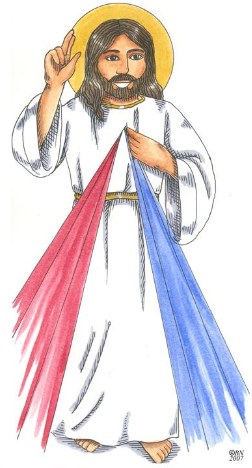 For the sake of His sorrowful Passion have mercy on us and on the whole world.
In the year 2000, I learned of a prayer that had eluded me through all my years of Catholic education and faithful formation, The Chaplet of Divine Mercy. Perhaps because the prayer is so recent (1930's) compared to the other traditions of our Church, many people are still unfamiliar with this powerful devotion, given by Jesus to a humble nun, Saint M. Faustina Kowalska, through a series of revelations. Saint Faustina died in 1938 as she continuously prayed the Chaplet and in her death, embodied the message of the Divine Mercy.
"Why should I (be afraid)? All my sins and imperfections will be consumed like straw in the fire of the Divine Mercy."
Divine Mercy is about trusting in Jesus completely in our life and our death. It is about His incredible thirst for all the souls He created to live happy with Him forever in Heaven. It is about knowing that His power, mercy, and love alone save us and it is about Him generously allowing us to help Him through our prayers, sacrifices and by spreading the message of His mercy.
Once you start praying this elegant and succinct prayer regularly, you will not doubt its Divine origins. It will change you.
Divine Mercy Sunday is celebrated in the Church on the Octave of Easter (the Sunday after Easter Sunday), but the emphasis on the redemptive power of the Passion of our Lord has prompted me to focus on the Chaplet during Lent. When you pray the Chaplet, you pray for your own intentions, your sins, your souls and the souls of the whole world. It is humbling. How can my little prayer truly make a difference in the salvation of the world? Only through our most generous Lord, can we have such an opportunity.
There are books and websites filled with detailed information about the Chaplet, the revelations, St. Faustina, the indulgences, and miracles associated with the Chaplet. But, for today, I want to encourage you to take time this Lent to pray this devotion, to teach it to your family, and to spread the devotion to at least 2 others. I have taken the Divine Mercy as a personal mission for myself this Lent, and for our ministry, Making Music Praying Twice. Please consider joining me in this as part of your Lenten work.
RESOURCES TO PRAY THE DIVINE MERCY CHAPLET THIS LENT
Copyright 2014 Kate Daneluk
About the Author

Kate Daneluk is a wife, mother of six, and co-founder of Making Music Praying Twice. With a background in music, theology and education, she contributes articles and resources to various publications.