This week's giveaway: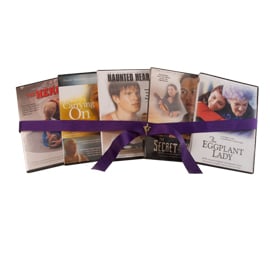 From Holy Cross Family Ministries
About this set:
Each DVD is a half-hour contemporary story about a teen issue and each story relates to a Sorrowful Mystery of the Rosary. Study guides are included to help parents, teachers, youth ministers and retreat leaders encourage meaningful discussions.

Especially during the season of Lent, help teens discover how they can rely on the Sorrowful Mysteries of the Rosary to support and guide them through the challenging and disappointing times of their lives.

All DVDs have English and Spanish tracks. (Carrying On, the most recent DVD release in the series, also includes French and Portuguese)

This set of 5 DVDs comes beautifully wrapped in purple ribbon and secured with a Lenten cross lapel pin.

To watch trailers and learn more about each DVD in the set:
Father Leo's Latest Book

Epic Food Fight: A Bite-Sized History of Salvation
By Father Leo Patalinghug (Servant Books, 2014)
About the book:
Fr. Leo blends profound truths with humor and wit in a way that appeals to a wide cross-section of Catholics. In this new book, Fr. Leo goes beyond an explanation of how eating together builds stronger families to probe more deeply into the theological aspects of food.

Following the example of Jesus Christ, whose miracles and teachings often involved food, Fr. Leo explains salvation history by what he calls a "theology of food —there is a godly logic to every bite we take. He shows how the devil seeks to poison God s children from within, getting them to "digest his lies by taking what is harmful and making it look beautiful and edible. This cosmic struggle between good and evil can be seen as an "eternal food fight between God and the devil.

With Fr. Leo, theology—as well as the subject of food—is never boring. In simple, practical ways, you are invited to read, savor, chew on, and digest theological concepts you might never have understood before.

You are what you eat! Your mind, heart, and soul are capable of digesting God's Word, especially as it becomes flesh to dwell among us.
Book Pack: A Look at Faith

Sharing the Faith That You Love: Four Simple Ways to Be Part of the New Evangelization
By John & Therese Boucher (Word Among Us Press, 2014)
About the book:
You might be wondering, "How could I communicate God's loving presence or share my faith, if I am not always sure of what I believe? How could I bring anyone back to God or to the church? I am not an expert or an evangelist and I don't want to knock on doors!" Fear not! We will help you see the details of your everyday life in the light of a lived faith. We will help you move from accidental kindnesses and invisible beliefs towards intentional acts of faith that enable others to experience Jesus in new ways.

This book encourages Christians to have a deeper awareness of the spiritual needs of those you meet in your everyday life. It also goes one step further by affirming the gifts you are given by God so that you can respond to the spiritual hungers of family, friends and co-workers. Finally, we offer practical skills for sharing your faith through four simple steps: prayer, caring, sharing and inviting.

The Dark Night of the Body: Why Reverence Comes First in Intimate Relations
By Alice Von Hildebrand (Roman Catholic Books, 2013)
About the book:
What are we supposed to "do" with the "theology of the body"? A leading Catholic laywoman outlines the right approach--and the wrong approach.
You Can't Go Wrong with Jesus: Book Pack

A Journey to the Heart of Jesus: Guideposts Along the Way
By J. Peter Sartain (Our Sunday Visitor, 2014)
About the book:
Archbishop J. Peter Sartain shares reflections on the pilgrimage of Christian discipleship.

Through these often humorous, but always deeply personal, pieces you will discover:

How to keep your perspective along the road to discipleship
How to remove the stumbling blocks to spiritual maturity
How to encounter God in prayer
How to share the fruit of the cross
How to experience happiness through works of mercy

A Journey to the Heart of Jesus is an insightful collection of meditations that offer timely counsel to any Christian disciple making the journey to the heart of Jesus.

The Last Words of Jesus: A Meditation on Love and Suffering
By Daniel P. Horan (Franciscan Media, 2013)
About the book:
Much has been written on the last words of Jesus, the traditional phrases taken from Scripture that depict the final moments of Jesus's life as he dies on the cross. In this new take on the last words, author Dan Horan brings a fresh perspective to this time-honored meditation as he challenges readers to look at their lives through the lens of Jesus s suffering and death. Yet interlaced with suffering, the focus throughout is on the immense love of God for human beings, shown in the gift of Jesus, God made flesh.

In his preface, Horan writes: "In a world that remains irrevocably shaped by the suffering of the human condition, the misunderstanding between groups and cultures symbolized by the horrific events of September 11, we need to hear Christ's words anew. He gives us a different look into these words by drawing on works by other noted scholars and spiritual writers, then fashioning a view of these phrases that s contemporary and thought-provoking.

An ideal Lenten companion, especially during Holy Week, The Last Words of Jesus will also serve as a useful meditation throughout the year on the deep love Jesus bore for us in taking on the human condition.
About the Author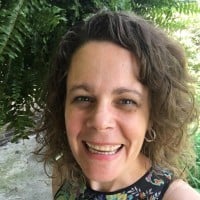 When she's not chasing kids, chugging coffee, or juggling work, Sarah Reinhard's usually trying to stay up read just one…more…chapter. She writes and works in the midst of rural farm life with little ones underfoot. She is part of the team for the award-winning Catholic Mom's Prayer Companion, as well as the author of a number of books. You can join her for a weekday take on Catholic life by subscribing to Three Shots and follow her writing at Snoring Scholar.