Visual Artist Melissa Dayton is inspired by what she sees in the everyday world.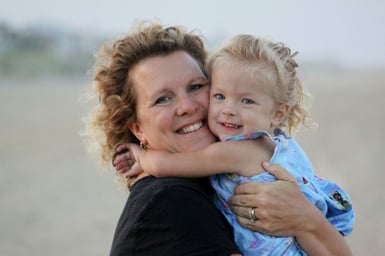 Sometimes it's just a shaft of light hitting her children in just the right way, Other times, it's just driving by the right tree or statue at the right moment, just in time to catch the uniqueness of the color and the light in that particular moment.
It's moments like these that show us the beauty that God has put all around us in creation. And it's these moments that an artist longs to capture and share with the world.
But Melissa is much more than just an artist. A mom and nonprofit founder, Melissa has been inspired by Blessed John Paul II's teachings on the Theology of the Body. She shares that inspiration in positive messages to youth throughout her area with her family's ministry "You Can NOT Be Replaced."
You may feel like no one particularly special, but Melissa hopes to show you through her art and ministry that the "everyday", the "ordinary" are truly irreplaceable.
Tell us about yourself in five words or less:
Wife, mother, artist, speaker, and nonprofit founder
What sparked your interest in your artistic medium?
Children specifically sparked my interest in painting portraits. There is real beauty in those little eyes. I prefer soft pastels and use a sanded paper for most my work. I love the smooth and soft lines the medium produces.

Painting portraits of children led me to occasionally paint for families that had lost a child. Those portraits specifically became something much deeper than a commissioned piece of art. For me those portraits became a gift that I could hand back to the mother who so desperately grieved for her child.

It was from that same heart that I painted "Escort to God" and then other paintings that had deeper meaning or reflected my faith.

St. Michael has always been an important devotion in our home. And John Paul II's letter to families and Theology of the Body were life changing for us as a family. So really the prints I have are a reflection of our home, our faith.

"Good Friday" I painted because I felt I had to. I used a statue as the model from a local cemetery. I couldn't drive past it without stopping to look at it. She was haunting. I was actually painting her when a young boy in our town was killed, which is ironic. But honestly how our whole community felt the emotions that the painting has. I find that print often goes to someone who has been through something deeply life changing, someone who suffers depression or a person who helps those people heal.

There are times in life when words cannot express the depth of pain we feel. Art then becomes a great healing tool. I see the gift of being able to paint as a tool that God has allowed me to have to help others heal. I always gravitate towards healing wounded hearts with my work if I can.
Why do you keep producing art? What's your inspiration to continue?
Inspiration comes if I happen to capture my children at a moment and sun is just right I usually grab a camera to capture them. Art is also something that is a gift of many of our children whether writing, acting, photography or painting it has become a common bond we have.

Our oldest daughter is majoring in Fine Art at the University of Dallas, and our second son is an incredibly talented photographer. So as they grow older and find their own style, art is something we share that we love. We talk about composition, color, light and projects we are working on. That is a dialog that I cherish. I appreciate their creativity so much that they encourage me to continue to pull out my easel or camera.
What excites you about being a visual artist?
Color and light. I get to spend hours shaping and shading to express the beauty of both. There is nothing better than that.
What connection do you see between your artwork and your faith?
My art used to be a way to make money to help make ends meet. But once I found the healing connection that it gave others, I realized the gift I was given, to see and create things, has a power not from me but God. It changed my perspective. I don't see art just as a hobby or an activity. I see it as a talent that was given to me by God. It is my responsibility to use it for the good of others, like any gift he gives.
What's the most rewarding aspect of creating your art?
God often allows me into a very delicate part of another's life as they heal. Knowing that allows me to take time with each person, listen to their stories and hopes. It's a rare gift to be allowed into the intimate shadows of someone's life like that. "Escort to God" has brought me humble joy, the letters and emails that moms have sent me leave me very grateful for trusting God enough to paint it.
In your spare time, what are we likely to find you doing?
Taking care of my family! We have 8 children ages 26-4. Our oldest is in Seminary and our youngest is in preschool. You can also find me reading piles of articles and books, going to Mass…drinking coffee!

The rest of my time is spent knee deep in our nonprofit's work. A couple years after I painted "Good Friday", our community suffered the loss of several young people in our county, seven of which were from our local high school in a four year time period.

With a youth ministry and marriage & family background and knowing we were seeing a response from the kids, we began 'You Can NOT Be Replaced' for youth and families. We (my husband and I) now speak at high schools, junior highs and have parenting workshops. We focus on the dignity of the human person, the unique and irreplaceable value of each individual and the importance of family, redefining success as using our gifts and talents for others.

Our oldest daughter Emily helped us begin the organization and she and I created all the artwork on our site and products. She and I are also writing a program for 6-8th grade girls with a dear friend of hers, and I'm working on a guided journal for a teen who is at a crossroads. It's something that you could hand to a young person who has experienced a crisis, a life changing event or is just plain lost.

We're kinda busy!
I'd say so, Melissa! Check out Melissa's artwork here and find out more about her family's ministry here. Melissa is also offering a 20% discount on prints of John Paul II just in time for his canonization on April 23rd. The coupon code is JPII.
Interested in more Catholic Artist Spotlights? Here's the archive.
Copyright 2014 Katie O'Keefe
About the Author