Thanks to Full Quiver Publishing for sponsoring this week's giveaway of Ellen Gable's books!
This week's giveaway:

Note: print copies only available for shipping to U.S. or Canada addresses.
The Full Set of Ellen Gable's Books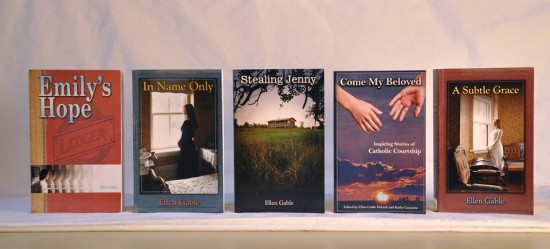 Set includes one of each:
Emily's Hope
In Name Only
A Subtle Grace
Stealing Jenny
Come My Beloved: Inspiring Stories of Catholic Courtship

A Subtle Grace
We have one print copy and two Kindle copies of this, Ellen's latest novel.
About the book:
In this sequel to "In Name Only" (2009, FQP), "A Subtle Grace" continues the story of the wealthy and unconventional O'Donovan Family as they approach the dawn of a new century.

At 19, Kathleen (oldest daughter) is unmarried with no prospects. Fearing the lonely fate of an old maid, her impatience leads to an infatuation with the first man who shows interest. The suave, handsome son of the local police chief seems a perfect match. But will her impulsive manner prevent her from recognizing her true beloved? A disturbing turn of events brings a dark shadow that threatens the life-long happiness she desires.

Dr. Luke Peterson (the family's new physician) also makes quite an impression on Kathleen. His affection for her leads him to startling revelations: about Kathleen, about his practice and, most importantly, about himself.

Will (oldest son) believes God may be calling him to a religious vocation. Eventually, he discovers the hidden circumstances of his humble beginnings compelling him to embark on a pilgrimage to Rome.

(Note: Although "A Subtle Grace" is a sequel, it can be read as a stand alone book, independently of the first book in the series.)

In Name Only
We have one print copy to give away.
About the book:
Caroline Martin's life has finally taken a turn for the better. After years of hard work, she has met a virtuous and wealthy man whose love seems to promise the kind of life realized only within the comforting novels she keeps on her night table. Tragedy, however, will teach Caroline of the complexity with which God Himself authors the lives of those who turn towards Him. Gold Medal Winner in Religious Fiction, 2010 IPPY Awards.

Stealing Jenny
We have one print copy to give away.
About the book:
After three heartbreaking miscarriages, Tom and Jenny Callahan are happily anticipating the birth of their sixth child. A neighbor, however, is secretly hatching a sinister plot which will find Jenny and her unborn baby fighting for their lives.
About the Author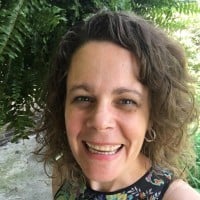 When she's not chasing kids, chugging coffee, or juggling work, Sarah Reinhard's usually trying to stay up read just one…more…chapter. She writes and works in the midst of rural farm life with little ones underfoot. She is part of the team for the award-winning Catholic Mom's Prayer Companion, as well as the author of a number of books. You can join her for a weekday take on Catholic life by subscribing to Three Shots and follow her writing at Snoring Scholar.