Bright Koi Studios
Released: December 2013
Available for Android only – Free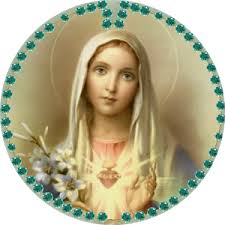 It is no surprise to me that I seem to collect Rosary apps as deftly as I amass Rosary beads. While I have not always been a very faithful Rosary "reciter" that has not stopped me from the lure of the beauty of the beads. Mysteriously, Rosary Apps, have increased my recitation rate, perhaps this is the reason I continually download every new Rosary App I encounter. However the method, one thing is certain, I am perpetually drawn to the powerful, grace-filled, experience that is "the most holy Rosary of the Blessed Virgin Mary".
The Touch Rosary App was released in December of 2013, by Bright Koi studios. It is a free app, thanks to those ever-familiar banner ads. Happily, the user only encounters the ads on the HOME screen, and not while navigating the Rosary!
To Use or Not To Use Features:
Bead Clicking Sound (on/off option)
Bead Vibrating (on/off option)
Personally, I enjoy that very tangible tactile experience of rattling, moving beads but not when I am in a very quiet Adoration chapel surrounded by praying people. Options, in my humble opinion, are generally a good thing. Ditto for the choice to turn on or off sound, especially when I forget my earphones! If I had a dime for every time I launched my Divine Mercy or Rosary app and startled fellow adorers, including myself, I'd be rich!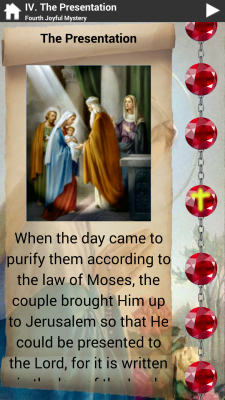 Aesthetic Features:
* 5 lovely Marian backgrounds to choose from, including one of my favorites, a soft, colorful, captivating (albeit maybe not historically accurate – with her reddish/brown hair) portrayal of Our Lady of Grace.
* Easy-to-navigate mystery selection, including a handy-dandy button for "Today's Mysteries", for anyone new to praying the Rosary or even those who have been praying it for a while but now and then just draw a blank!
* Option to hide or view the Rosary Prayers, while it does allow you a better view of the Marian backgrounds, it does not allow you to view the Scripture included for each mystery along with the accompanying artwork. I am a very visual person, but also someone who is easily distracted. I find the occasional change of screen scenery very helpful to maintaining a prayerful focus.
* A light yellow cross appears on top of the bead as you move through the Rosary. While some may not find this revolutionary, I was overjoyed with this minute detail, particularly as you move through the "Hail Mary" stretch, when it is easy to forget if you moved the next bead, or when you can only see a few of the beads, and cannot always accurately determine if the bead scrolled or not. Yes, I do realize an extra Hail Mary is NEVER a bad thing; yet it is again in my humble opinion, a very well placed visual aide.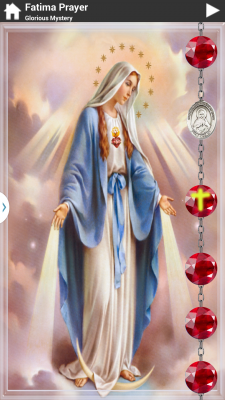 * Beads can scroll on the Left or the Right side of the screen.
* Even the font size is adjustable with five choices including the descriptively titled sizes "Tiny" and "Huge". This middle-aged "needs bi-focals but is still very much in denial of this fact" woman was incredibly grateful for the latter!
Overall impression – Touch Rosary from Bright Koi Studios is easy-to-navigate, visually appealing, and provides a myriad of options to display the Rosary just the way you want it.
Copyright 2014, Allison Gingras
About the Author