This week's giveaway: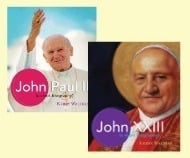 Popely Saint Bio Book Pack
John Paul II: A Short Biography
By Kerry Walters (2013, Franciscan Media)
About the book:
Karol Wotyla, the man who became Pope John Paul II, was a poet, philosopher, playwright, peacemaker, and political activist. The most widely traveled of all popes, he was a man of deep Christian love and commitment who balanced the traditions of the Church with a need to reestablish it as a viable and modern presence in the world.

This short biography highlights his early years, his lifelong devotion to Mary, his outreach to young people, and his role as intercessor in seeking reconciliation with institutions and peoples alienated from the Church by past actions. This is a book to be enjoyed and treasured as we witness the recognition given John Paul II as a saint for our times.
John XXIII: A Short Biography
By Kerry Walters (2013, Franciscan Media)
About the book:
His adult life was unremarkable; in his role as Papal Nuncio to France, he was considered an "affable amateur. When he was elected pope in 1958, it was thought he would be a placeholder, someone who was easily controllable until the Curia could decide on a worthy successor. Instead, Giuseppe Roncalli, Pope John XXIII, distinguished himself by establishing a spirit of aggiornamento— "opening wide the windows of the Church &mdashh;and convened the Second Vatican Council in 1962.

Walters brings you into the life and times of Pope John XXIII, from his simple upbringing as one of fourteen children growing up on a farm in Italy, to his seminary education and formative role models, through his ministry in the Church, leading up to his election as pope in 1958. Walters then focuses on the key ways Roncalli sought to reform the Church, and shepherd it into the twenty-first century.

Walters shows that what was perceived by the hierarchy as mediocrity was indeed a deep humility that enabled the pope to truly be a model of Christian discipleship. Il Buono Papa, the Good Pope, will inspire you with his love for God, for all people, and for the Church itself. This is a book to be enjoyed and treasured as we witness the recognition given John XXIII as a saint for our times.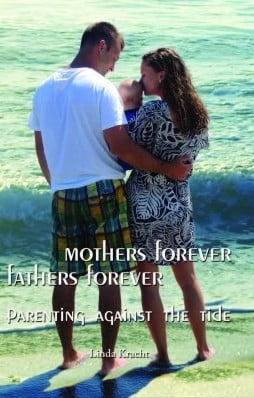 Mothers Forever, Fathers Forever: Parenting Against the Tide
By Linda Kracht (2014)
About the book:
Why would a relatively obscure author take on the heavy weight giants when it comes to parenthood and the raising of children? In her sixth book, Linda Kracht dares to debunk the notion that it takes a village to raise a child by relying heavily on the wisdom of the Catholic Church regarding the treatment of all human persons – but especially with regards to the raising and nurturing of our children.

While the Catholic Church does not hand parents a prescription for how to raise their children; she does offer all parents – regardless of faith and beliefs– sage advice on the primordial role of the human family in society; the uncompromising primacy of the parent especially over the formation and education of their children. Parents are the main ingredient in parenthood. We have to get parenting right because our children are watching! We have to get parenthood right because their wellness depend on us.

So what does it take to be a terrific parent today?

Learn why Kracht writes: "Even though it has been long taught that parents are to be their child's first heralds, isn't it really the case that children become their parents heralds as they communicate God's Grand Plan for life in a very personal way?"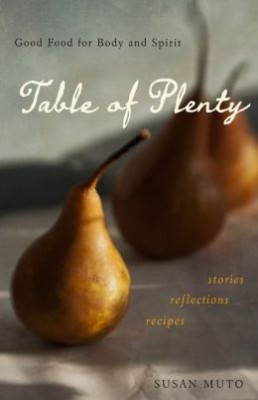 Table of Plenty: Good Food for Body and Spirit
By Susan Muto (2014, Franciscan Media)
About the book:
Table of Plenty invites readers into experiencing meals as a sacred time. Author Susan Muto grew up in an Italian family, with a stay-at-home mother whose love for cooking permeates this book. Her prose is highly descriptive and evocative; one feels as if one is right there in the kitchen with Muto and her mother as they go about preparing a meal. Rich marinara sauce, zesty eggplant, a simple loaf of bread and a spinach salad: each becomes an opportunity for reflection on experiencing the goodness of God through the food we eat and the company we share.

Muto emphasizes the importance of taking time to slow down and savor the cooking process as well as our meals. To this end the recipes she provides are easy to do, using ingredients that are readily available and simple to prepare. Her stories ring true with warmth and accessibility and highlight the sense that sharing a meal recalls the Eucharist.

Whether you are a novice cook or highly experienced, or just enjoy good food, this book will bring you to a new understanding of the gift we share when we take the time to eat well.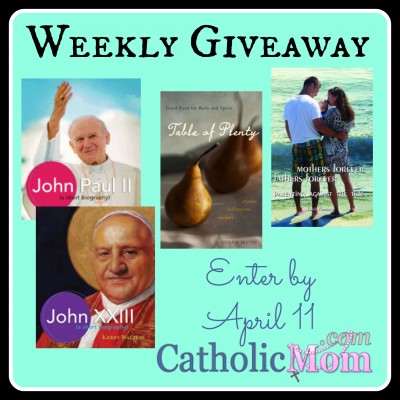 About the Author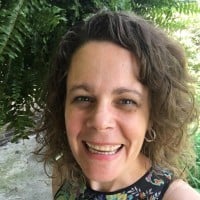 When she's not chasing kids, chugging coffee, or juggling work, Sarah Reinhard's usually trying to stay up read just one…more…chapter. She writes and works in the midst of rural farm life with little ones underfoot. She is part of the team for the award-winning Catholic Mom's Prayer Companion, as well as the author of a number of books. You can join her for a weekday take on Catholic life by subscribing to Three Shots and follow her writing at Snoring Scholar.