This week's giveaway:


By Christina King (Lulu, 2014)
About the book:
Many people live a life of darkness and suffering under the weight of childhood trauma, neglect or abuse. My journey of Inner-healing and deliverance based on Theology of The Body has truly transformed my life so that I could reclaim the truth that God has made me for greatness. One person can change the world and that person is you. Stop living a life of darkness, doubts and despair and embrace the healing power of Jesus Christ! My personal journey is a roadmap for you to begin your own journey towards healing your whole person. Reclaim your greatness with the goodness that Christ has come to set the captives free.

Each prize pack includes:
- 1 pair (2 tickets) to see Son of God in theaters
- Son of God motion picture soundtrack
- Music inspired by Son of God album featuring prominent Christian artists
- Son of God book

About the DVD:
"Miracles are Everywhere" – A big event is happening! Thousands of birds from all over the world have gathered to meet Iesodo, but food is scarce and the flocks are getting hungry. Iesodo provides in a way no one could have expected.

"The Wind and the Rain" – The flock is soaring through the sky on their way back to the Cypress Tree when a sudden storm approaches out of nowhere! Trapped at sea and frightened, they learn that when you have faith, anything is possible.

About the DVD:
"Birds of a Feather, Fish Together" – The wedding celebration of Freddie and Fiona Finch is headed for disaster! Iesodo steps in to calm everyone's ruffled feathers and make the event a success.

"Love Your Enemies" – Zack, the tax collector, doesn't play by the rules. Iesodo shows the flock that treating those who are mean to us with kindness really does make a big difference.

An 8-DVD set from Ascension Press
About the program:
The 8-DVD Set provides twenty-four lessons (approximately 15-20 each) with some of the most powerful and compelling speakers in the Church. To preview some of the lessons here.

Filmed on locations all around the U.S. and internationally, Chosen keeps teens' interest with the right balance of faith, fun, and powerful vignettes that challenge their existing perspectives on the meaning of their lives and their ultimate call to holiness.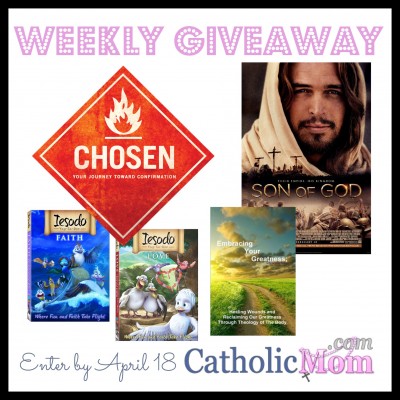 About the Author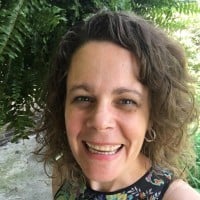 When she's not chasing kids, chugging coffee, or juggling work, Sarah Reinhard's usually trying to stay up read just one…more…chapter. She writes and works in the midst of rural farm life with little ones underfoot. She is part of the team for the award-winning Catholic Mom's Prayer Companion, as well as the author of a number of books. You can join her for a weekday take on Catholic life by subscribing to Three Shots and follow her writing at Snoring Scholar.