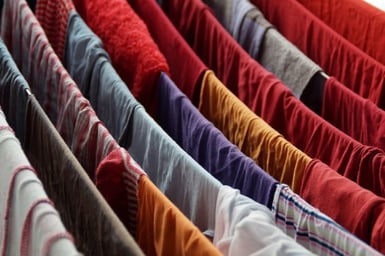 I don't know about you but I usually 'wrestle' with these thoughts daily:
"Will there ever be an end to this pile of laundry?"
"If I have to pick up one more toy off the floor, I'm going to scream!"
"(Sighs) I can't wait for the baby to be potty trained! No more washing butts forever! (Or at least, until the next baby comes!)"
Have you ever had thoughts like these? You know, the ones that magnify the mundane in our role as mothers?
Let's face it -- there is definitely no "glory" when you become a mom. Actually, I believe that once you become a mother, humility is one of the virtues that you'll grow in.
Another virtue is holiness. Yes, we mothers can become holier just because we are moms. Here are a few ways we can 'sanctify' the mundane tasks of motherhood:
- For every piece of clean laundry you fold, pray "For the sake of Your sorrowful passion, have mercy on us and on the whole world."
- For every meal you cook, pray "Thank You, Lord, for providing for our needs, and help us to share our blessings -- including our food -- with others."
- For every toy you pick up off the floor, pray the Hail Mary and ask St. John Bosco to guide your child as he/she plays, runs and makes noise. (In relation to the beloved saint's words: "My children, jump, run and play and make all the noise you want but avoid sin like the plague and you will surely gain heaven.")
- For every dish you need to wash and pot you need to scrub, pray "O Lord, cleanse me from my sins."
- For every diaper you need to change (and butt you need to wash), pray "Teach me, Lord, to be humble."
Learning to see the 'sacred' in our daily routines will help make the ordinary 'extraordinary.' Hopefully, it will also help us be better moms and 'holier' persons.
How do you 'sanctify' the mundane tasks that you do every day (even if you're not a mom)? Share your thoughts with us in the comments!
Copyright 2014, Tina Santiago-Rodriguez
About the Author

Tina Santiago-Rodriguez is a Catholic wife and home educating mom by vocation, and a writer and editor by profession. Among her different roles, she believes that her most important "work" is to be a helpmate to her husband, and to raise her kids to be "Kingdom-Seekers." Find out more about Tina through her website: Truly Rich and Blessed.