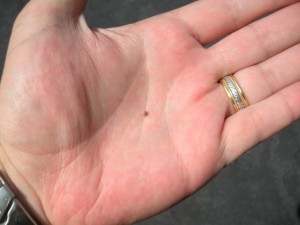 At both the weekend Masses starting at Easter, and even in the daily Masses, we've heard from Scripture of a number of events that speak to restoring the faith of the Apostles and first disciples.
Jesus appears not to one or two or to his twelve. No, he appears to hundreds.
Jesus eats with his followers: bread and fish. And in the Acts of the Apostles, we hear of powerful actions done next by the Apostles. Healing deformed bodies, giving sight to the blind... powerful winds of 'new faith life' in the earliest hours of the new Church.
But... but, if we read the Epistles, we quickly see that faith is sometimes lost or weakened. Faith becomes mixed with human brokenness. That is why we have continuing need of God's grace and the powerful witness of others. We have been blessed down through the centuries with wonderful examples of faith even in the midst of despair and darkness.
A Cardinal named Basil Hume wrote these words about St. Therese of Lisieux, also known as the Little Flower:
"In 1987, I visited St. Therese's cell in the Carmel of Lisieux. By the door of her cell, scratched into the wood, she had written, "Jesus is my only love." That was not written in exaltation but in near despair. She was thus crying out to her Beloved that even when she experienced nothing but absence, emptiness, darkness, she clung to the assurance of being loved and carried in his arms. That is faith at a heroic level – that is trust, clinging to God when everything in our experience would seem to contradict his very existence, or at least his love for us."
I was talking with some people the other day and I mentioned that we Catholics used to be encouraged to pray three daily prayers: the Acts of Faith, Hope and Charity. Do you remember those? The Act of Faith went like this:
"O my God, I firmly believe that you are one God in three Divine Persons, Father, Son, and Holy Spirit; "I believe that your Divine Son became man, and died for our sins, and that He will come to judge the living and the dead. I believe these and all the truths the Holy Catholic Church teaches because You have revealed them, who can neither deceive nor be deceived."
I imagine many thousands of Catholic children were taught this faith prayer as well as the ones for hope and charity.
The Catechism of the Catholic Church calls the gift of faith essential for our salvation. Our Creator calls each of us to be with Him but we must answer. Like the mustard seed, faith is like a wonderful flower that needs to be nurtured every day.
We can keep our faith strong though prayers, the sacraments, studying God's word in scripture and in commentary, and in letting His love shine through us in our day-to-day lives. Madonna House teaches that even the smallest chore we do can be done as an act of faith if we're trying to do God's will!
I've read of and listened to people, particularly men who must be in control, understanding everything... having the answers to everything. Some ask, "How can a loving God exist if children are going to die with cancer or when people are brutally tortured or executed?" That's a reverse prayer: God, if you're there, explain your mind to me - then I'll believe.
Jesus encourages us to pray with faith. We are not to be like the man who went outside and stood by a tree and prayed, "Be uprooted and planted in the sea." The tree didn't move. The man said, "I knew there was no point in praying; I knew you would not move anyway." His faith was even smaller than a mustard seed, the smallest biblical seed. Sometimes our faith is also smaller than a mustard seed.
Each day, the media can bring us the worst of news... the worst of humanity. We may try to hide from it. But eventually, knowledge of the lack of faith and the sin in others is brought to our attention. How many of us remember the horrors of World War II? But... but... Did you ever hear the words found on a cellar wall in Cologne after World War II?
I believe in the sun even when it is not shining.
I believe in love even when I feel it not.
I believe in God even when he is silent.
We have many people who approach faith as if it's some to be done.. to be practiced... things to be checked off... when in fact it is something to be prayed for and about... to be nourished and to be emboldened. Like John XXIII and JPII, we are all called to be saints. As one Catholic radio personality puts it: "BE A SAINT, WHAT ELSE IS THERE?" That takes faith. Prayed for. Lived out.
Blessings,
Deacon Tom
Copyright 2014, Deacon Tom Fox
About the Author

Deacon Tom Fox and his wife Dee are co-hosts of the CATHOLIC VITAMINS Podcast for over 6 1/2 years. Tom has also been a member of the Catholic Mom columnists team for eight years, and was a regular contributor to the Catholic Moments Podcast for three years. Most recently, Deacon Tom has been leading a project to bring Catholic radio to the north central Arizona community where he and Dee reside. Blessings!