"Yet, oh Lord, you are our Father; we are the clay and you the potter: we are all the work of Your hands. Isaiah 64:8
I can close my eyes and see it sitting there on the top shelf of the cupboard above the plates and cereal bowls. I couldn't reach it, so it was always someone else's job to put it away after I had carefully dried it.
It was a turquoise blue, glass casserole dish, the only one my mom had, and it was something she treasured. My dad gave it to her for Christmas, and if she pulled it out to use for supper, I knew she was going to be making something special.
One day when I was about ten, I came home from school and Mom was on her way to a meeting. She asked me to put the casserole dish in the oven at 5 o'clock. I felt so important! I quickly raced to the kitchen and peeked under the glass lid to see what she had assembled inside the dish…it was beautiful; it looked like something you'd see in a cookbook picture.
Well, the appointed time had come, I opened the oven door, and as I lifted the casserole dish up to slide it into the oven, it slipped right out of my hands, crashed to the floor, and shattered into pieces. I didn't even consider the fact that I had just ruined dinner. I just felt awful about breaking her casserole dish.
I managed to clean up the mess before Mom got home, and I even began to prepare a "plan B" supper. However, the hardest task of all was to hand Mom that collection of broken glass. She stared at it in silence for a moment, asked me if I was ok, and then said, "Well, now it's time to get creative. Your dad and brothers will be hungry, and it's almost time to eat."
That was it…no scolding, no lecture, no disappointed glance, it was just time to get creative and move on. It was one of those events that just stuck with me.
A year ago, I was at a teachers meeting and the speaker said, "God loves broken vessels!" My mind immediately rushed back to our kitchen in Hoyt, Kansas, when I was ten staring down at that mangled mess of turquoise-colored glass and casserole. My mom's words echoed in my mind, "It's time to get creative."
We are each lovingly and perfectly crafted vessels made precisely by the hands of a compassionate potter. When we sin, it's as if our vessels become chipped or cracked or leaky. I don't know about you, but I've managed to put some real "dings" in my vessel over the years.
If you get a crack or a leak in your favorite mug or dish, it no longer functions the right way. When we sin, we drift a bit from the Father's love and, just like that broken vessel, we don't function quite the way we're supposed to either. Luckily, we are more valuable than mugs without a handle or casserole dishes broken into dozens of pieces.
The Father is never going to throw us out! Instead, he uses our weakness to demonstrate His strength. If we have a chip or a leak, He invites us to come to Him and give Him a chance to restore us; to make us strong and purposeful again.
He is the potter that created us. We are the work of His hands. So, if we need to be restored and have our purpose renewed, all we have to do is ask Him, and He will create us anew…as many times as we need it! God loves broken vessels because they require His strength, and any time we give Him the opportunity to show His strength by admitting our weakness, we are blessed.
A seed to plant: Identify a chip or a leak in your vessel, and ask God to strengthen and restore that imperfection in your life. Pick a different one tomorrow and a new one after that but don't forget to make a list of the blessings you receive as the potter lovingly restores your vessel.
Blessings on your day!
Copyright 2014, Sheri Wohlfert
About the Author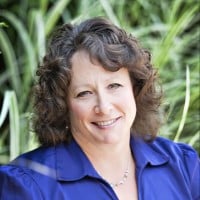 Sheri is a Catholic wife, mom, speaker and teacher. She uses her great sense of humor and her deep faith to help others discover the joy of being a child of God. Her roots are in Kansas but her home is in Michigan. The mission of her ministry is to encourage others to look at the simple ways we can all find God doing amazing things smack dab in the middle of the laundry, ball games, farm chores and the hundred other things we manage to cram into a day. Sheri also writes at JoyfulWords.org.